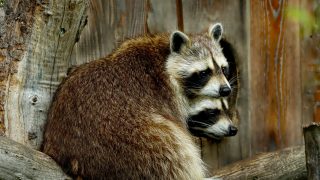 2021-2023: Wild Animals and the Law
Student Chapters Program Guide
Each year, the Animal Legal Defense Fund provides resources to help its student chapters focus on a specific priority issue. The Student Chapter Program Guide contains an overview of the issue, the Animal Legal Defense Fund's involvement, and suggested activities, such as film screening suggestions, a reading list, and suggested speakers. This year's priority issue is Wild Animals and the Law.
Overview
Legal Protection for Wildlife
Wild animals enjoy few legal protections under either state or local laws. At both the state and federal level, the key laws protecting wildlife are those governing when and where hunting is permitted. Some states have also begun to prosecute people who commit acts of cruelty against wild animals. A handful of other federal wildlife laws are in effect as well. These include the Endangered Species Act and the Migratory Bird Treaty Act. But these laws protect only a small number of animals, and even for those animals, the protections are not robust.
Wild animals experience pain and pleasure just the same as the dogs and cats who share our homes and enjoy far more expansive legal protections. Wild animals also play a key role in our environment and ecosystem. And they are affected by all facets of human behavior: where we build, and what we do on developed land.
Factory farming not only affects the lives of the 9 billion animals a year who are raised for food, but also the wild animals who drink from bodies of water and live on the land polluted by these agricultural activities. The Animal Legal Defense Fund is dedicated to pursuing better legal protection for wildlife.
The Animal Legal Defense Fund's Actions to Protect Wild Animals
Stopping Killing Contests & Cruel Hunting
The Animal Legal Defense Fund's Stop the Hunt campaign aims to end canned hunting and trophy hunting in the United States and across the world. Join us in telling the U.S. Fish and Wildlife Service that canned hunting does not provide any benefit for the endangered species and that these applications should be denied.
Killing contests make a cruel game of inflicting misery and death on wildlife. The contests are designed to reduce native wildlife populations, often at the behest of farmers, by making killing "fun" with prizes for various categories of carnage. Through advocacy, education, and lawsuits, the Animal Legal Defense Fund is working in collaboration with other wildlife and science-based advocacy organizations to put an end to these events. We've seen victories in Colorado and Massachusetts.
The Animal Legal Defense Fund filed an amicus brief in support of the Center for Biological Diversity's challenge to two rules promulgated by the Washington Department of Fish and Wildlife Service allowing bears to be hunted indiscriminately using bait, hounds, and body-gripping traps.
Protecting Endangered and Threatened Species
In October 2019, the Animal Legal Defense Fund filed a lawsuit to force the federal government to leave the Endangered Species Act (ESA)'s legal protections intact. The ESA has prevented the extinction of numerous iconic American animals and provides critical protections for threatened and endangered animals languishing in captivity across the United States.
The Animal Legal Defense Fund joined a coalition of public interest groups challenging the federal government's waiver of dozens of environmental, health, and safety laws related to construction of a U.S. – Mexico border wall in parts of California. Construction will impact thousands of animals, including dozens of endangered and threatened species.
Ending the Exploitation of Animals for their Fur
The Animal Legal Defense Fund intervened to defend San Francisco's ban on the sale of fur products against a fur industry lawsuit. Multiple cities in California, followed by the state in 2019, enacted fur sale bans with the goal of preventing animal cruelty and the negative environmental impacts associated with fur production.
Fur-Ever Wild is a Minnesota-based business that displays wolves and other wildlife in a roadside zoo, breeds wolf pups for petting zoo interactions, and later skins the wolves for their fur. The Animal Legal Defense Fund and the Lockwood Animal Rescue Center filed a lawsuit against Fur-Ever Wild in 2017 for killing federally-protected gray wolves.
Stopping Wildlife Services War on Wildlife
Coyotes, mountain lions, bears, endangered condors and bald eagles, and other native wildlife are being slaughtered indiscriminately by a rogue federal killing agency known as Wildlife Services — a program of the U.S. Department of Agriculture's Animal and Plant Health Inspection Service (APHIS). The agency's reckless behavior is destroying ecosystems and violating animal protection laws with inhumane and outdated kill methods. The Animal Legal Defense Fund, together with a coalition of environmental and wildlife organizations, is working hard to eliminate Wildlife Services and its relentless hold over wildlife management.
Combating Climate Change
The growing climate crisis is the most serious threat facing our planet – for humans and animals alike. The impacts of climate change are already here. Every day, new studies and articles are published about warming temperatures, increasingly destructive natural disasters, habitat loss, and ocean acidification. Many animal species, from the Yangtze porpoise to the Hawksbill turtle, are teetering on the edge of extinction. For decades, the U.S. government has aided industries at the expense of the public. It has promoted, subsidized, and incentivized animal agriculture, including permitting the use of public land and deforestation to build additional factory farms. In addition to direct subsidies, both the U.S. and state governments have exempted animal agriculture, and other industries like fossil fuel extraction, from environmental protection laws that regulate greenhouse gas emissions, water use, and air quality, to name a few. The Animal Legal Defense Fund filed a lawsuit to urge federal government action on climate change.
Protecting Marine Life
The Supreme Court addressed the legality of military sonar exercises believed to cause significant harm to marine life, including whales and dolphins. The Animal Legal Defense Fund joined a coalition of animal protection and environmental groups in filing an amicus brief contesting the lax standard proposed by the government in certain wildlife cases.
In 2016, the Ninth US Circuit Court of Appeals in California banned the U.S. Navy from using sonar that harms marine mammals during peacetime training exercises, ruling that sonar causes the animals stress; disrupts their communication, navigation, feeding, and mating practices; and separates them from their calves. Military sonar activities have also been linked to the mass stranding of dozens of marine mammals around the world.
Fighting for Captive Wildlife
Suggested Projects, Events, and Actions
Project Grants
The Animal Legal Defense Fund can provide funding for Student Chapter activities. To help fund your event, your chapter can apply for a project grant.
Education and Outreach
Organize an information table on campus to raise awareness about issues relating to Wild Animals and the Law. We can provide free tabling materials that include newsletters, stickers, brochures (such as our Captive Animals & the Law brochure), posters, and event materials, such as a banner, tablecloth, and sign to help with your event.
Encourage your school to add a wildlife law course to the curriculum or start a reading group. The Animal Legal Defense Fund offers a free Wildlife Law Course Guide and grants to support classes.
Guest Speakers
Host a speaker, debate, panel, or even a symposium or conference on Wild Animals and the Law. You can request an Animal Legal Defense Fund attorney as a speaker for your event.
Attend the Animal Legal Defense Fund Student Convention & Animal Law Conference
Join us for this year's virtual and in-person Animal Legal Defense Fund Student Convention on November 4, 2022! You'll have the opportunity to receive career advice from leaders in farmed animal protection law, learn from students presenting on the topic of farmed animals and natural disasters, and network with fellow students from across the country. Registration is free for law students.
You also won't want to miss the Animal Law Conference on November 4-6, 2022! The event will be held in Portland, Oregon and available to attend online and is co-presented by the Animal Legal Defense Fund and the Center for Animal Law Studies at Lewis & Clark Law School.
Student chapters may apply for registration and travel grants to the Student Convention and the Animal Law Conference. Grants will be awarded on a first come, first served basis.
Coalition Building
When planning a speaker panel or other event, we encourage you to look for opportunities to team up with other student groups. This will bring a wider audience to your event. Here are some groups and topics with cross-over potential:
Environmental Law Society: environmental pollution and effects on wildlife from factory farming, climate change, impacts of fishing on fishes and other aquatic animals
Human Rights/Immigration Law Society: worker safety and human rights abuses on fishing boats
Criminal Law Society: prosecution of crimes to wild animals, the lack of criminal laws that protect wild animals
International Law Society: CITES and other international wildlife treaties
Food Law Society: impact of the food and farming system on wildlife
Letter Writing and Commenting
Chapter members can write letters in response to any newspaper, magazine, or online article involving Wild Animals and the Law.
If you missed the 2021 Animal Legal Defense Fund Student Chapter Kickoff, check out the recording. Animal Legal Defense Fund Animal Law Program Director Stacey Gordon Sterling led this workshop addressing public commenting on animal law regulatory issues and provided tips about how your chapter can advocate for animals through the regulatory process.
At the administrative level, you can submit written comments to the U.S. Department of Agriculture, U.S. Fish and Wildlife Service, or other agencies—including state agencies—when they are considering changes to rules and regulations. Stay up to date on new rules and comment periods.
Newsletters
Include news relating to Wild Animals and the Law or your events on this issue in your chapter newsletters or emails. Check out the Animal Legal Defense Fund's press room for the latest updates on our cases and campaigns.
Become Active in Legislation
Organize your members to write letters and make follow-up phone calls regarding pending legislation. Do you know who represents you? Find out, then contact them about pending local, state, or federal legislation. The best ways to reach your representatives are (in order of effectiveness): meeting them in person (at their office or a town hall meeting), calling, sending a written letter or fax (try this free online service), sending an email, and contacting them on social media. Hold a call-a-thon event at your school to encourage students to call in favor or against a bill. Attend a legislative hearing, trial, or a local Humane Lobby Day to meet legislators and talk about animal law issues. Check city and state government websites to stay up to date on current legislation, view the list of federal and state bills we are working on, or contact us to see if there is pending legislation in your area. For more tips on how to effectively contact your lawmakers, see this article from For All Animals.
Current Federal Wildlife Legislation
Check for legislation Animal Legal Defense Fund supports in your state.
Visit or Collect Donations for Local Wildlife Rescues
Help local wild animals by collecting donations for wildlife sanctuaries or rehabilitation centers. Plan a visit to volunteer or educate your members.
Film, Webinar, and Lecture Screenings
Screen videos related to Wild Animals and the Law. Screen documentaries or movies through Netflix, Hulu, Disney, and HBO websites using Teleparty, TwoSeven for other streaming services, or another online connection tool and host an online discussion via Zoom afterward. To ensure that you have the legal permissions to screen the film, for in-person screenings, check if your library has access to the movie or documentary and that it can be screened, or apply for a project grant to cover the cost of a screening fee.
Film Suggestions
Seaspiracy
Racing Extinction
My Octopus Teacher
Mission Blue
Chasing Coral
Virunga
A Plastic Ocean
The Cove
Animal Law Academy Webinars
Attend a live Animal Law Academy webinar or set up a viewing party for a prior one. Hold a discussion afterwards with your chapter.
Reading List
Books
Legal Articles
Animal Law Updates (all by Nicole Pallotta)
COVID-19 Pandemic Effects on Events
Please use your best judgement based on local cases, regulations, and recommendations when deciding whether to hold an in-person event at this time due to the COVID-19 pandemic. If your chapter is not holding face-to-face events, or would like to make your events more accessible, check out the Student Chapter Program Guide: Organizing in the Digital Age for ideas about online events and projects for your chapter.
Related
The gift of more than $1 million will fund the program over the next four years

This action is for U.S. residents only.

The victory follows the passage of a factory farming law and efforts to curtail the construction of new mega dairies in the state