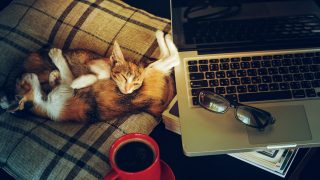 2020-2021: Organizing for Animals in the Digital Age
Student Chapters Program Guide
Each year, the Animal Legal Defense Fund provides resources to help its student chapters focus on a specific priority issue. The Student Chapter Program Guide contains an overview of the issue and suggested activities. This year's priority issue is Organizing for Animals in the Digital Age.
Overview
Due to the COVID-19 pandemic, many law schools will be limiting in-person events and classes. This Program Guide will help your chapter pivot to organizing mostly online. This guide will include general suggestions, but please follow any local, state, or federal guidelines for COVID-19 mitigation and protection, such as appropriate social distancing and wearing masks over your mouth and nose for any in-person events, and limiting large in-person gatherings.
Suggested Projects, Events, and Actions
To help fund your event, your chapter can apply for a project grant.
Advocacy Projects
Online Speaker Events
Host speakers and panels on current issues in animal law and protection. Boost event attendance by hosting the event in collaboration with other student groups.
Virtual Film Screenings
Screen documentaries or movies through Netflix Party, TwoSeven for other streaming services, or another online connection tool and host an online discussion via Zoom afterward.
Animal Law Class Advocacy
If your school does not currently offer an animal law course, your chapter can petition the law school administration to add one. We have instructional materials, including an animal law casebook, which we can send to interested faculty members.
Recognizing that COVID-19 related budget cuts and faculty layoffs are forcing law schools to cancel elective animal law courses, the Animal Legal Defense Fund is expanding its existing "seed grant" program to also offer emergency grants to law schools who have had to cancel an animal law course for COVID-19 related reasons. Emergency course grants are available to any accredited U.S. law school. Grants will be made for amounts up to $5,000, to be used for faculty compensation.
The Animal Legal Defense Fund also offers free course guides on three important subtopics in animal law: companion animals, farmed animals and wildlife. You can share the guides with your professors and law school administration to encourage your school to add a new animal law course.
Local Activist Support
Use your legal background to facilitate activism by reading through relevant ordinances (like noise ordinances) or our Legal Guide for Activists to help advocates organize effective demonstrations. You can also become a legal observer to help protect the rights of protesters in the streets.
Legislative Projects
Contacting Lawmakers
Do you know who represents you and what they support? Find out, then write letters, send faxes and phone them about pending local, state, or federal legislation. The best ways to reach your representatives are (in order of effectiveness): meeting them in person at their office or a town hall meeting (if possible and safe to do so), calling, sending a written letter or fax, sending an email, and contacting them on social media. You can also hold a call-a-thon event to encourage students to call in favor or against a bill.
You could also check out these Animal Law Academy webinars:
Using Local Legislation to Protect Animals: Fur Bans
How to Advocate for Animals With or Without a Law Degree: Lobbying for Animals
Federal Legislation: Current Issues & New Ideas
Lobbying 101: Advocacy in a New Era 2020
Commenting
At the administrative level, you can submit written comments to the U.S. Department of Agriculture, U.S. Fish and Wildlife Service, or other agencies when they are considering changes to rules and regulations that affect non-human animals.
Fundraising and Mutual Aid Projects
Online Fundraisers
If your chapter has a Facebook page, use it to host a cutest companion (or other rescued animal friend!) contest to raise funding for your chapter or other local animal rescues or sanctuaries. Upload an album of photos, direct followers to vote via likes, and ask for a donation for each vote on a Facebook fundraiser. You can also start a Venmo (or other payment service) account to receive funds.
Collecting Donations
Due to COVID-19, unemployment in the US is soaring to all-time highs, and mass evictions of millions of families are expected soon. Your chapter can collect plant-based food for donations for families who are houseless, unemployed, and/or food insecure. Get involved in Food Not Bombs, Chilis on Wheels, or another plant-based food bank, if you have a local chapter. Remember to donate thoughtfully!
Many shelters and sanctuaries are suffering from a lack of donations. Collect toys, food, blankets, and other items for a local farmed animal sanctuary or humane society. Check the websites of local rescues to see if they have a wish-list.
Organize a touch-less drop-off location on a chapter member's porch or set up a collection bin at school for students to drop off items when they come to class (if you have in-person classes).
Educational Projects
Attend Online Events
Join us for this year's virtual Animal Law Conference: Impacts on Animals in a Changing Climate on October 23-25. The conference is presented by the Animal Legal Defense Fund and the Center for Animal Law Studies at Lewis & Clark Law School.
You also won't want to miss our online Student Convention on October 17-18. This two-day virtual event will provide an opportunity for law students to receive career advice from leaders in the animal law field, hear from student scholars on their animal law work, and network with law students from schools across the country.
You can also attend our Animal Law Academy Webinars, set up a viewing party for an prior webinar, or check out these other online events.
Weeks of Action
Take part in Speak Out for Farmed Animals Week and National Justice for Animals Week.
Animal Law Courses
If there are limited animal law courses offered at your school, look for summer animal law courses available at other schools. Lewis & Clark Law School offers an Animal Law Summer Program with online options. Also check out our Animal Law Academy for webinars on current issues in animal law.
Reading and Writing Projects
Article Writing
Choose an animal law topic for class papers and submit it to one of the law journals dedicated to animal law.
Letters to the Editor & Op-Eds
Write op-eds or letters to the editor in response to news articles involving animal protection issues in local newspapers or school publications. For instructions on how to get started, check Guidelines for Writing an Op-Ed.
Reading & Discussion Groups
Meet regularly online via Zoom or other online videoconferencing software to discuss animal law news, legal articles, or books. If you are looking for suggestions, we have a list of animal law books and periodicals. We also have course guides with suggested readings for farmed animal law, companion animal law, and wildlife law, which you can use to help structure your group.
Email Newsletters
Create an eNewsletter for your chapter that includes information about pending legislation, your chapter's activities, upcoming animal law events, ways to get involved, open clerkship and other employment positions, and current animal protection news.
Hot Topics for Programming
COVID-19 pandemic

Preventing the next pandemic: the threats of factory farming, the wildlife trade, and live animal markets
Zoonotic disease transmission
Spread of COVID-19 in slaughterhouses and processing plants

Intersections between animal protection and racial justice
Climate change and environmental impacts

Climate change impacts on animals
Impacts of ocean plastic pollution, particularly from commercial fishing
Connections between industrial animal agriculture and climate change

Other popular issues
Coalition Building
Team up with other student organizations whenever possible by finding related areas of interest. It will ease everyone's workload and get more people to attend your events – a win-win! Here are some groups and topics with cross-over potential:
Environmental Law Society: environmental impacts of factory farms or commercial fishing, harms of environmental pollution and climate change to animals, other wildlife issues, environmental racism
American Constitution Society, American Civil Liberties Union, or National Lawyers Guild: civil liberties, animal activism and protest, Ag-Gag laws, the Animal Enterprise Terrorism Act
Family or Women's Law Society: the link between domestic violence and animal cruelty, intersections between feminism and animal protection
Human Rights, Labor/Employment, or Immigration Law Society: worker safety issues and human rights abuses on fishing boats, farms, and slaughterhouses
Criminal Law Society: animal cruelty prosecution, activist defense, police shootings of dogs, links between animal abuse and violence to humans and other crimes, criminal justice reform in the context of responses to animal abuse (mental health treatment and restorative justice)
International Law Society: wildlife issues, such as poaching and trafficking, commercial fishing
Food Law Society: factory farming, false advertising/labeling and other consumer protection issues, food justice
Latinx, Native American, or Black Law Students Association: intersections between animal protection and racial justice
Education Law Society: humane education
Health Law Society: link between animal exploitation and zoonotic disease and pandemics, health impacts of consumption of animal products or living by factory farms
Estate Planning Society: wills and trusts for companion animals
A Note on Self-Care
The world is currently facing a global pandemic, high rates of unemployment, and likely the largest social movement for racial justice in U.S. history. On top of all that, you are dealing with all the stresses that attending law school brings. Take care of yourselves and each other the best you can. Find some self-care tips here.
Related
Numerous violations documented at the facility of inadequate animal care

Alternative sentencing program in Fulton County, Georgia pairs shelter dogs with criminal defendants to offer both training and a second chance

Lawsuit sheds light on the need to recognize legal rights for animal cruelty victims.