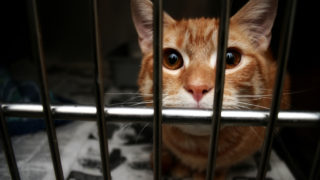 Cats and kittens are being exploited and killed in the name of science.
Tell SUNY these experiments cannot be allowed to continue in secret.
Sign the petition
The legal voice for all animals
The Animal Legal Defense Fund files high-impact lawsuits to protect animals from harm, provides free legal assistance and training to prosecutors in their fight against animal cruelty, supports animal protection legislation, and provides resources and opportunities to law students and professionals to advance the field of animal law.
Join us. Help us protect:
News
Lawsuit aims to ensure that the government protect the environment for the benefit of animals, thus making laws that are more protective of humans.
" I think the public has made the decision that going and seeing the performance of orcas, that day has come and gone."
Florida State Representative Jared Moskowitz
Cases
Turtle Island Foods v Richardson

Justice v Gwendolyn Vercher
Stand up and be heard.
Animal cruelty is a serious crime. Animal abusers are five times more likely to hurt other people. Strong sentences for abusers protect people and animals alike. Robust cruelty laws keep our communities safer for everyone.
Take Action