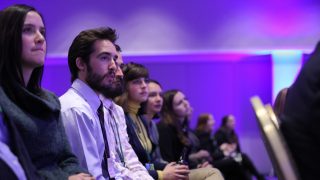 Check this page often for the latest conferences, academic symposiums and speaking engagements around the U.S. relating to animals and the legal system.
Have an event you'd like to publicize? Please use our events submission form and submit your event at least two weeks in advance in consideration for publication aldf.org. Any event submitted to our website may also be shared with local law professional and law student members.
Featured Events

Although animals are property under the law, they are property unlike any other. In the context of criminal law, animals can be the victims of crime entitled to certain statutory protections. In this webinar, Senior Staff Attorneys David Rosengard and Jamie Contreras will discuss animals' status in the context of criminal law.

Learn how to fight back against the cruel fur industry by passing a fur ban in your community! Led by Animal Legal Defense Fund Campaigns Manager Elizabeth Holtz, this webinar will walk you through the mechanics of fur production, the policy issues — including animal cruelty, environmental impacts, and public health — and more.

This year has been busy for the Animal Legal Defense Fund! Join Stephen Wells, Executive Director, and Kathleen Schatzmann, Senior Legislative Affairs Manager, as they discuss current cases and projects, plus what's planned for the rest of the year, with special focus on the Legislative Affairs Program.
What Judges Need to Know about Animal Cruelty, Child Abuse, and Juvenile Offending – Part II Animal Cruelty and Juvenile Offending
August 10, 2020
Online
More Information  
Farmed Animals: Animal Cruelty, Health Impacts, and Strategies Moving Forward 2020
August 20, 2020
Online
More Information  
What Can Animal Law Learn From Environmental Law?
September 17, 2020
Online
More Information  
The Status of Animals in Criminal Animal Cruelty Cases: What Animal Protection Professionals Need to Know
September 29, 2020
Online
More Information  
28th Annual Animal Law Conference
October 23, 2020
Online
More Information  
Understanding Wildlife Animal Cruelty
October 29, 2020
Online
More Information  
Related
Earlier this summer, the driver of a pig transport truck struck and killed longtime animal advocate Regan Russell. The circumstances regarding her death are not fully known to the public, but top to bottom, the animal agriculture industry is rarely held accountable.

Court dismisses International Fur Trade Federation's complaint in victory for animals

After multiple lawsuits filed and fought by the Animal Legal Defense Fund, the Tiger Truck Stop has finally stopped exhibiting animals and tore down its cages. The Tiger Truck Stop, the infamous gas station in Gross Tete, Louisiana, held Tony — an endangered Siberian-Bengal tiger — from the age of 6-months until his death at the age of 17 in 2017.