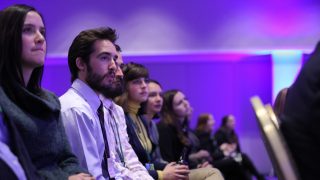 Check this page often for the latest conferences, academic symposiums and speaking engagements around the U.S. relating to animals and the legal system.
Have an event you'd like to publicize? Please use our events submission form and submit your event at least two weeks in advance in consideration for publication aldf.org. Any event submitted to our website may also be shared with local law professional and law student members.
Featured Events

Learn how to fight back against the cruel fur industry by passing a fur ban in your community! Led by Animal Legal Defense Fund Campaigns Manager Elizabeth Holtz, this webinar will walk you through the mechanics of fur production, the policy issues, including animal cruelty, environmental impacts, and public health, and more.

This year has been busy for the Animal Legal Defense Fund! Join Stephen Wells, Executive Director, and Kathleen Schatzmann, Senior Legislative Affairs Manager, as they discuss current cases and projects, plus what's planned for the rest of the year, with special focus on the Legislative Affairs Program.

Join Animal Legal Defense Fund Senior Staff Attorneys Jamie Contreras and David B. Rosengard as they discuss how the legal system treats animal sentience and how a trilogy of Oregon cases recognizing animal sentience points towards a new framework for animals within the law.
Farmed Animals: Animal Cruelty, Health Impacts, and Strategies Moving Forward 2020
August 20, 2020
Online
More Information  
DC Candidate Forum on Animal Issues – At Large
August 25, 2020
Online
More Information  
What Can Animal Law Learn From Environmental Law?
September 17, 2020
Online
More Information  
The Status of Animals in Criminal Animal Cruelty Cases: What Animal Protection Professionals Need to Know
September 29, 2020
Online
More Information  
28th Annual Animal Law Conference
October 23, 2020
Online
More Information  
Understanding Wildlife Animal Cruelty
October 29, 2020
Online
More Information  
Related
As the Animal Legal Defense Fund combats dogfighting by working with state officials to create stronger laws and more effective penalties for those who engage in this crime, we're also hard at work to ensure the best possible outcomes for dogfighting victims.

The Animal Legal Defense Fund, the nation's preeminent legal advocacy organization for animals, and Humane Rescue Alliance (HRA) are offering a $10,000 reward for information leading to the arrest and conviction of the person or people responsible for the abandonment and stabbing of a senior-aged dog named Ladybell on July 12, 2020.

Earlier this summer, the driver of a pig transport truck struck and killed longtime animal advocate Regan Russell. The circumstances regarding her death are not fully known to the public, but top to bottom, the animal agriculture industry is rarely held accountable.