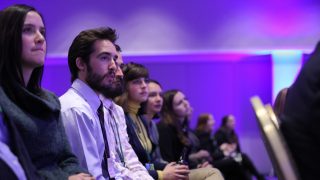 Check this page often for the latest conferences, academic symposiums and speaking engagements around the U.S. relating to animals and the legal system.
Have an event you'd like to publicize? Please use our events submission form and submit your event at least two weeks in advance in consideration for publication aldf.org. Any event submitted to our website may also be shared with local law professional and law student members.
---
Upcoming Events
The Empire State Update on Animal Law
Join the Animal Legal Defense Fund for The Empire State Update on Animal Law! This CLE (continuing legal education) event will provide attorneys and law students the opportunity to hear from experts in the New York animal law community on topics including legislation, civil law, and criminal law, along with an inspiring keynote – all while receiving CLE credits!
Friday, April 12, 2019
9 a.m. – 6 p.m. EST
Orrick, 51 W 52nd St. New York, NY 10019
To register, visit New York Animal Law Update CLE.
---
2nd Annual Duke/NCCU/UNC Animal Law Symposium
March 23, 2019
Duke Law School
Durham, North Carolina
United States
More Information
The New York City Bar Association's Animal Law Committee presents Endangered Species Act Under the Trump Administration
March 28, 2019
New York City Bar Association
New York, New York
United States
More Information
Captivity: A Multidisciplinary Approach
March 28, 2019
University of Wisconsin Law School
Madison, Wisconsin
United States
More Information
The Empire State Update on Animal Law
April 12, 2019
Orrick
New York, New York
United States
More Information
NHVEGFEST
April 20, 2019
Manchester community college
Manchester, New Hampshire
United States
More Information
2019 Texas Animal Law Institute
April 26, 2019
Texas Law Center
Austin, Texas
United States
More Information
Launch of the Cambridge Centre for Animal Rights Law
April 26, 2019
Faculty of Law, University of Cambridge
Cambridge, Alabama
United Kingdom
More Information
Oxford Centre for Animal Ethics Summer School 2019
July 21, 2019
St. Stephen's House
Oxford, California
United Kingdom
More Information
Red & Green VegFest Albuquerque
August 10, 2019
JCC Of Albuquerque
Albuquerque, New Mexico
United States
More Information
International Animal Rights Conference 2019
September 5, 2019
Centre Culturel Kulturfabrik Esch
L-4221 Esch-sur-Alzette Luxembourg Luxembourg
More Information
Related
This year's Florida legislative session promises to be one of the busiest yet for animals. The Animal Legal Defense Fund is in the halls of the legislature every day – advocating for animals who would otherwise not have a voice.

California businesses alerted they must comply with the law banning sale of cruelly-produced "gourmet" delicacy

We are deeply disappointed that despite fierce opposition from the public, Iowa has enacted a new Ag-Gag law just months after a federal court struck down a similar Iowa law that criminalized investigations at factory farms, slaughterhouses, and puppy mill