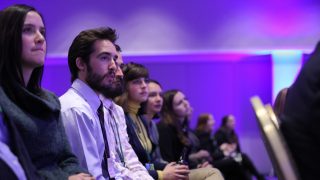 Check this page often for the latest conferences, academic symposiums and speaking engagements around the U.S. relating to animals and the legal system.
Have an event you'd like to publicize? Please use our events submission form and submit your event at least two weeks in advance in consideration for publication aldf.org. Any event submitted to our website may also be shared with local law professional and law student members.
Featured Events

In this interactive webinar Kathleen Schatzmann, Senior Legislative Affairs Manager, will provide an update on animal protection legislation in New Jersey and provide multiple real-time opportunities for strategic targeting to build support and momentum for bill passage.

Welcome to a new — though somewhat different — academic year! Join us and your peers from other law schools across the country for the Animal Legal Defense Fund Student Chapter Kickoff – an online event exclusively for law students.

Restorative justice is not a new concept, but it largely has not been applied in animal crimes. In this webinar, Brittany Hill, Criminal Justice Program Fellow, will introduce the audience to restorative justice.
The Status of Animals in Criminal Animal Cruelty Cases: What Animal Protection Professionals Need to Know
Justice Clearinghouse
September 29, 2020
Online
More Information
6th International Veterinary Social Work Summit
Veterinary Social Work at the University of Tennessee
October 9, 2020
Online
More Information
New York Webinar Series: Shutting Down the Puppy Mill Pipeline, Part 2
ASPCA
October 15, 2020
Online
More Information
Ecological Immersion Academy: Rights of Animals
Center for Earth Jurisprudence at the Barry University School of Law
October 16, 2020
Online
More Information
Animal Legal Defense Fund Virtual Student Convention 2020
Animal Legal Defense Fund
October 17, 2020
Online
More Information
28th Annual Animal Law Conference
Animal Legal Defense Fund and Center for Animal Law Studies at Lewis & Clark Law School
October 23, 2020
Online
More Information
Boston Veg Food Fest
Boston Vegetarian Society
October 24, 2020
Online
More Information
Understanding Wildlife Animal Cruelty
Justice Clearinghouse
October 29, 2020
Online
More Information
Related
Extreme changes to the regulations have widespread consequences for animals, surrounding communities, and the environment

The Animal Legal Defense Fund, the nation's preeminent legal advocacy organization for animals, is offering a $5,000 reward for information leading to the arrest and conviction of the person or people responsible for illegally trapping a coyote in Essex County, Massachusetts.

Animal Legal Defense Fund sues Foster Farms for violating California law by using cruel, water-intensive slaughter method during megadrought