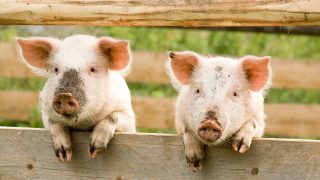 Legislation
Strengthening Laws that Protect Animals and Striking Down Laws Hurting Animals
Share this page
The Animal Legal Defense Fund's works at the state and local levels to advance important legislation. We advocate for laws that promote or protect the lives and interests of animals, and we oppose legislation that would be detrimental to animals' well-being.
We also work closely with the Animal Legal Defense Fund's other programs to identify opportunities to create model legislation that address strategic legal issues in the areas of civil and criminal law, and monitor legislation that impacts animals at the federal, state, and local levels.
Related News
On April 24, 2018, Governor Larry Hogan signed into law HB 1662, the "No More Puppy-Mill Pups Act of 2018," making Maryland the second state to ban the retail sale of dogs and cats obtained from commercial breeding facilities.

SB 1024, the Animal Welfare and Violence Intervention Act of 2018, addresses the link between violence against animals and violence against humans.

The bill will address the link between animal abuse and violence towards humans and aims to stop the escalation of dangerous behavior among offenders who hurt animals.