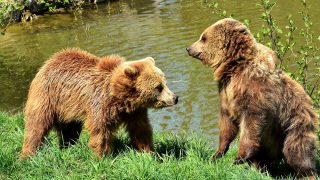 Advocacy
You can be the animals' voice
Share this page
There are endless ways to help the Animal Legal Defense Fund in our mission to protect the lives and advance the interests of animals. Advocacy comes in many different forms, so no matter who you are, there's a path to action for you! We've assembled information on tools you can use to effectively communicate with law enforcement, veterinarians, legislators, and your community about the animal issues that are important to you.
Actions
Bears, lions, and other animals languish in roadside zoos across the country. Animals live in cruel conditions, confined to small cages without the enrichment they need to lead full, happy lives. Protect animals by boycotting roadside zoos.

Take Action

Puppy mill operators maximize their profits by producing large numbers of puppies as quickly as possible. As a result, unsanitary conditions, disease, and neglect are rampant. Sign our pledge to boycott puppy mills. Together we can end cruel puppy mills.

Sign Petition

Undercover investigations and whistleblowers have exposed some of the worst aspects of factory farming, but Ag-Gag laws punish people who speak out about cruelty in animal agriculture. Voice your opposition.

Take Action
Related News
Award-winning music icon Tanya Tucker is joining forces with the Animal Legal Defense Fund to urge families to avoid roadside zoos. After a recent visit to Special Memories Zoo, Tucker was so disturbed by the conditions, she felt compelled to stand up.

The Animal Legal Defense Fund, the nation's preeminent legal advocacy organization for animals, is nominated for Best Law Website in the 23rd annual Webby Awards. The New York Times describes the Webby Awards as the "Internet's highest honor."

Tell the Florida Fish and Wildlife Conservation Commission that you care about protecting captive orcas!