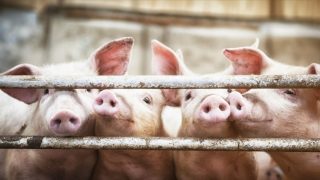 Speak Out for Farmed Animals Month
All animals deserve legal protection
The Animal Legal Defense Fund launched Speak Out for Farmed Animals Month as a way to raise public awareness nationwide about the lack of meaningful laws to protect farmed animals from cruel treatment. This annual event is the perfect opportunity to to shine a light on the stories of farmed animals.
Join the Animal Legal Defense Fund for a month of action for farmed animals during October!
Here are some ideas for how you can speak out for farmed animals:

Animal Legal Defense Fund Staff Attorney Christine Ball-Blakely provides background on factory farming and biogas impacts, and focuses on the government programs making it profitable to produce biogas, specifically California's Low Fuel Standard.

Senior Staff Attorney Amanda Howell provides background and context for the U.S. Supreme Court hearing on October 11, 2022 and ultimate decision in National Pork Producers Council v. Ross.
Organize a benefit day for the Animal Legal Defense Fund by contacting a local vegan/vegetarian restaurant or animal-friendly business to see if they would donate a percentage of their total daily sales to to help us in our groundbreaking legal work for animals.
Email or call your representative about pending local, state, or federal legislation impacting farmed animals.
Encourage others to join by sharing our actions on social media! Below are a few related to farmed animals.
Actions
Urge your legislators to support The Farm System Reform Act, which would overhaul the United States' cruel and environmentally destructive animal agricultural industry.

TAKE ACTION

The dangerous "EATS Act" would undermine states' ability to pass laws affecting agriculture, including laws that improve conditions for farmed animals and protect food safety.

TAKE ACTION

Sign the petition urging state and federal legislators to say no to factory farm gas and exclude these programs from all tax credits and energy incentives.

TAKE ACTION