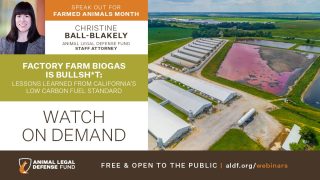 Factory Farm Biogas Is Bullsh*t: Lessons Learned from California's Low Fuel Standard
Released 10/17/22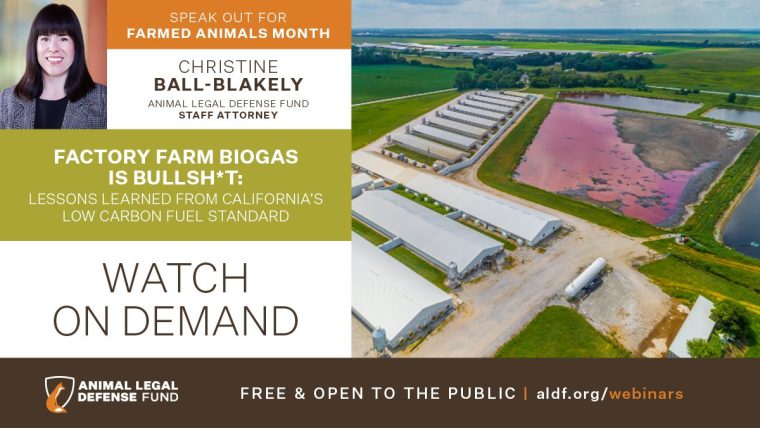 Animal Legal Defense Fund Staff Attorney Christine Ball-Blakely provides background on factory farming and biogas impacts, and focuses on the government programs making it profitable to produce biogas, specifically California's Low Fuel Standard.
This webinar was released on October 17, 2022. Watch it now!
Resources
Join the Animal Legal Defense Fund's email list to stay up to date on lawsuits, legislation, and regulations affecting animals.
Sign Up Now
Recent News
On March 23, 2023, Judge Julie Rubin of the federal district court in Maryland issued a decision, ruling that the United States Department of Agriculture (USDA) acted unlawfully by denying a petition for rulemaking to improve the standard for the psychological well-being of primates in research

Ag-Gag laws wrongly criminalize exposing animal cruelty. These unconstitutional laws are deliberate attempts to hide animal cruelty, food safety, workers' rights, and environmental violations from the American public. Voice your opposition to Ag-Gag laws by signing …

In this free webinar, we will walk you through the basics of how to pass a retail pet sale bans in your community — a powerful way to fight back against puppy mills.