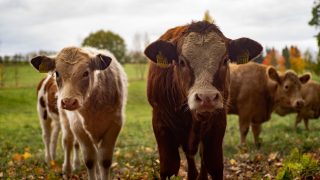 Student Chapter Project Kit
Speak Out for Farmed Animals Month
Animal Legal Defense Fund Student Chapters around the country celebrate October as Speak Out for Farmed Animals Month (SOFAM), a month of action dedicated to raising public awareness nationwide about the lack of meaningful laws that protect farmed animals from cruel treatment.
This Student Chapter Project Kit contains activity suggestions, resources, ideas, and action items — everything needed to make planning and executing SOFAM events with ease (and fun!)
Farmed animals are among the most exploited animals in industries and private use across the country yet are the least protected when it comes to the laws that impact their lives and wellbeing. We encourage students to think critically about these industries, uses, and what constitutes a farmed animal. Under federal law, farmed animals are considered "livestock" and defined as "…cattle, sheep, horses, goats, and other domestic animals ordinarily raised or used on the farm…"[i] but how do you define a farmed animal? Chickens and turkeys, for example, are not included in the federal definition but are routinely raised, tortured, and slaughtered for food; both wild-caught and farmed fish are part of these industries, without protection; dogs are bred and raised for profit in puppy mills that resemble that of factory farms; mink and foxes are bred, raised, and killed for their fur in farmed conditions.
Speak Out for Farmed Animals Month is an opportunity to consider who we are speaking about when we discuss farmed animals, the challenges we face in protecting them — legally, socially, and economically — and possible solutions moving forward.
We would love to hear about the amazing work your chapter accomplishes during Speak Out for Farmed Animals Month! While this project kit offers suggested events and opportunities, it is not an exhaustive list. If your chapter is doing something not featured, please let us know your great ideas. Please take this brief post-event feedback survey by Friday, November 11, 2022, and be entered into a raffle to win swag!
This is a brand-new initiative — stay tuned for student events on curriculum and career planning, how to get involved with the 2022-2023 Student Scholars' Workshop, and future project kit initiatives on public commenting, local ordinances, and fundraising.
Below, you will find suggested events and action items for your student chapter to participate in, along with any relevant materials or additional information that is needed.
Project ideas
Student chapters may apply for project grants to help cover costs, and there is no cap on number of times that a chapter can apply. Grants can cover plant-based food, SOFAM t-shirts, books, and more! Funding is on a rolling basis.

Student Facilitated Presentation: Farmed Animals and Ag-Gag Laws

Student presentations at chapter meetings are highly recommended! They provide public speaking opportunities for chapter officers, as and substantive learning on an animal law issue.

The rise of virtual presentation options offers students more ways to gain much-needed public speaking and presentation experience while in law school. Public speaking skills are essential in practicing law, including the ability to explain a complicated legal subject in a way the audience can understand.

Presentation tips and resources

We encourage student chapter officers to present on farmed animals or Ag-Gag laws, either by following an Animal Legal Defense Fund presentation or creating your own.

The event format is flexible! Feel free to supplement your student presentation by streaming the 13 minute video on Ag-Gag laws before or afterwards.

The logistical and creative suggestions listed below will help you get started:

Assign a student to be the presenter, or multiple students to each take a portion.

During practice, work on your phrasing and pacing. It isn't only what you say but how you say it, and practicing sentence structures, pauses, and inflections can be a big help in gaining confidence.
To help calm any nerves, take a deep breath before beginning! Remind yourself that your audience consists of your peers and that they're likely impressed by your leadership and drive.
Once prepared, trust that you understand the information that you're presenting. A speaker is not required nor expected to know everything. Write down the question and facilitate a response after the event.
Speak slower than what likely comes naturally. Try to replace verbal pauses with silent pauses. The extended silence might seem awkward at first, but it's barely noticeable to the audience. It keeps your communication clear.
If you notice that you're talking too fast and struggle with slowing down, it's time for a pause! I recommend having a glass of water nearby and remembering to take another deep breath. It's OK to take a few seconds to recenter.
Feel free to insert your own experiences or insights into the presentation to make it feel more personalized.
If you have any specific questions or would like to chat with someone, reach out to Animal Legal Defense Fund Education Program Manager Priscilla Rader Culp at alp@aldf.org. She is happy to work with you to prepare.

Schedule a date and time for the presentation, and reserve a room on campus.
Arrange for lunch, and apply for a project grant to cover plant-based food costs. Or combine the presentation with a potluck social!
Create a flier or share graphics to promote the event to chapter members.
Practice the presentation with fellow chapter officers to gain confidence!
If needed, seek additional information on Ag-Gag to help prepare.
Assign a student to introduce the presenter, moderate the Q&A discussion, and assist with any technological issues.
Present and have fun! After the presentation, consider leaving time for Q&A. Have a couple questions prepared in advance in case the audience is shy.
Host a Documentary Screening & Discussion

Documentary screenings are an entertaining way to learn about different issues within animal law and foster productive conversations. They offer an accessible inside look into topics that might not be covered in law classes.

Documentary recommendations

Below is a list of available documentaries that can be screened virtually through Teleparty and Amazon, or in-person with a license. Please be mindful of the platforms' Terms of Use ⁠— they do not allow public performance, and there are restrictions on the educational exemption. Some require a screening license to show the documentary to your chapter. Main campus and law school libraries are a great resource and may have access to several films with performance rights.

Recommended Documentaries:

Apply for a Student Chapter Project Grant to help cover plant-based food costs.
Host or Join a Speaker Event

Hosting a speaker event is a quintessential chapter project! Chapters can request a speaker from the Animal Legal Defense Fund year-round, or join one of our special speaker events this month.

Learn more about the special speaker events

We have two speaker events scheduled specifically for Speak Out for Farmed Animals Month. These events will be open to the public, prerecorded, and virtually presented. Student chapters can plan to host lunch and a watch party of the recordings. Discussion questions will be provided for a chapter roundtable post-presentation.

---

The Legal Significance of the Challenge to California's Proposition 12

Presenting Amanda Howell, Senior Staff Attorney, Litigation Program
View the webinar and resources

---

Factory Farm Biogas Is Bullsh*t: Lessons Learned from California's Low Fuel Standard

Presenting Christine Ball-Blakely, Staff Attorney, Litigation Program
View the webinar and resources

---

Everyone loves an event with free food ⁠— feel free to apply for a Student Chapter Project Grant to cover plant-based food costs.
Get Involved with Social Media
Social media is an invaluable tool for educating others about animal law issues and building community engagement. Use this month to reach a wider audience with our content suggestions below, or as an excuse to create a social media presence if your chapter hasn't yet. There are endless content possibilities and topics to explore!
Create an Instagram Reel or TikTok

Create video content on a farmed animal topic. Use the hashtag #ALDFSOFAM for a chance to be featured on our Animal Legal Defense Fund social media accounts.

Video topic ideas

101 on the (lack of) laws that protect farmed animals in the U.S.
Animal issues relevant to your local area or state
Ag-Gag laws and/or whistleblower protection
False advertising and "humane washing"
Aquaculture
Environment and animal protection
Workers' rights and public safety
Animal rescue story, or sanctuary animals expressing natural behaviors
Farmed animals' treatment
Change Profile Pic to 'Speak Out' Graphic

Student chapter members are encouraged to change their social media profile pictures to one of the available farmed animal avatars to show support all month.

View the avatars
Follow Us on Social Media & Cross-post

Be sure to follow the Animal Legal Defense Fund's social media channels – Instagram, Twitter, TikTok, Facebook – and share posts! Chapters may also download social media graphics to share directly.

View the social media share graphics

Cow graphic

Fish graphic

Pig graphic
Tabling on Behalf of Farmed Animals

Tabling is a great way to directly engage with your law school community and inform them about the importance of animal issues, ways to get involved, and upcoming events. Student chapters can request Speak Out for Farmed Animals tabling materials, which includes relevant brochures, special Speak Out for Farmed Animals stickers, and 'Confinement is Cruel' pins.

Tabling tips

Organize your table so that farmed animal brochures and freebies are visible.
Have at least one action item. Some examples include:
Have fun and be responsive! Sometimes people can feel unsure coming up to a table, so put their mind immediately at ease with a welcoming vibe, snacks, and freebies that they can take with them.
Encourage chapter members to join in tabling. It's an easy way to practice and gain confidence discussing animal issues, as well as learn what interests other students.
Take pictures!
Apply for a project grant to help cover plant-based snacks for the table.
Host a Potluck and Recipe Swap

Hosting a plant-based potluck provides the opportunity to build community with members at your school and within your chapter. It allows you to get to know one another better, discuss topics that might not otherwise come up during a chapter meeting or class, share recipes and interests, and learn more about animal law topics. If done in a communal space, it also lends the opportunity to engage with people on campus who maybe have never seen an entirely plant-based spread or are unfamiliar with the chapter.

Tips to Host a Potluck

Create a sign-up sheet in Google Docs with categories for appetizers, main dishes, and dessert. We recommend adding a column to note common allergies, such as nuts and gluten.
Send this doc link around to your chapter. Feel free to also include professors and law school peers who you may think are interested.
If you want to add the recipe swap component, ask everyone to add their recipes to the Google Doc, or bring them the day of the event.

Once the dishes have been selected and recipes received, a board member can compile all recipes and create a compiled recipe book to be shared with the chapter. This is a fun way for members to learn new plant-based recipes!
Alternatively, recipes can be set near each dish at the potluck.

Apply for a Student Chapter Project Grant to help cover food costs!
Collaborate

Partnering with other student clubs on campus, regional student chapters, and bar association animal law sections can bolster your events even more by spreading out the work, bringing in new audiences, and sharing cross-connected information that might not otherwise be explored.

Read more

Research adjacent student groups at your law school. Those with common interests could be open to collaborating on an event or campaign. Some cause areas might include:

Environmental law
Workers' rights
Public health
Food law

Feel free to search our list of active Animal Legal Defense Fund Student Chapters for other nearby or regional groups to partner together on events.

Bar Association Animal Law Sections and Committees are a potential source of speakers, mentors, and collaborators.
Become a member of the Animal Legal Defense Fund and receive benefits and additional opportunities.
Sign Up
Related
The 17th annual U.S. Animal Protection Laws Rankings Report (2022) ranks the animal protection laws of all 50 states.

The amicus briefs from notable experts including Harvard University's Laurence H. Tribe filed in support of neglected horse's lawsuit against his former abuser

Join co-host Jackson Galaxy, comedian Nikki Glaser, and other special guests