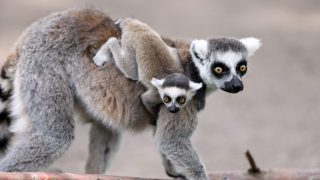 Student Chapter Tabling Materials
Form
Student chapters are eligible to receive free tabling materials from the Animal Legal Defense Fund to use at your chapter's meetings and events. The general student chapter tabling materials include recent issues of the Animals Advocate, posters, stickers, pens, tattoos, and various Animal Legal Defense Fund brochures. We recommend requesting materials at least three weeks before your event.
We also have promotional materials for our weeks of action, Speak Out for Farmed Animals Month in October and National Justice for Animals Week in February.
Tabling materials include:
Chapters may also request event materials, including banners, a tablecloth, and signs.
Request materials for your chapter below!
---
Please use your best judgement dependent on local cases, regulations, and recommendations when deciding whether to hold an in-person event at this time during to the COVID-19 pandemic. If your chapter is not holding face to face events, you may request materials to put out at common areas of your school. Check out the Student Chapter Program Guide: Organizing in the Digital Age for ideas for online events and projects for your chapter.
Related
Companion, farmed, and wild animals have been lost, injured, or killed during fireworks displays

The California Court of Appeals affirmed a ruling by a lower court recognizing Society for the Prevention of Animal Cruelty (SPCA) organizations' ability to file lawsuits against entities that violate existing animal protection laws.

Reward for information leading to the arrest and conviction of the person or people responsible for illegally shooting and killing a red wolf in Tyrrell County, North Carolina.