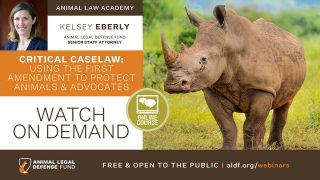 Critical Caselaw: Using the First Amendment to Protect Animals & Advocates
Presented 6/16/21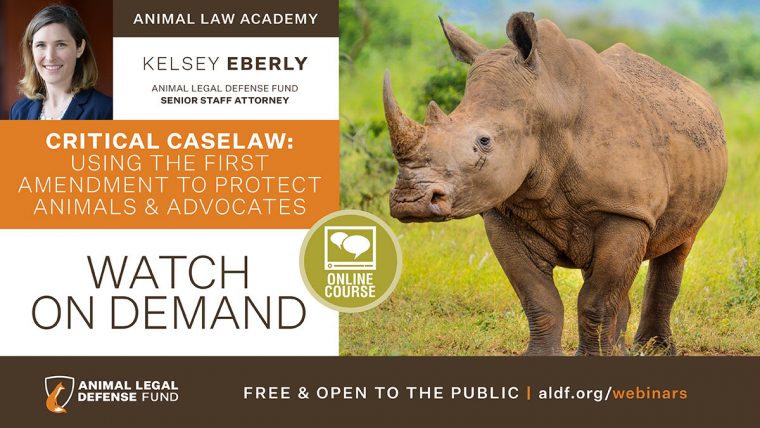 The guarantee of free speech enshrined in the First Amendment to the U.S. Constitution is critical to the animal protection movement's ability to expose, advocate against, and end animal mistreatment. Animal advocates' civil liberties are under constant attack by those who practice and profit from animal abuse, and by lawmakers and government officials beholden to these interests. Meanwhile, innovative entrepreneurs looking to disrupt animal-abusing industries are targeted and their messages gagged.
Join Kelsey Eberly, Animal Legal Defense Fund Senior Staff Attorney, as she explores the applicable legal canons and arguments employed to vindicate activists' rights, protect robust animal advocacy, and empower entrepreneurial innovation for animals. From attacking Ag-Gag laws to ensuring citizen-journalist monitoring of illegal hunting, from fighting plant-based product censorship to protecting social media animal advocacy in public fora, tune in to hear how First Amendment litigation is helping ensure animals' stories are told and their abuse exposed. A brief Q&A to follow.
This webinar has been pre-recorded. Watch it now!
Resources
Join the Animal Legal Defense Fund's email list to stay up to date on lawsuits, legislation, and regulations affecting animals.
Sign Up Now
Related
Edie Falco narrates the Animal Legal Defense Fund film demanding transparency in factory farming

D.C. Court of Appeals rules Animal Legal Defense Fund can pursue its claims

Animal Legal Defense Fund-led coalition wins major victory for animal protection, food and worker safety, and the First Amendment