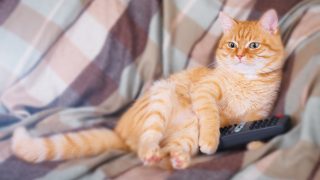 Film Screening Suggestions
Many of the movies listed below are available to stream on Netflix, Hulu, or Amazon Prime. Some may also be available online for free or a reduced cost.
Where to Screen
On campus, you could use cafeterias, classrooms, or auditoriums. Off campus, consider screening at community centers, private homes, or renting out a small theater.
Get Viewers Involved
Organize brief discussions of the topic of the film before and after screening. Prepare a list of questions beforehand to help guide the discussion.
Note
These film and documentary suggestions, along with wide range of viewpoints contained herein, do not necessarily represent the views of Animal Legal Defense Fund. This list is a compilation of suggestions from multiple sources. Please be aware that some of these contain graphic depictions of animal cruelty.
Popular Films
Documentaries
A River of Waste: The Hazardous Truth
Almost Human ("20-20" Segment)
Movies and TV Shows
Lectures
Related
The U.S. District Court for the Central District of California dismissed the industry's constitutional challenge in its entirety, and forbade the plaintiffs from trying to renew those claims.

The Animal Legal Defense Fund filed a lawsuit against the U.S. Department of Agriculture (USDA) for issuing a final rule allowing pig slaughterhouses nationwide to police themselves and kill pigs at very high line speeds.

Ask your state legislators to provide an opportunity for dogs and cats used in research to find loving homes once their time in a research laboratory has come to an end by supporting An Act Protecting Research Animals.