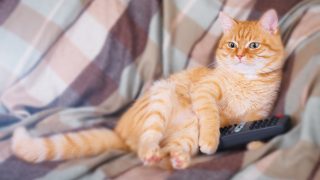 Film Screening Suggestions
Many of the movies listed below are available to stream on Netflix, Hulu, or Amazon Prime. Some may also be available online for free or a reduced cost.
Where to Screen
On campus, you could use cafeterias, classrooms, or auditoriums. Off campus, consider screening at community centers, private homes, or renting out a small theater.
Get Viewers Involved
Organize brief discussions of the topic of the film before and after screening. Prepare a list of questions beforehand to help guide the discussion.
Note
These film and documentary suggestions, along with wide range of viewpoints contained herein, do not necessarily represent the views of Animal Legal Defense Fund. This list is a compilation of suggestions from multiple sources. Please be aware that some of these contain graphic depictions of animal cruelty.
Popular Films
Documentaries
A River of Waste: The Hazardous Truth
Almost Human ("20-20" Segment)
Inside Secret America: Animal Undercover
Pig Vision: The Journey of Two Brothers
Slaughterhouse: The Task of Blood
The Elephant in the Living Room
The Emotional World of Farm Animals
Where Have All the Elephants Gone?
Movies and TV Shows
Lectures
Animal Law Week 2018Harvard Law School
It's Time to Re-Evaluate Our Relationship with Animalsby Professor Lesli Bisgould
The Ethics of What We Eat by Peter Singer
Why We Love Dogs, Eat Pigs, and Wear Cows: An Introduction to Carnismby Dr. Melanie Joy
Related
The $25,000 scholarship is available to a second-year law student at the University, and includes a clerkship with the nonprofit

International Fur Trade Federation's amended complaints dismissed in decisive victory for animals

This week the Animal Legal Defense Fund submitted comments to the U.S. Food and Drug Administration (FDA) advocating for accurate, consistent, and flexible labeling of cell-cultured fish and shellfish products — meat or flesh grown from the cells of fresh or saltwater finfish, crustaceans, and other forms of aquatic animal life.