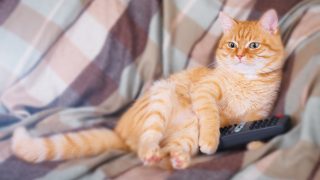 Film Screening Suggestions
Many of the movies listed below are available to stream on Netflix, Hulu, or Amazon Prime. Some may also be available online for free or a reduced cost.
Where to Screen
On campus, you could use cafeterias, classrooms, or auditoriums. Off campus, consider screening at community centers, private homes, or renting out a small theater.
Get Viewers Involved
Organize brief discussions of the topic of the film before and after screening. Prepare a list of questions beforehand to help guide the discussion.
Note
These film and documentary suggestions, along with wide range of viewpoints contained herein, do not necessarily represent the views of Animal Legal Defense Fund. This list is a compilation of suggestions from multiple sources. Please be aware that some of these contain graphic depictions of animal cruelty.
Popular Films
Documentaries
A River of Waste: The Hazardous Truth
Almost Human ("20-20" Segment)
Movies and TV Shows
Lectures
Related
Today the U.S. District Court for the District of Minnesota issued a critical ruling in favor of wolves' legal protection — determining that gray wolves are not excluded from the Endangered Species Act even if they have some detectable dog genes.

The New York City Council is considering Intro 1425, the Carriage Horse Heat Relief Bill. Intro 1425 strengthens protections for carriage horses forced to work in extreme heat. We need your help to ensure this important bill is passed.

On Tuesday, June 4th, the Animal Legal Defense Fund and The Humane Society of the United States hosted their first joint California Humane Lobby Day. Nearly 100 animal advocates gathered in Sacramento to lobby legislators on five animal protection bills.