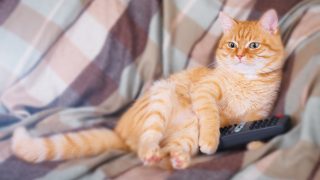 Film Screening Suggestions
Many of the movies listed below are available to stream on Netflix, Hulu, or Amazon Prime. Some may also be available online for free or a reduced cost.
Where to Screen
On campus, you could use cafeterias, classrooms, or auditoriums. Off campus, consider screening at community centers, private homes, or renting out a small theater.
Get Viewers Involved
Organize brief discussions of the topic of the film before and after screening. Prepare a list of questions beforehand to help guide the discussion.
Note
These film and documentary suggestions, along with wide range of viewpoints contained herein, do not necessarily represent the views of Animal Legal Defense Fund. This list is a compilation of suggestions from multiple sources. Please be aware that some of these contain graphic depictions of animal cruelty.
Popular Films
Documentaries
A River of Waste: The Hazardous Truth
Almost Human ("20-20" Segment)
Movies and TV Shows
Lectures
Related
Earlier this summer, the driver of a pig transport truck struck and killed longtime animal advocate Regan Russell. The circumstances regarding her death are not fully known to the public, but top to bottom, the animal agriculture industry is rarely held accountable.

Court dismisses International Fur Trade Federation's complaint in victory for animals

After multiple lawsuits filed and fought by the Animal Legal Defense Fund, the Tiger Truck Stop has finally stopped exhibiting animals and tore down its cages. The Tiger Truck Stop, the infamous gas station in Gross Tete, Louisiana, held Tony — an endangered Siberian-Bengal tiger — from the age of 6-months until his death at the age of 17 in 2017.