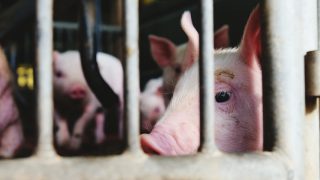 United States: Support the Farm System Reform Act
This action is for U.S. residents only.
An estimated nine billion land animals are raised and killed for human consumption in factory farms and slaughterhouses every year in the United States. Despite their vast numbers and the severity of the abuse they suffer, farmed animals receive only the most minimal protections from our legal system. In addition to inflicting widespread animal cruelty, factory farming is polluting our environment and endangering public health.
Factory farms intensively confine tens of thousands of animals in dirty, stressful conditions — creating an ideal breeding ground for deadly new viruses. In the wake of the COVID-19 pandemic, it is more important than ever that we create a better future for animals and humans alike.
The Farm System Reform Act would overhaul the United States' cruel and environmentally destructive animal agricultural industry, in part, by placing a moratorium on building or expanding the largest factory farms. Sponsored by Sen. Cory Booker and Rep. Ro Khanna, this groundbreaking bill would take the first step in shifting away from our current factory farming model and moving toward a more sustainable agricultural system.
Please use the form below to send a message to your lawmakers, urging them to support this important bill. And remember, personalizing your message will help it stand out.
Join the Animal Legal Defense Fund's email list to stay up to date on lawsuits, legislation, and regulations affecting animals.
Sign Up Now
Related
Companion, farmed, and wild animals have been lost, injured, or killed during fireworks displays

The California Court of Appeals affirmed a ruling by a lower court recognizing Society for the Prevention of Animal Cruelty (SPCA) organizations' ability to file lawsuits against entities that violate existing animal protection laws.

Reward for information leading to the arrest and conviction of the person or people responsible for illegally shooting and killing a red wolf in Tyrrell County, North Carolina.