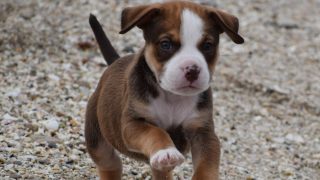 Animals can't vote, but that doesn't mean they shouldn't have a voice in the political process.
You can give animals that voice! This advocacy toolkit will walk you through the basics of how to lobby for pro-animal legislation.
What is Lobbying?
Whether they're city council members, state representatives or U.S. Senators, elected officials care — or ought to care — what their constituents think. The word "lobbying" may have some negative connotations — but it's good and important to let lawmakers know that you care about laws affecting animals, that you want better animal protection laws.
By sending letters and emails supporting pro-animal measures that are on the legislative agenda, you can help convince these politicians that the voters who put them in office want to see animals protected from cruelty and neglect.
And if there are no pro-animal items on the agenda, you can help change that, too. Tell lawmakers what types of animal protection laws you would like to see introduced and passed. The Animal Legal Defense Fund's model animal protection laws are available as a template.
Lay the Groundwork
To be an effective advocate, or lobbyist, you need to lay the proper groundwork.
Here are some tips to consider, before approaching an elected official to advocate for specific legislation:
Establish Goals
Once you have laid the groundwork, you must determine your goals:
Make Contact
Lobbying is nearly impossible without personal contact.
The following pointers will help the visit go smoothly:
Other Ways You Can Help
Related
The U.S. District Court for the Central District of California dismissed the industry's constitutional challenge in its entirety, and forbade the plaintiffs from trying to renew those claims.

The Animal Legal Defense Fund filed a lawsuit against the U.S. Department of Agriculture (USDA) for issuing a final rule allowing pig slaughterhouses nationwide to police themselves and kill pigs at very high line speeds.

Ask your state legislators to provide an opportunity for dogs and cats used in research to find loving homes once their time in a research laboratory has come to an end by supporting An Act Protecting Research Animals.