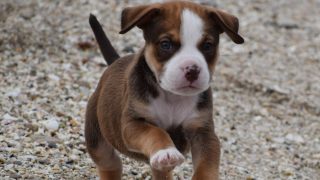 Animals can't vote, but that doesn't mean they shouldn't have a voice in the political process.
You can give animals that voice! This advocacy toolkit will walk you through the basics of how to lobby for pro-animal legislation.
What is Lobbying?
Whether they're city council members, state representatives or U.S. Senators, elected officials care — or ought to care — what their constituents think. The word "lobbying" may have some negative connotations — but it's good and important to let lawmakers know that you care about laws affecting animals, that you want better animal protection laws.
By sending letters and emails supporting pro-animal measures that are on the legislative agenda, you can help convince these politicians that the voters who put them in office want to see animals protected from cruelty and neglect.
And if there are no pro-animal items on the agenda, you can help change that, too. Tell lawmakers what types of animal protection laws you would like to see introduced and passed. The Animal Legal Defense Fund's model animal protection laws are available as a template.
Lay the Groundwork
To be an effective advocate, or lobbyist, you need to lay the proper groundwork.
Here are some tips to consider, before approaching an elected official to advocate for specific legislation:
Establish Goals
Once you have laid the groundwork, you must determine your goals:
Make Contact
Lobbying is nearly impossible without personal contact.
The following pointers will help the visit go smoothly:
Other Ways You Can Help
Related
As the Animal Legal Defense Fund combats dogfighting by working with state officials to create stronger laws and more effective penalties for those who engage in this crime, we're also hard at work to ensure the best possible outcomes for dogfighting victims.

The Animal Legal Defense Fund, the nation's preeminent legal advocacy organization for animals, and Humane Rescue Alliance (HRA) are offering a $10,000 reward for information leading to the arrest and conviction of the person or people responsible for the abandonment and stabbing of a senior-aged dog named Ladybell on July 12, 2020.

Earlier this summer, the driver of a pig transport truck struck and killed longtime animal advocate Regan Russell. The circumstances regarding her death are not fully known to the public, but top to bottom, the animal agriculture industry is rarely held accountable.