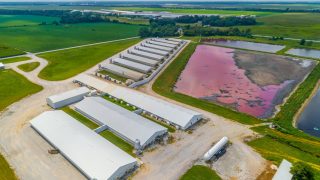 Tell Legislators: No Tax Dollars for Factory Farm Gas!
This action is for U.S. residents only.
There's nothing sustainable about factory farming — it harms animals, the environment, workers, and nearby communities alike.
But in the factory farming industry's latest scheme, it markets the methane it produces — a highly potent greenhouse gas — as a form of so-called "renewable energy."
In the new 2-minute video Biogas or Bulls**t?, the Animal Legal Defense Fund exposes the factory farm gas fallacy and illustrates the need for real environmental solutions.
The video, narrated by Academy Award-winning actor and activist Joaquin Phoenix, premieres as multiple state and the federal government consider and implement policies that provide lucrative subsidies for factory farm gas expansion and infrastructure projects — further entrenching this cruel and environmentally destructive industry!
Urge legislators not to reward factory farms for their pollution by signing the petition below.
By signing your name, you are being added to the following letter of support:
Dear Legislator:
We, the undersigned, urge you to prioritize real environmental solutions over false ones by supporting real natural and renewable resources — and not financially rewarding factory farms through so-called "biogas" programs.
Factory farming is among the most environmentally harmful activities on Earth. Factory farm gas capture programs don't solve an environmental problem — they cement one in place, incentivizing corporate animal agriculture interests to continue with "business as usual."
It's vital that factory farm gas programs be excluded from all tax credits and energy incentives at the state and federal levels. Factory farming needs to be phased out, not propped up.
I do not support any subsidy or tax benefit for factory farm gas programs. Our tax dollars should not be used to support corporate animal agribusiness under the guise of environmental protection.
Thank you for your consideration.
[Signature]
Related
Animal Legal Defense Fund lawsuit leads to rule revocation excepting medium-sized factory farms from environmental review before receiving federal funding

Animal Legal Defense Fund and Phoenix partner to expose dangers of this emerging industry gaining traction with considerable investments from government entities

Advocates continue to fight law that penalizes whistleblowing on factory farms, other businesses in violation of the First Amendment