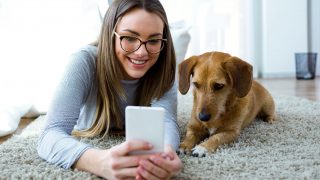 The ROAR Program
Registration Form
The Animal Legal Defense Fund has a social media ambassador program! Remote Online Advocacy Representatives (ROAR) are online partners who help us spread the word about important animal issues.
What is ROAR?
ROAR is for people who care about animals and want to get more involved with the Animal Legal Defense Fund's work. The ROAR program is a way for supporters to amplify key issues and projects so that more people can take action on important issues affecting animals. ROAR members also receive perks and other benefits.
What do ROAR members do?
ROAR members commit to posting at least once a week about the Animal Legal Defense Fund on one of their social media profiles (Facebook, Twitter, Instagram, LinkedIn). Don't worry – we'll provide you with suggested content in weekly emails. You can also simply click 'share' and repost content from the Animal Legal Defense Fund's Twitter and Facebook channels.
Why ROAR?
With so much information and content out in the world today, it's getting harder for our message to reach people. ROAR members amplify the Animal Legal Defense Fund's voice, and the voice of animals, by increasing the number of people we reach. For example, we share Action Alerts asking people to contact their legislators or other government officials about important animal issues. But people can't take action if they don't see the alert. ROAR members ensure that more people are able to advocate for animals.
Do ROAR members receive benefits?
Yes!
Members in the United States will receive a special patch.

All participants receive a digital badge identifying you as a ROAR member to post on social media.
Members receive a special weekly social media ambassador email.
Top participants may receive tickets to annual events, t-shirts, stickers, and other fun stuff.
Top participants in the United States will receive a FREE Animal Legal Defense Fund membership which includes a subscription to our quarterly newsletter, The Animals' Advocate.
Who is eligible, and how do I sign up?
Anyone with an active social media profile on Twitter, Facebook, LinkedIn or Instagram is eligible to participate! To join, simply register using the form below.
---
Related
This action is for U.S. residents only.

The victory follows the passage of a factory farming law and efforts to curtail the construction of new mega dairies in the state

Lawsuit filed by the Animal Legal Defense Fund and The Good Food Institute asserts that the law imposes unclear and vague standards on plant-based meat producers