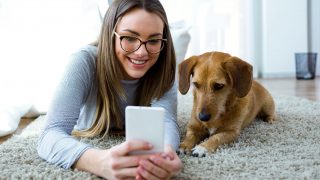 The Animal Legal Defense Fund has a social media ambassador program! Remote Online Advocacy Representatives (ROAR) are online partners who help us spread the word about important animal issues.
What is ROAR?
ROAR is for people who care about animals and want to get more involved with the Animal Legal Defense Fund's work. The ROAR program is a way for supporters to amplify key issues and projects so that more people can take action on important issues affecting animals. ROAR members also receive perks and other benefits.
What do ROAR members do?
ROAR members commit to posting at least once a week about the Animal Legal Defense Fund on one of their social media profiles (Facebook, Twitter, Instagram, LinkedIn). Don't worry – we'll provide you with suggested content in weekly emails. You can also simply click 'share' and repost content from the Animal Legal Defense Fund's Twitter and Facebook channels.
Why ROAR?
With so much information and content out in the world today, it's getting harder for our message to reach people. ROAR members amplify the Animal Legal Defense Fund's voice, and the voice of animals, by increasing the number of people we reach. For example, we share Action Alerts asking people to contact their legislators or other government officials about important animal issues. But people can't take action if they don't see the alert. ROAR members ensure that more people are able to advocate for animals.
Do ROAR members receive benefits?
Yes!
Members in the United States will receive a special patch.

All participants receive a digital badge identifying you as a ROAR member to post on social media.
Members receive a special weekly social media ambassador email.
Top participants may receive tickets to annual events, t-shirts, stickers, and other fun stuff.
Top participants in the United States will receive a FREE Animal Legal Defense Fund membership which includes a subscription to our quarterly newsletter, The Animals' Advocate.
Who is eligible, and how do I sign up?
Anyone with an active social media profile on Twitter, Facebook, LinkedIn or Instagram is eligible to participate! To join, simply register using the form below.
---
Related
The Animal Legal Defense Fund filed a lawsuit against the United States Department of Agriculture (USDA) under the Freedom of Information Act (FOIA) over the agency's critical redactions in a contract between the USDA's Wildlife Services program and a Colorado slaughterhouse, outlining plans for slaughtering geese rounded up in parks across Denver.

The Animal Legal Defense Fund released the second in a series of white papers — COVID-19 and Factory Farming —providing policy recommendations to address industrial animal agriculture's role in our heightened risk for zoonotic diseases outbreaks, like COVID-19, and its potential to be the source of the next global pandemic.

These awards celebrate chapters that have shown incredible efforts in advancing animal law and advocating for animals through original projects and initiatives. Animal Legal Defense Fund Student Chapters are a vital part of the growing animal law movement.