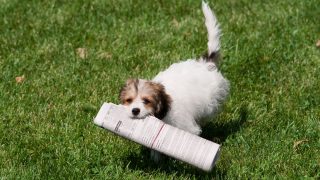 Letters to the editor are a powerful way to make your voice for animals heard within your larger community. These letters are one of the most widely-read sections of the newspaper. Elected officials often take notice of public opinion.
Don't Just Read the News—Get Involved
If there is an animal advocacy story that you think deserves more media attention, whether a success story or a sad case of abuse or neglect — or even if you want to applaud a reporter for her in-depth coverage of an animal story — a letter to the editor is the way to go.
Know your audience. When writing to your local newspaper, emphasize your local roots.
Keep it short. Most letters to the editor are limited to 150-200 words. Check with each publication about submission guidelines.
Tell the story. How are animals specifically benefitting, or being harmed? Use statistics, facts, names of animals, and numbers of animals impacted whenever possible.
Other Tips
Be specific. Start your letter with the date and title of the article you are referencing.
Know the law. Use resources from the Animal Legal Defense Fund so you can present facts as an authority.
Be persuasive. Appeal to your audience's emotions, sense of reason, and justice. Use a credible, non-combative, and polite tone. Remember: everyone wants to do the right thing deep down.
For Example
Here is an example from Animal Legal Defense Fund Executive Director Stephen Wells, whose letter to the editor about the USDA's secrecy and failure to regulate slaughterhouses appeared in a local paper.
USDA secrecy
EDITOR: As noted in Tuesday's paper, the U.S. Department of Agriculture has refused to respond to reports of an intimate relationship between a USDA inspector and a Petaluma slaughterhouse employee ("Answers sought in Rancho closure"). Early this year, federal regulators ordered a nationwide recall of 8.7 million pounds of beef from the Rancho Feeding Corp., and they shut the facility down in February. Although Reps. Mike Thompson, D-St. Helena, and Jared Huffman, D-San Rafael, have called on the USDA to provide answers, the agency is using the cover of "pending investigation" to shroud itself in secrecy.
Unfortunately, the animal agriculture industry regularly colludes with government agencies including the USDA to hide operations from the public. Meanwhile, the understaffed USDA often fails to enforce the law, putting the public at grave risk. That's why the Cotati-based Animal Legal Defense Fund, supported by a broad coalition of public interest groups, filed the nation's first lawsuits against state "ag gag" laws (in Idaho and Utah) that silence whistleblowers on factory farms and slaughterhouses. The industry talks about transparency while shutting the public out at every opportunity. Taxpayers deserve some answers.
STEPHEN WELLS
Executive Director, Animal Legal Defense Fund
Notice how he starts out addressing the "Editor" and immediately links to the title of a recent article covered by that paper on his topic. He makes a connection with this topic and the work that the Animal Legal Defense Fund does for the benefit of animals and the community.
Celebrate Your Success
If your letter is published, share it with us! We will send you a prize-pack of Animal Legal Defense Fund goodies to help you keep spreading the word about our work to advocate for animals using the legal system. Email the published link to your letter to the editor to info@aldf.org or send a hard copy to the Animal Legal Defense Fund, 525 East Cotati Avenue, Cotati, CA 94931 Make sure to include your name, mailing address, and a copy of your published letter.
Related
As the Animal Legal Defense Fund combats dogfighting by working with state officials to create stronger laws and more effective penalties for those who engage in this crime, we're also hard at work to ensure the best possible outcomes for dogfighting victims.

The Animal Legal Defense Fund, the nation's preeminent legal advocacy organization for animals, and Humane Rescue Alliance (HRA) are offering a $10,000 reward for information leading to the arrest and conviction of the person or people responsible for the abandonment and stabbing of a senior-aged dog named Ladybell on July 12, 2020.

Earlier this summer, the driver of a pig transport truck struck and killed longtime animal advocate Regan Russell. The circumstances regarding her death are not fully known to the public, but top to bottom, the animal agriculture industry is rarely held accountable.