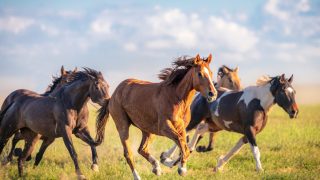 National Justice for Animals Week
February 21-27, 2021
The Animal Legal Defense Fund's National Justice for Animals Week is an annual event dedicated to raising public awareness around crimes committed against animals. This includes learning what criminal cruelty is under the law, and how we can all work to build stronger laws, prevent criminal cruelty, hold abusers accountable, and vindicate the interests of animal cruelty victims.
Each year's event features seven days of actions, and a representative – an animal whose experience with the justice system helps illustrate the law's power to do more for animals. The annual week of awareness is capped off with the announcement of America's Top Animal Defenders – the list of prosecutors, judges, law enforcement officials, animal rescuers, lawmakers, animal legal advocates, and others who champion the cause of animal crime victims.
Take Action
There are seven actions you can take—one for each day of the week.
Familiarize yourself with your state animal protection laws.
Have a plan: identify which agencies in your community are responsible for responding to criminal animal cruelty — and know how to report to them if you witness a crime against an animal.
Sign up for Action Alerts so you can take action on national and local animal issues.
Don't just read the news—make it! Write a letter to the editor about an issue involving animals in your area.
Connect with the Animal Legal Defense Fund onFacebook,Instagram and Twitter. Share this page with #NJFAW, #Justice4animals and #aldf!
Join the Animal Legal Defense Fund Student Chapter at your law school. Chapters are encouraged to host events to raise awareness about criminal justice issues in animal law. Please see the list of suggested events and projects below.
Suggested Events & Projects for Student Chapters
Hold a virtual film screening through Netflix Party, TwoSeven for other streaming services, or another online connection tool and host an online discussion via Zoom afterward.
Host a guest speaker online. Boost event attendance by hosting the event in collaboration with other student groups.
Apply for a project grant to serve plant-based food at virtual events through restaurant gift cards given to attendees.
Email or call your representative about pending local, state, or federal legislation. Check city and state government websites for current legislation, or contact us to see if there is pending legislation in your area.
If you live in Connecticut or Maine, host a student chapter event on how qualified law students can represent animal victims in court as Courtroom Animal Advocates.
Find more project ideas in our 2020-2021 Student Chapter Program Guide: Organizing for Animals in the Digital Age.
Suggested Speaker Topics
From US v. 53 Pitbulls to Desmond and Franky's Laws: growing options for attorneys and law students to give voice to the needs of animal crime victims in court.
Ag-Gag legislation, which criminalizes whistleblowing of egregious animal cruelty on factory farms.
Criminal anti-cruelty laws: an overview of the laws in your state, exciting legislative developments, and how statutory carve-outs complicate protecting certain animals, like farmed animals and wildlife, from cruelty.
The connection between domestic violence and animal cruelty.
Vindicating Victims, Preventing Cruelty, and Doing Justice: a panel of perspectives on animal crimes in the justice system.
Animals at the Intersection of Criminal and Constitutional Law: searches, seizures, and religious freedom.
Your chapter can apply for a project grant to support your event. You can also receive a free Animal Legal Defense Fund sign to use in the background for your virtual meetings and events. Email the Animal Law Program Fellow with your school name and personal address if you would like one for your chapter!
Actions
Stand up and be heard. Animal cruelty is a serious crime. Animal abusers are five times more likely to hurt other people. Strong sentences for abusers protect people and animals alike. Robust cruelty laws keep our communities safer for everyone.

Take Action

Since 1979, the Animal Legal Defense Fund has led the charge to win animals the legal protection they so desperately need—and deserve. Your generous gift will assure that we can continue to take on cases that advance the interests of animals.

Donate

Every day, animals are abused and killed. Their abusers frequently do not face any consequences – it's still extremely common for animal cruelty to go unpunished. Without you, animals have no voice. Sign the petition.

Take Action
Katarina the Borzoi
Katarina, a borzoi rescued from a Tennessee cruelty case, is this year's National Justice for Animals Week representative.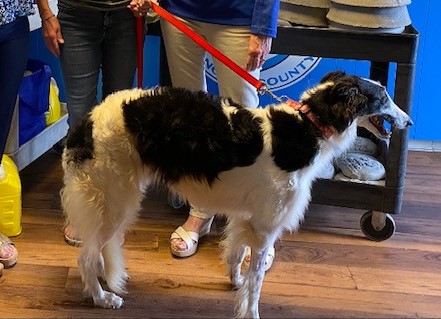 When Katarina was saved from a hoarding/puppy mill situation last April, she began the tough road to recovery that has since led her to a happy new home. It took the hard work of numerous animal advocates and law enforcement officers to make her fresh start possible.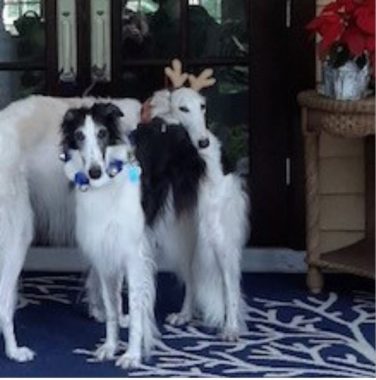 Katarina was one of more than 100 animals — including dozens of dogs, as well as horses, donkeys, sheep, goats, geese, parrots, and others — rescued from a property in Frankewing, Tennessee. Animals rescued in this case — described by the local sheriff as the worst animal hoarding situation he'd ever encountered — were found to be suffering from health issues including emaciation, lesions, and hair loss. Deceased animals were also found on the property, and their guardian was charged with 18 counts of animal cruelty in a case that is still ongoing.
Sadly, this wasn't the first time that Katarina's abuser had harmed animals; she was previously charged with cruelty, pleading guilty to two charges, in Alabama in 2009. Katarina's case, and the case of the animals who suffered before her, illustrate the importance of strong laws to protect animals and practical measures to prevent abuser recidivism.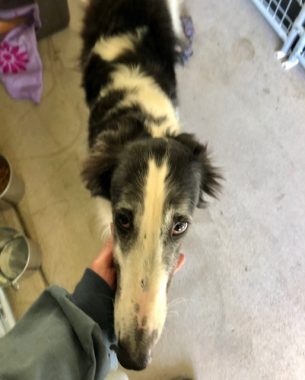 After her rescue, Katarina was taken to the Humane Society of Lincoln County, where she received life-changing rehabilitation and socialization, with her care funded in part by the Animal Legal Defense Fund. She's now thriving in her new home in Florida, where she even has a new four-legged sibling!
Like every animal, Katarina is an individual deserving of protection, care, and recognition under the law. Her case shows the power of caring people to make a difference for animals in need — from neighbors reporting suspected cruelty to rescuers and shelter staffers to law enforcement officers to Animal Legal Defense Fund supporters who help create legal and legislative progress for animals.
America's Top Ten Animal Defenders 2020
Representative Bruce Irwin Griffey, member of the Tennessee House of Representatives, Nashville, TN, and Rebecca Davis Griffey, Assistant District Attorney General for Tennessee's 24 Judicial District, Huntingdon, TN
When a nonprofit animal rescue organization's ability to provide care to nearly 200 animals seized in a neglect case — including Chuck the duck — was threatened by an unconventional legal challenge, Tennessee Representative Bruce Irwin Griffey and Assistant District Attorney Rebecca Davis Griffey stood up for the animals, winning a key victory in Tennessee court. The animals' legal owners challenged a "bond-or-forfeit" law that required them either to relinquish the animals to the state, or post a bond to cover for the cost of caring for the animals while legal proceedings were underway. Drawing on the Animal Legal Defense Fund's position statement in favor of bond-or-forfeit statutes to craft an argument that prevailed in court, the Griffeys won a ruling reaffirming that this critical legal tool remains available to animals.
Judge Alison R. Ferrante, Gilbert, AZ
While serving as a prosecutor in Arizona, Alison Ferrante's work long involved confronting cruelty to animals. Alison created a Phoenix-Tucson animal cruelty taskforce and served on the Maricopa County Attorney's Office Animal Cruelty Task Force, where she revamped the way Mesa City investigates animal cruelty. Alison has proactively undertaken efforts to improve local animal protection laws. In Arizona and beyond, Alison has also played a key role in educating animal control agents, law enforcement officers, and prosecutors about best practices for addressing animal cruelty through the Association of Prosecuting Attorneys. Alison currently serves as a Municipal Judge in Gilbert, Arizona.
Tim Woodward, Executive Director of Animal Rescue Corps, Stanley, VA
As executive director of Animal Rescue Corps, Tim Woodward focuses on large-scale rescue as a means of making the world a better place for animals — including Chuck the duck, and the nearly 200 other mistreated animals he was rescued with. Tim has made a critical difference in the lives of animals ranging from dog fighting victims, neglected farmed animals, and those threatened by natural disasters. By raising public awareness, improving animal resource infrastructure, and proactively engaging with local agencies, Tim and Animal Rescue Corps help prevent future suffering. In the face of escalating costs to care for Chuck and the other animals, Tim also worked with fellow Animal Defender honorees Rebecca Davis Griffey and Bruce Irwin Griffey to defend Tennessee's bond-and-forfeit law, which will help future animal cruelty victims in the state.
James W. Glasgow, Will County State's Attorney, Will County State's Attorney's Office, Joliet, IL
James Glasgow has tirelessly advocated for animals' rights during his six terms as Will County State's Attorney. In 1999, he authored a statute that legally defined the torture of animals and made the abuse of an animal a felony for the first time in Illinois' history; the same legislation also mandated that defendants convicted of animal torture undergo a psychiatric evaluation. In 2019, James founded the League of Extraordinary Canines & Friends — a coalition of local and national groups and individuals who work in animal law or are involved in addressing animal abuse and neglect — and hosted a two-day training session to educate investigators and animal control professionals on how to identify and prevent animal abuse.
Senator Julie Raque Adams, member of the Kentucky Senate, Frankfort, KY
Senator Julie Raque Adams has served in the Kentucky state legislature for 10 years, first as a representative and now as a senator. In 2019, Adams sponsored Senate Bill 67, An Act Relating to Sexual Crimes against Animals. Prior to this bill's passage, Kentucky was one of five states that did not criminalize the sexual abuse of animals. Senate Bill 67 also created several crucial sentencing provisions, including mandatory psychological evaluations of convicted offenders, and mandatory bans preventing offenders from owning or possessing animals for at least five years. This law is the first time psychological evaluations and possession bans have been incorporated into any of Kentucky's animal protection laws, and Senator Adams' bill signaled a monumental step forward in the way Kentucky addresses animal cruelty.
Judge Gale E. Rasin, Baltimore District Court Judge, Chestertown, MD
Judge Gale E. Rasin served on Baltimore City's trial courts for more than 20 years, and currently presides over the Mental Health Court in the Circuit Court for Baltimore City as senior judge. Judge Rasin has been active with organizations devoted to combating animal abuse and neglect. She served on the Baltimore City Mayor's Anti-Animal Abuse Advisory Commission, created judicial training programs on animal cruelty, and has lectured at the annual animal cruelty conference of the Association of Prosecuting Attorneys. In 2019, she was a fellow at the Harvard Law School Animal Law and Policy Program where she wrote a guide for trial judges on the subject of animal hoarding.
Senator Raymond J. Lesniak, former member of the New Jersey General Assembly and state Senate, Elizabeth, NJ
Former New Jersey state Senator Raymond Lesniak served as a New Jersey legislator for 40 years, in the General Assembly and state Senate. Senator Lesniak's record is second to none in sponsoring and passing animal legislation, including the country's first law banning the trade of ivory products. Senator Lesniak has continued his animal advocacy since leaving office, working to enact Nosey's Law — prohibiting the use of elephants and other wild animals in traveling circuses. He has long worked to stop to bear hunts in New Jersey and is advocating for New Jersey to enact a Courtroom Animal Advocate Program (CAAP) law, to give legal voice to animal cruelty victims. Senator Lesniak founded the Lesniak Institute at Kean University, which teaches action-driven advocacy.
Stacie Aileen Haynes, executive director of the Susquehanna SPCA, Cooperstown, NY
Stacie Haynes serves as the executive director of the Susquehanna Society for the Prevention of Cruelty to Animals (SQSPCA). In February 2019, Stacie worked with her local district attorney and county sheriff to form the Otsego County Animal Cruelty Task Force. The SQSPCA is often on the front lines of enforcing animal protection laws, but such enforcement requires the collaboration of all relevant agencies and organizations. Haynes' task force has already tackled several large-scale cruelty cases, including one case resulting in the seizure of over 100 farmed animals. The task force is also focused on education and will provide training for social service agencies on how to identify and report animal cruelty.
Casey Mundell, Deputy County Attorney with the Maricopa County Attorney's Office, Phoenix, AZ
Currently assigned to the Special Crimes Bureau in the Maricopa County Attorney's Office's Organized Crime Division, Casey Mundell handles all the office's animal cruelty cases. Casey helped pass legislation resulting in more serious penalties for animal cruelty offenses and also helped to develop the Animal Cruelty Diversion Program — one of three such programs in the country that allow those accused of cruelty to participate in counseling in lieu of going through the court system. Casey is a member of the Arizona Professionals' Cruelty Task Force, founding member of the Maricopa County Animal Cruelty Law Enforcement Task Force, and presiding chair of the Animal Law Section of the State Bar of Arizona.
Previous Representatives
Chuck the duck
Chuck the duck is the representative for the Animal Legal Defense Fund's National Justice for Animals Week 2020. Chuck is a duck who was one of nearly 150 animals rescued from horrific conditions in Carroll County, Tenn., by Animal Rescue Corps — whose executive director Tim Woodward is a 2020 honoree — with support from the Animal Legal Defense Fund.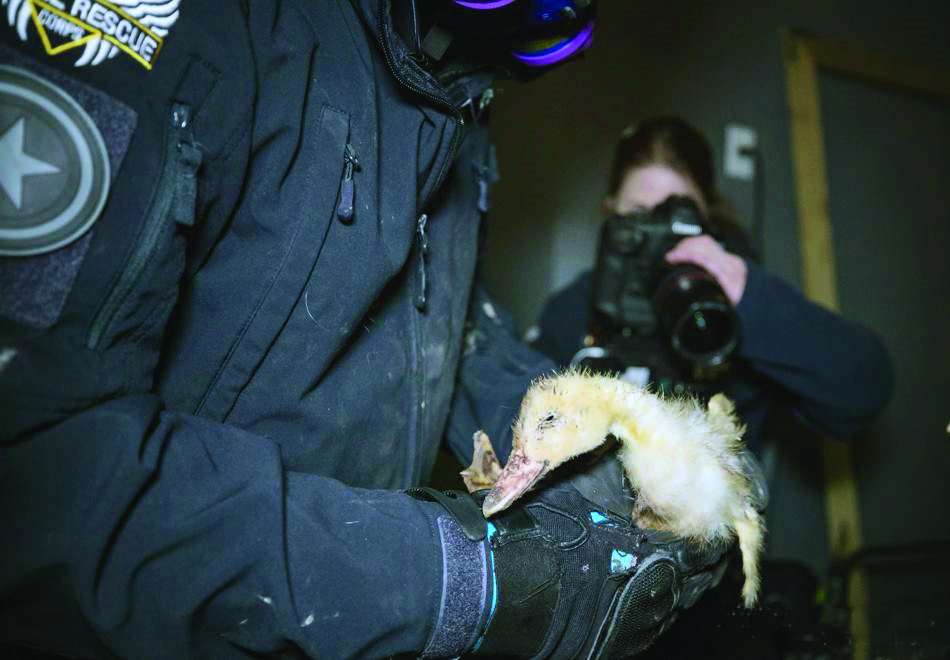 Justice the horse
Justice the horse is the representative for the Animal Legal Defense Fund's National Justice for Animals Week 2019. The Animal Legal Defense Fund has brought a groundbreaking lawsuit on Justice's behalf — that, if successful, will be the first to establish that animals have a legal right to sue their abusers in court.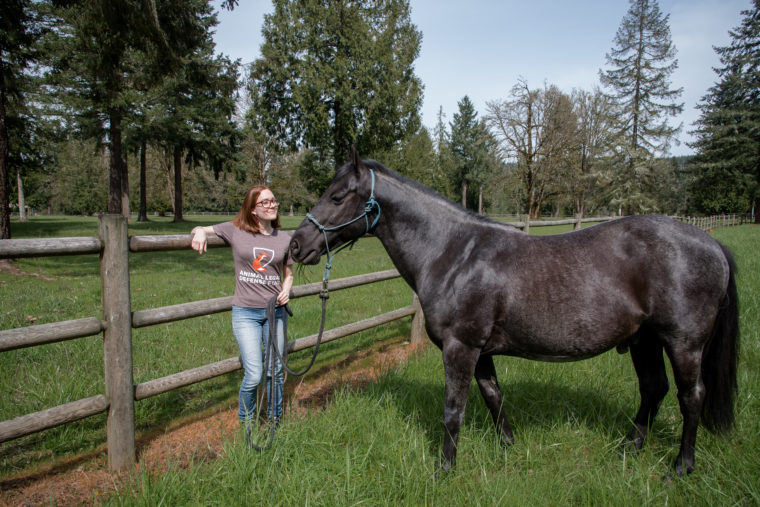 At the time of his rescue in March 2017, Justice, who is eight years old, was suffering from starvation, frostbite, and other grave injuries due to his former owner's failure to provide him with basic care — including food and shelter. The horse was 300 pounds underweight, weak, and had a difficult time walking.
Justice's abuser pleaded guilty to criminal animal neglect in 2017. But she agreed to pay restitution only for the cost of Justice's care prior to July 6, 2017. Our lawsuit seeks damages for Justice's care from this date and forward. The funds will go into a trust to pay for Justice's ongoing needs.
Justice is now being well cared for at Sound Equine Options, an Oregon nonprofit horse rescue and rehabilitation organization. Because of his injuries and the expense of caring for him, it has been hard to find him a permanent home and a family of his own.
One big hope is that this lawsuit will help, in that regard. Another is that this lawsuit will bring about some progress in the law, so the legal status of animals matches what we as a society already recognize: they are sentient beings with their own lives and interests, and they deserve our respect.
Willow & Stormy the foals
Willow & Stormy are the representatives for the Animal Legal Defense Fund's National Justice for Animals Week 2018. They were victims of severe neglect, both pregnant and severely malnourished when law enforcement found them. They were lucky to survive, but, thanks to the great work of the prosecutor and local rescuers, today Willow & Stormy are thriving, as are their foals. And their abuser is behind bars. The prosecutor knew how important it was to win justice for Willow, Stormy, and the other horses — so she contacted the Animal Legal Defense Fund, and we provided support to ensure that key witnesses were available to testify in this important case. Every year countless animal victims endure criminal cruelty. Willow & Stormy remind us that with persistence, we can make sure more animal abusers are brought to justice.
The abuser has received 2 years in jail from the jury and a probation revocation. She has been prohibited from owning, possessing and caring for horses for ten years. She is a repeat offender for abusing horses so it was incredibly important to bring her to justice.
Luke the pit bull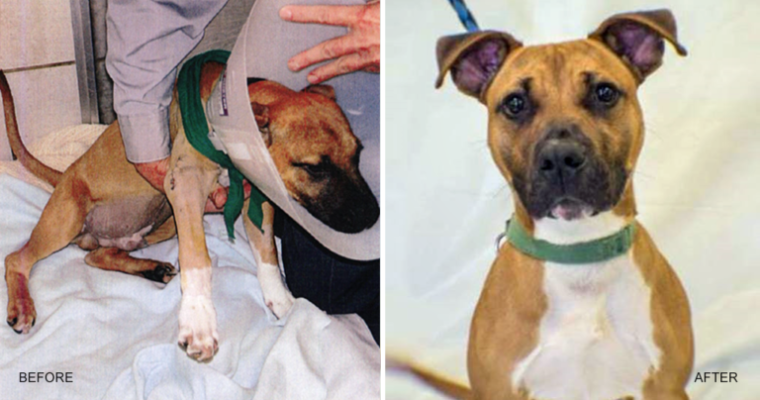 In 2017, our representative for National Justice for Animals Week was Luke the pit bull. Luke is in a loving home today, but it was a hard fight to get him there. When Luke was just a puppy, he suffered a painful shattered shoulder when his guardian allegedly threw him against a wall. The owner was acquitted of cruelty charges in court, but the prosecutor didn't want to return Luke to a dangerous situation and contacted us. The Animal Legal Defense Fund stepped in and developed a creative legal strategy that allowed Luke to be adopted out into a safe and loving home. Each year the criminal justice system fails animal victims of abuse, and Luke is a great example of how we can make the laws work to protect animals.
Baxter the daschund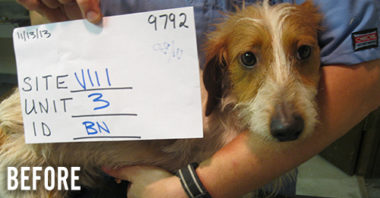 In 2016, our representative for National Justice for Animals Week was Baxter, a four-year-old silky haired dachshund.
The Oregon Humane Society (OHS) rescued Baxter from an Oregon puppy mill, after which he became known only as Count 26 in the resulting animal cruelty case. When Baxter went to his foster home, he was so matted and dirty that it wasn't clear what kind of dog he was. But Baxter, like all animals, was resilient and came a long way since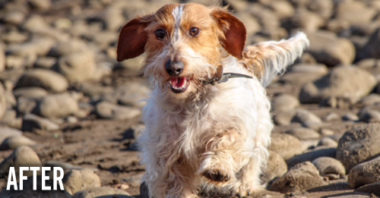 rescue. He learned that people can be kind, loving, and fun. He revels in the comforts of home. He's a great example of how far a neglected animal can come with proper care and a little love!
Gracie the alpaca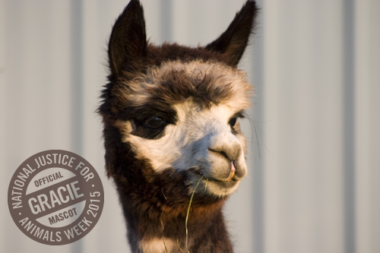 Gracie was our representative for 2015's National Justice for Animals Week. This sweet alpaca was neglected and severely emaciated when she was rescued from an alpaca farm in Oregon. Thanks to Cross Creek Alpaca Rescue she has since made a full recovery and is thriving in her new home.