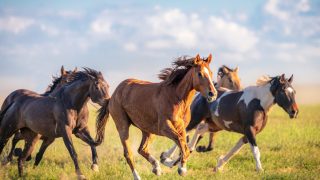 National Justice for Animals Week
February 21-27, 2021
The Animal Legal Defense Fund's National Justice for Animals Week is an annual event dedicated to raising public awareness around crimes committed against animals. This includes learning what criminal cruelty is under the law, and how we can all work to build stronger laws, prevent criminal cruelty, hold abusers accountable, and vindicate the interests of animal cruelty victims.
Each year's event features suggested actions and a representative – an animal whose experience with the justice system helps illustrate the law's power to do more for animals. The annual week of awareness is capped off with the announcement of America's Top Animal Defenders – the list of prosecutors, judges, law enforcement officials, animal rescuers, lawmakers, animal legal advocates, and others who champion the cause of animal crime victims.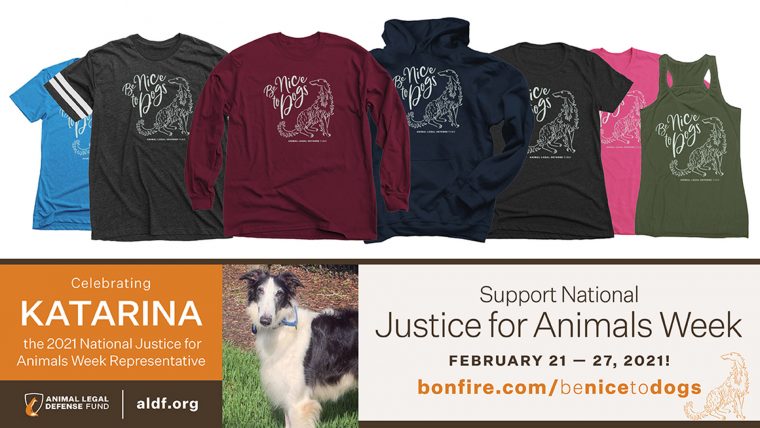 Take Action
Here are actions you can take to raise awareness about animal crime victims.
Familiarize yourself with your state animal protection laws.
Have a plan: identify which agencies in your community are responsible for responding to criminal animal cruelty — and know how to report to them if you witness a crime against an animal.
Sign up for Action Alerts so you can take action on national and local animal issues.
Don't just read the news—make it! Write a letter to the editor about an issue involving animals in your area.
Connect with the Animal Legal Defense Fund onFacebook,Instagram and Twitter. Share this page with #NJFAW, #Justice4animals and #aldf!
Join the Animal Legal Defense Fund Student Chapter at your law school. Chapters are encouraged to host events to raise awareness about criminal justice issues in animal law. Please see the list of suggested events and projects below.
Suggested Events & Projects for Student Chapters
Hold a virtual film screening through Netflix Party, TwoSeven for other streaming services, or another online connection tool and host an online discussion via Zoom afterward.
Host a guest speaker online. Boost event attendance by hosting the event in collaboration with other student groups.
Apply for a project grant to serve plant-based food at virtual events through restaurant gift cards given to attendees.
If you live in New York, New Jersey, Colorado, or Florida, help us pass Courtroom Animal Advocate Program laws! These laws allow advocates – supervised law students or volunteer lawyers – to advocate for animal victims in criminal cruelty cases. Volunteers appear in court and assist the judge by drafting briefs, conducting research, gathering information from veterinarians, animal control officers, and law enforcement officials, and making recommendations on behalf of the animal victim's interests. If you are interested in getting involved, please reach out to our Legislative Affairs Program at legislation@aldf.org.
If you live in Connecticut or Maine, host a student chapter event on how qualified law students can represent animal victims in court as Courtroom Animal Advocates.
Watch an Animal Law Academy webinar and host a discussion afterwards with your chapter. Find discussion questions at the links below.
Find more project ideas in our 2020-2021 Student Chapter Program Guide: Organizing for Animals in the Digital Age.
Suggested Speaker Topics
From US v. 53 Pitbulls to Desmond and Franky's Laws: growing options for attorneys and law students to give voice to the needs of animal crime victims in court.
Ag-Gag legislation, which criminalizes whistleblowing of egregious animal cruelty on factory farms.
Criminal anti-cruelty laws: an overview of the laws in your state, exciting legislative developments, and how statutory carve-outs complicate protecting certain animals, like farmed animals and wildlife, from cruelty.
The connection between domestic violence and animal cruelty.
Vindicating Victims, Preventing Cruelty, and Doing Justice: a panel of perspectives on animal crimes in the justice system.
Animals at the Intersection of Criminal and Constitutional Law: searches, seizures, and religious freedom.
Your chapter can apply for a project grant to support your event. You can also receive a free Animal Legal Defense Fund sign to use in the background for your virtual meetings and events. Email the Animal Law Program Fellow with your school name and personal address if you would like one for your chapter!
Actions
Stand up and be heard. Animal cruelty is a serious crime. Animal abusers are five times more likely to hurt other people. Strong sentences for abusers protect people and animals alike. Robust cruelty laws keep our communities safer for everyone.

Take Action

Since 1979, the Animal Legal Defense Fund has led the charge to win animals the legal protection they so desperately need—and deserve. Your generous gift will assure that we can continue to take on cases that advance the interests of animals.

Donate

Every day, animals are abused and killed. Their abusers frequently do not face any consequences – it's still extremely common for animal cruelty to go unpunished. Without you, animals have no voice. Sign the petition.

Take Action
Katarina the Borzoi
Katarina, a borzoi rescued from a Tennessee cruelty case, is this year's National Justice for Animals Week representative.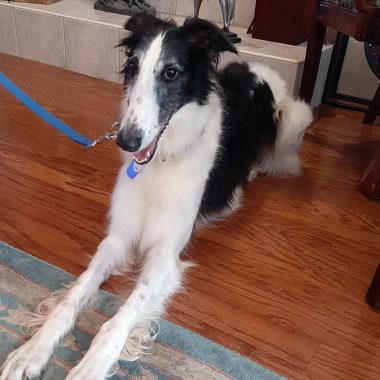 When Katarina was saved from a hoarding/puppy mill situation last April, she began the tough road to recovery that has since led her to a happy new home. It took the hard work of numerous animal advocates and law enforcement officers to make her fresh start possible.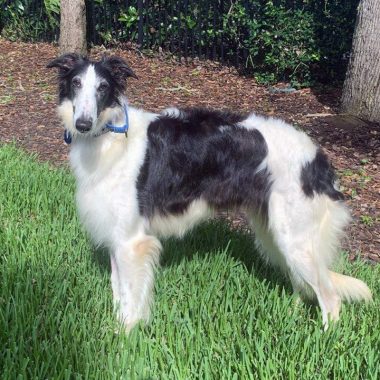 Katarina was one of more than 100 animals — including dozens of dogs, as well as horses, donkeys, sheep, goats, geese, parrots, and others — rescued from a property in Frankewing, Tennessee. Animals rescued in this case — described by the local sheriff as the worst animal hoarding situation he'd ever encountered — were found to be suffering from health issues including emaciation, lesions, and hair loss. Deceased animals were also found on the property, and their guardian was charged with 18 counts of animal cruelty in a case that is still ongoing.
Sadly, this wasn't the first time that Katarina's abuser had harmed animals; she was previously charged with cruelty, pleading guilty to two charges, in Alabama in 2009. Katarina's case, and the case of the animals who suffered before her, illustrate the importance of strong laws to protect animals and practical measures to prevent abuser recidivism.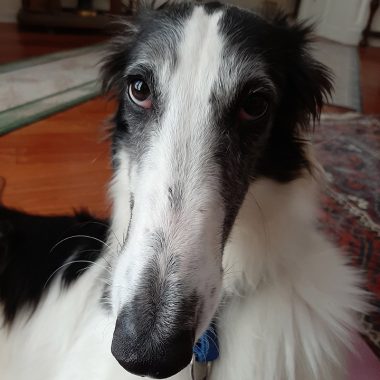 After her rescue, Katarina was taken to the Humane Society of Lincoln County, where she received life-changing rehabilitation and socialization, with her care funded in part by the Animal Legal Defense Fund. She's now thriving in her new home in Florida, where she even has a new four-legged sibling!
Like every animal, Katarina is an individual deserving of protection, care, and recognition under the law. Her case shows the power of caring people to make a difference for animals in need — from neighbors reporting suspected cruelty to rescuers and shelter staffers to law enforcement officers to Animal Legal Defense Fund supporters who help create legal and legislative progress for animals.
America's Top Ten Animal Defenders 2021
Detective Vanessa Acosta and Dr. Carolina De La Garza, both of El Paso, Tex.
Detective Vanessa Acosta was instrumental in the formation of the El Paso Police Department's Animal Cruelty Investigations Unit. She is also the founder of a nonprofit, Laws N' Paws, dedicated to the rescue and rehabilitation of abused and abandoned animals in El Paso. Since 2017, Laws N' Paws has rescued more than 200 animals, including a 9-year-old pit bull who was shot by his former guardian and additionally suffered two fractures to his front leg.
Working with Laws N' Paws, Dr. Carolina De La Garza, a veterinarian at East El Paso Animal Hospital, oversaw his treatment. Fortunately, Dr. De La Garza was able to save his leg, and he has since made a full recovery. In her report detailing his injuries, Dr. De La Garza noted that "although animals are considered 'property' in the state of Texas … animals are sentient beings who can experience pain and suffering." Thanks to Detective Acosta's and Dr. De La Garza's hard work and dedication, this affectionate dog was adopted into a loving home.
Haley Anderson, former executive director of Iowa Pet Alliance, and Colin Grace, director of legal and strategic initiatives at the Animal Rescue League of Iowa, Des Moines, Iowa
Prior to 2020, Iowa was ranked second-to-last among U.S. states in terms of its animal protection laws. Haley Anderson, former executive director of Iowa Pet Alliance, and Colin Grace, director of legal and strategic initiatives at the Animal Rescue League of Iowa, were instrumental in pushing for legislative change, crafting a bill—and ensuring its success—to overhaul Iowa's badly outdated animal protection laws. The Community and Pet Protection Act dramatically improved and expanded protections for animals in Iowa, helping the state rise by 11 ranks on the Animal Legal Defense Fund's U.S. Animal Protection Laws Rankings Report for 2020 and making it among the most-improved jurisdictions in the country.
Robert Samuel Willett, deputy district attorney, Alamosa, Colo.
A former police officer, Robert Samuel Willett was inspired to make a career change in 2009, earning his law degree with the goal of making a meaningful impact for the powerless and marginalized. A lifelong animal lover and guardian to two previously abandoned rescue dogs, Willett takes seriously the concept known as The Link—the tendency of those who abuse animals to go on to harm humans as well. As deputy district attorney, he's seen The Link borne out in cases he's dealt with, from domestic violence to child abuse to homicide. "So when I see an animal being abused," he says, "aside from my feelings of seeking justice for my fellow creature, I also look at any enforcement or prosecutorial action I can take as preventative action to help change the behavior of the offender and help avoid any potential future human or animal victims."
Senators C.B. Embry, Jr., Morgantown, Ky., and Morgan McGarvey, Louisville, Ky., members of the Kentucky State Senate
For years, Kentucky was the only state in the nation that prohibited veterinarians from reporting suspected animal cruelty. This seriously hindered the state's ability to hold animal abusers accountable and made it difficult for veterinarians to discharge their ethical duties. State Senators C.B. Embry, Jr., and Morgan McGarvey spearheaded a bill empowering veterinarians to report suspected abuse. It passed with bipartisan support in 2020 and is now protecting countless animals throughout Kentucky.
Tiffany J. Preston, Assistant United States Attorney for the Southern District of Indiana, Indianapolis, Ind.
Assistant U.S. Attorney Tiffany J. Preston is using her considerable legal expertise to secure justice under the federal Preventing Animal Cruelty and Torture (PACT) Act of 2019, in an egregious animal torture case that is inaugurating a new era of federal animal cruelty response. In her role, AUSA Preston also prosecutes white-collar fraud, public corruption, human trafficking, and child exploitation cases, and holds key positions on working groups dedicated to combating issues such as kidnapping and public corruption. She was previously Assistant U.S. Attorney for the Northern District of Illinois and is also an accomplished legal educator who has taught at Loyola University Chicago School of Law and the Chicago Bar Association College of Trial Advocacy, among others.
Previous Representatives
Chuck the duck
Chuck the duck is the representative for the Animal Legal Defense Fund's National Justice for Animals Week 2020. Chuck is a duck who was one of nearly 150 animals rescued from horrific conditions in Carroll County, Tenn., by Animal Rescue Corps — whose executive director Tim Woodward is a 2020 honoree — with support from the Animal Legal Defense Fund.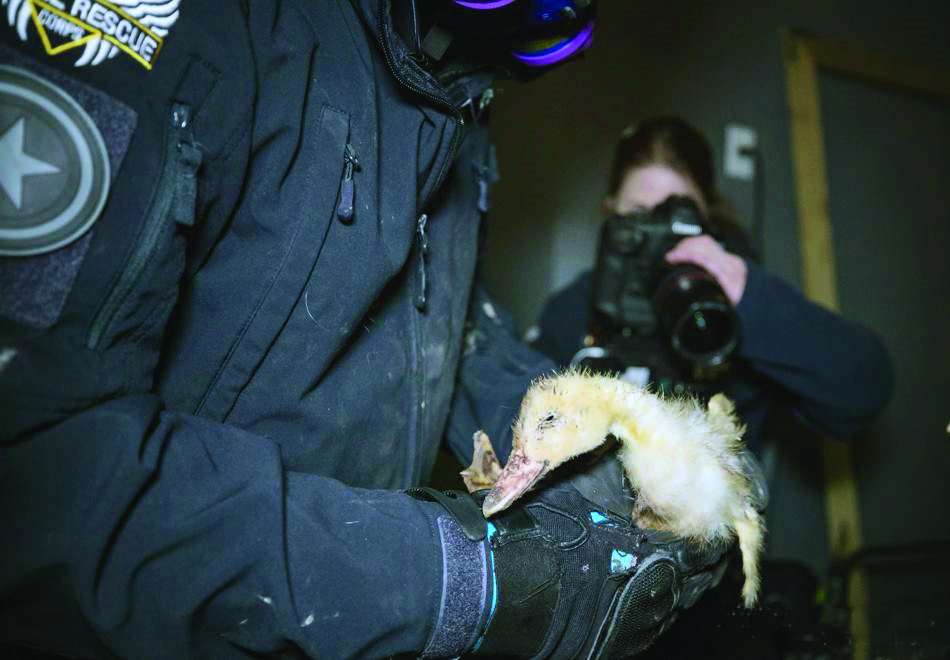 Justice the horse
Justice the horse is the representative for the Animal Legal Defense Fund's National Justice for Animals Week 2019. The Animal Legal Defense Fund has brought a groundbreaking lawsuit on Justice's behalf — that, if successful, will be the first to establish that animals have a legal right to sue their abusers in court.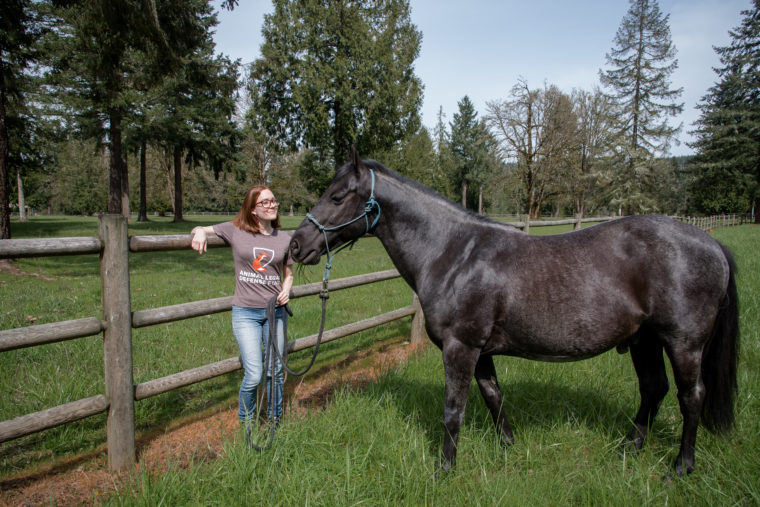 At the time of his rescue in March 2017, Justice, who is eight years old, was suffering from starvation, frostbite, and other grave injuries due to his former owner's failure to provide him with basic care — including food and shelter. The horse was 300 pounds underweight, weak, and had a difficult time walking.
Justice's abuser pleaded guilty to criminal animal neglect in 2017. But she agreed to pay restitution only for the cost of Justice's care prior to July 6, 2017. Our lawsuit seeks damages for Justice's care from this date and forward. The funds will go into a trust to pay for Justice's ongoing needs.
Justice is now being well cared for at Sound Equine Options, an Oregon nonprofit horse rescue and rehabilitation organization. Because of his injuries and the expense of caring for him, it has been hard to find him a permanent home and a family of his own.
One big hope is that this lawsuit will help, in that regard. Another is that this lawsuit will bring about some progress in the law, so the legal status of animals matches what we as a society already recognize: they are sentient beings with their own lives and interests, and they deserve our respect.
Willow & Stormy the foals
Willow & Stormy are the representatives for the Animal Legal Defense Fund's National Justice for Animals Week 2018. They were victims of severe neglect, both pregnant and severely malnourished when law enforcement found them. They were lucky to survive, but, thanks to the great work of the prosecutor and local rescuers, today Willow & Stormy are thriving, as are their foals. And their abuser is behind bars. The prosecutor knew how important it was to win justice for Willow, Stormy, and the other horses — so she contacted the Animal Legal Defense Fund, and we provided support to ensure that key witnesses were available to testify in this important case. Every year countless animal victims endure criminal cruelty. Willow & Stormy remind us that with persistence, we can make sure more animal abusers are brought to justice.
The abuser has received 2 years in jail from the jury and a probation revocation. She has been prohibited from owning, possessing and caring for horses for ten years. She is a repeat offender for abusing horses so it was incredibly important to bring her to justice.
Luke the pit bull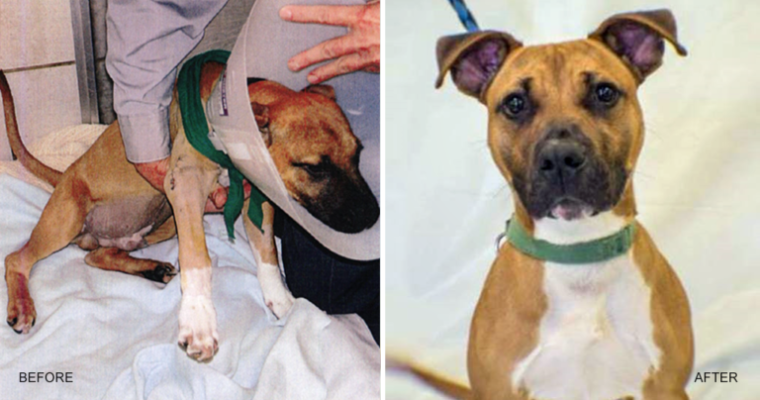 In 2017, our representative for National Justice for Animals Week was Luke the pit bull. Luke is in a loving home today, but it was a hard fight to get him there. When Luke was just a puppy, he suffered a painful shattered shoulder when his guardian allegedly threw him against a wall. The owner was acquitted of cruelty charges in court, but the prosecutor didn't want to return Luke to a dangerous situation and contacted us. The Animal Legal Defense Fund stepped in and developed a creative legal strategy that allowed Luke to be adopted out into a safe and loving home. Each year the criminal justice system fails animal victims of abuse, and Luke is a great example of how we can make the laws work to protect animals.
Baxter the daschund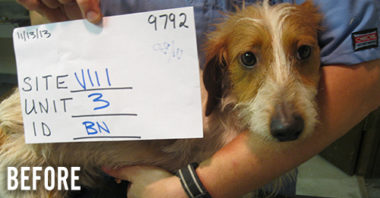 In 2016, our representative for National Justice for Animals Week was Baxter, a four-year-old silky haired dachshund.
The Oregon Humane Society (OHS) rescued Baxter from an Oregon puppy mill, after which he became known only as Count 26 in the resulting animal cruelty case. When Baxter went to his foster home, he was so matted and dirty that it wasn't clear what kind of dog he was. But Baxter, like all animals, was resilient and came a long way since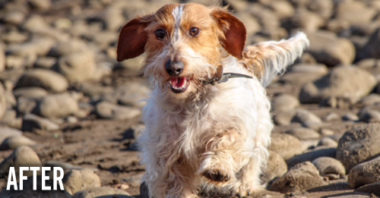 rescue. He learned that people can be kind, loving, and fun. He revels in the comforts of home. He's a great example of how far a neglected animal can come with proper care and a little love!
Gracie the alpaca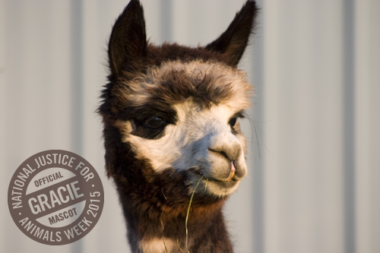 Gracie was our representative for 2015's National Justice for Animals Week. This sweet alpaca was neglected and severely emaciated when she was rescued from an alpaca farm in Oregon. Thanks to Cross Creek Alpaca Rescue she has since made a full recovery and is thriving in her new home.