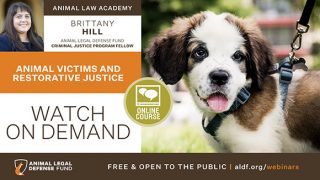 Animal Victims and Restorative Justice
Presented 9/30/20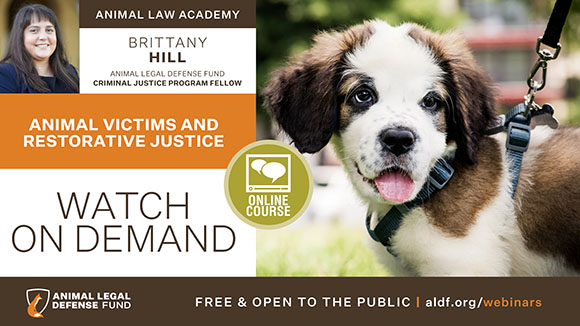 Restorative justice is not a new concept, but it largely has not been applied in animal crimes. In this webinar, Brittany Hill, Criminal Justice Program Fellow, will introduce the audience to restorative justice, provide a general overview of the theories behind it, discuss its potential impact on animal victims, and explore its possibilities in crimes against animals.
This webinar was prerecorded. Watch it now!
Resources
The Little Book of Restorative Justice by Howard Zehr (book)
Changing Lenses: Restorative Justice for Our Times by Howard Zehr (book)
Join the Animal Legal Defense Fund's email list to stay up to date on lawsuits, legislation, and regulations affecting animals.
Sign Up Now
Related
The United States District Court for the Northern District of California ruled in favor of the Animal Legal Defense Fund and its co-plaintiffs, denying an attempt by the Food and Drug Administration (FDA) to dismiss a lawsuit against the agency.

A Courtroom Animal Advocate Program (CAAP) bill, S.2868/A.4533, which would allow law students and volunteer lawyers to advocate for animal victims in cruelty criminal cases, unanimously passed the New Jersey Senate. The bill is sponsored by Senator Nicholas Scutari and Assemblyman Raj Mukherji and endorsed by the Animal Legal Defense Fund.

The Animal Legal Defense Fund, the nation's preeminent legal advocacy organization for animals, has released the 15th annual year-end U.S. Animal Protection Laws Rankings Report (2020), ranking the animal protection laws of all 50 states.