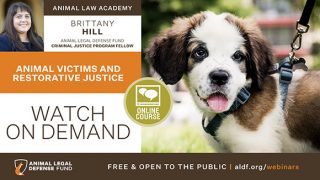 Animal Victims and Restorative Justice
Presented 9/30/20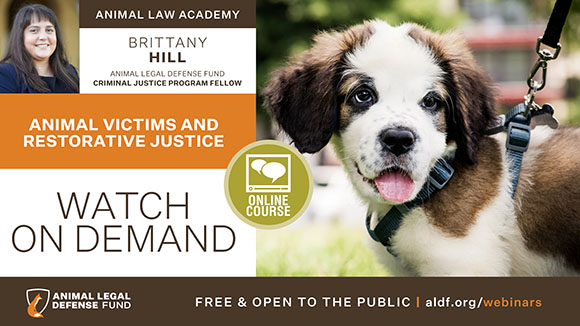 Restorative justice is not a new concept, but it largely has not been applied in animal crimes. In this webinar, Brittany Hill, Criminal Justice Program Fellow, will introduce the audience to restorative justice, provide a general overview of the theories behind it, discuss its potential impact on animal victims, and explore its possibilities in crimes against animals.
This webinar was prerecorded. Watch it now!
Resources
The Little Book of Restorative Justice by Howard Zehr (book)
Changing Lenses: Restorative Justice for Our Times by Howard Zehr (book)
Join the Animal Legal Defense Fund's email list to stay up to date on lawsuits, legislation, and regulations affecting animals.
Sign Up Now
Related
Numerous violations documented at the facility of inadequate animal care

Alternative sentencing program in Fulton County, Georgia pairs shelter dogs with criminal defendants to offer both training and a second chance

Lawsuit sheds light on the need to recognize legal rights for animal cruelty victims.