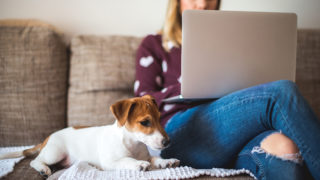 Webinars
Animal Law Academy
The Animal Law Academy webinars are an opportunity to hone your skills and gain both practical and substantive knowledge about important issues currently facing animals in the legal system. Participants will learn from the experts and enjoy an interactive Q&A session. Don't miss the chance to get an in-depth look into what it means to advocate for animals' through the legal system.
Animal Law Academy webinars are suitable for anyone interested in animal law, current and future law students, attorneys, legal professionals and animal advocates.
Upcoming Webinars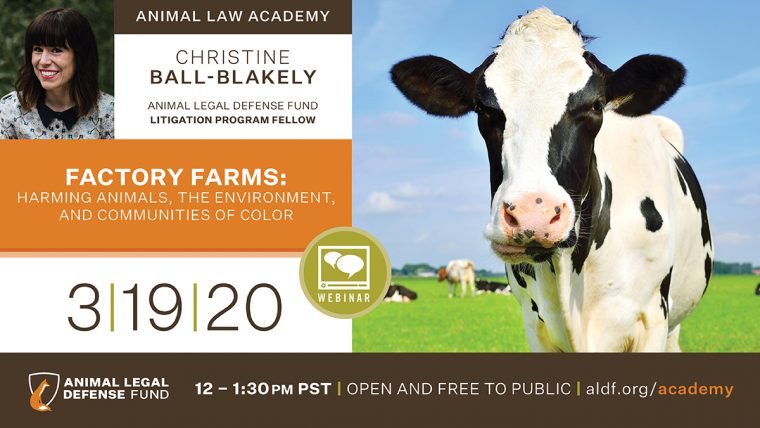 Factory Farms: Harming Animals, the Environment, and Communities of Color
3/19/20 12-1:30pm PST

Industrial animal agriculture generates immeasurable animal suffering, extreme pollution, and environmental injustice. But government at all levels declines to regulate this industry, and even passes laws to shield it from legal liability and public scrutiny. In this webinar, Christine Ball-Blakely will illustrate the consequences of this reality by discussing the impacts of factory farms in North Carolina, which are disproportionately sited in low-income communities of color. You will learn about the carefully-carved legal loopholes that allow these factory farms to operate almost entirely unfettered by protections for animals, the environment, or communities, and about how impacted communities—and others—are fighting back.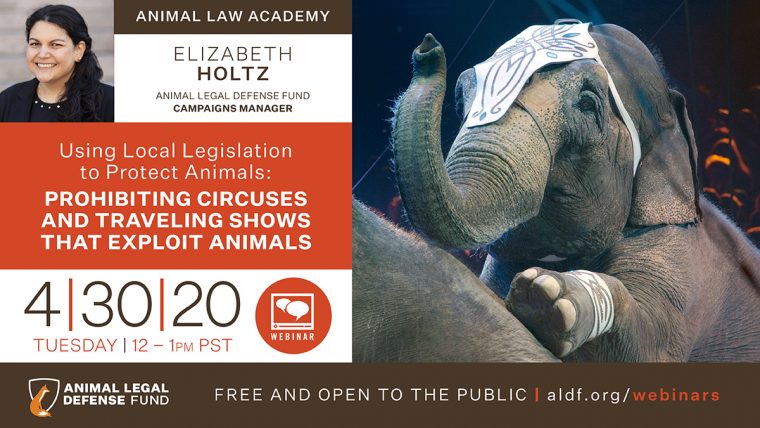 Using Local Legislation to Protect Animals:
Prohibiting Circuses and Traveling Shows That Exploit Animals
4/30/20 12-1pm PST
Learn how wild animals are exploited in circuses and traveling shows, and how you can help! The first part of this webinar focuses on the cruelty and safety issues surrounding the use of wild animals in live performances, as well as a round-up of existing state and local laws already prohibiting these inhumane shows. During the second half of the webinar, attendees will learn how to actually pass a local law prohibiting the use of wild animals in circuses in their own city or county. Animal Legal Defense Fund Campaigns Manager Elizabeth Holtz will walk you through the steps to passing a ban, as well as share tips that can be applied to any local legislative campaign.
Have questions about how to watch one of our webinars? Please take a look at the two guides below.
Related
Animal Legal Defense Fund recognizes animal protection heroes during National Justice for Animals Week

Animal Legal Defense Fund lawsuit charges Special Memories Zoo with illegally mistreating lions, tigers, gray wolves, and other animals

On Tuesday, January 28th, the Animal Legal Defense Fund and the Humane Society of the United States hosted our first joint Florida Humane Lobby Day.