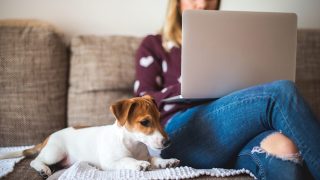 Webinars
Animal Law Academy
The Animal Law Academy webinars are an opportunity to hone your skills and gain both practical and substantive knowledge about important issues currently facing animals in the legal system. Participants will learn from the experts and enjoy an interactive Q&A session. Don't miss the chance to get an in-depth look into what it means to advocate for animals' through the legal system.
Animal Law Academy webinars are suitable for anyone interested in animal law, current and future law students, attorneys, legal professionals and animal advocates.
Upcoming webinars

Join Animal Law Program Director Stacey Gordon Sterling for a discussion of how courts review the legal status of animals in the context of animal standing cases.

As 2020 comes to an end, we're looking back at our biggest legal victories for animals over the last year and looking ahead at what's to come in 2021. Join Stephen Wells, executive director of the Animal Legal Defense Fund, as he shares stories behind this year's biggest victories.

Join David Rosengard, Animal Legal Defense Fund senior staff attorney, for a discussion regarding wildlife crimes, crimes against wildlife — and the subtle but significant difference between the two.
Past webinars

Join us for a presentation to review animal protection bills in the New York legislature – and learn ways that you can directly impact bill movement.

Restorative justice is not a new concept, but it largely has not been applied in animal crimes. In this webinar, Brittany Hill, Criminal Justice Program Fellow, will introduce the audience to restorative justice.

Welcome to a new — though somewhat different — academic year! Join us and your peers from other law schools across the country for the Animal Legal Defense Fund Student Chapter Kickoff – an online event exclusively for law students.

In this interactive webinar Kathleen Schatzmann, Senior Legislative Affairs Manager, will provide an update on animal protection legislation in New Jersey and provide multiple real-time opportunities for strategic targeting to build support and momentum for bill passage.

Join Animal Legal Defense Fund Senior Staff Attorneys Jamie Contreras and David B. Rosengard as they discuss how the legal system treats animal sentience and how a trilogy of Oregon cases recognizing animal sentience points towards a new framework for animals within the law.

This year has been busy for the Animal Legal Defense Fund! Join Stephen Wells, Executive Director, and Kathleen Schatzmann, Senior Legislative Affairs Manager, as they discuss current cases and projects, plus what's planned for the rest of the year, with special focus on the Legislative Affairs Program.

Learn how to fight back against the cruel fur industry by passing a fur ban in your community! Led by Animal Legal Defense Fund Campaigns Manager Elizabeth Holtz, this webinar will walk you through the mechanics of fur production, the policy issues, including animal cruelty, environmental impacts, and public health, and more.

Although animals are property under the law, they are property unlike any other. In the context of criminal law, animals can be the victims of crime entitled to certain statutory protections. In this webinar, Senior Staff Attorneys David Rosengard and Jamie Contreras will discuss animals' status in the context of criminal law.
Related
The Animal Legal Defense Fund filed a lawsuit against the United States Department of Agriculture (USDA) under the Freedom of Information Act (FOIA) over the agency's critical redactions in a contract between the USDA's Wildlife Services program and a Colorado slaughterhouse, outlining plans for slaughtering geese rounded up in parks across Denver.

The Animal Legal Defense Fund released the second in a series of white papers — COVID-19 and Factory Farming —providing policy recommendations to address industrial animal agriculture's role in our heightened risk for zoonotic diseases outbreaks, like COVID-19, and its potential to be the source of the next global pandemic.

These awards celebrate chapters that have shown incredible efforts in advancing animal law and advocating for animals through original projects and initiatives. Animal Legal Defense Fund Student Chapters are a vital part of the growing animal law movement.