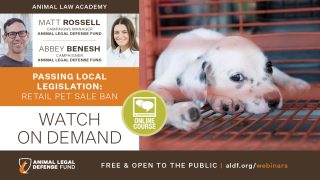 Passing Local Legislation: Retail Pet Sale Ban
Presented 4/27/23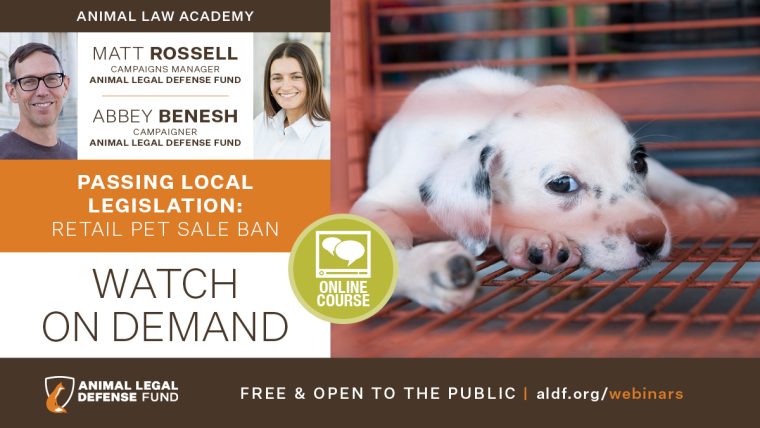 Want to take the next step in your animal advocacy? Learn the skills you need to pass laws protecting animals at the local level! Local laws are critical – not only do they help individual animals in your community, but they also establish the foundation for passing similar laws at higher levels of government. This webinar focuses on retail pet sale bans – laws that prohibit pet stores from selling puppies and kittens (and sometimes other animals such as rabbits) who are commercially bred. Retail pet sale bans are a powerful way to fight back against puppy mills, and you could pass one in your own community!
Animal Legal Defense Fund Campaigns Manager Matt Rossell and Campaigner Abbey Benesh walk you through the steps to pass a ban in your city, as well as share tips that can be applied to any local legislative campaign.
This webinar was recorded on April 27, 2023. Watch it now!
The Animal Legal Defense Fund is here to help you enact a ban in your city or county! Review these resources to get started. Fill out the contact form on this page for further assistance.
Resources
While Craigslist officially bans companion animal sales, they continue on the site under the guise of "rehoming." Meanwhile, sales of animals not typically classified as companions — like pigs and chickens — are permitted, putting these animals in danger.
TAKE ACTION
Related
Farmed animals are exploited at alarming rates, with over nine billion farmed land animals slaughtered in the U.S. every year. Join Senior Staff Attorney Cristina Stella as she provides attendees with an inside look at how legal advocacy and grassroots advocacy work together to create positive change on behalf of farmed animals.

In this free webinar, we will walk you through the basics of how to connect with your representatives and lobby for animal protection legislation.

First ruling pertaining to recently enacted Big Cat Public Safety Act