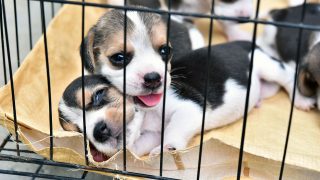 Tell Craigslist to Shut Down Animal Sales
Though Craigslist has officially banned the sale of animals, animals are routinely sold on its platform. Farmed animals including pigs to dogs and cats to lizards and snakes continue to be advertised and purchased on Craigslist under the guise of "re-homing."
Unscrupulous breeders, mill operators, and animal brokers are exploiting this loophole to sell critically ill animals as well as dupe families into paying for animals they never receive. Craigslist's current policy not only leaves users at risk of purchasing unhealthy, nonexistent, or stolen companion animals — but it leaves countless other animals not classified as "pets" in danger as well.
Craigslist can end the exploitation of these animals by banning the transfer of all animals on its website.
The Animal Legal Defense Fund sent a letter to Craigslist in November urging it to protect animals by shutting down sales, but we need your help.
Use the form below to ask Craigslist executives to ban the transfer of all animals on its platform today.
The Animal Legal Defense Fund would like to hear from people who have been victimized by breeders and animal brokers on Craigslist.
Tell us your story
Related
Actors Paul Wesley, Christina Ricci, Stevie Van Zandt and dozens of native and resident celebrities join the Animal Legal Defense Fund in an open letter urging the state's legislators to end the intensive confinement of mother pigs and calves in New Jersey.

Animal Legal Defense Fund challenges the renewed license for the owner of Wildlife on Wheels after evidence has revealed ongoing violations for more than a decade

A Courtroom Animal Advocate Program (CAAP) bill, S.2868/A.4533, which would allow law students and volunteer lawyers to advocate for animal victims in cruelty criminal cases, unanimously passed the New Jersey Senate. The bill is sponsored by Senator Nicholas Scutari and Assemblyman Raj Mukherji and endorsed by the Animal Legal Defense Fund.