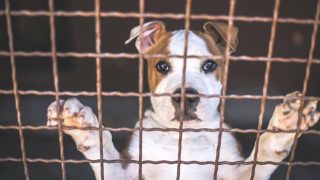 Animal Sales and Rehoming Scams: How to Spot Them
Unethical dealers may offer unhealthy, stolen, or nonexistent animals for sale or "rehoming," but these tips will help you avoid them.
While Craigslist officially bans the sale of companion animals, in reality such sales are common on the platform, with sellers often using the term "rehoming" in order to skirt the ban. Scams are widespread, with unethical breeders and dealers frequently selling animals who are sick, stolen, or even nonexistent.
The COVID-19 pandemic has only exacerbated this problem, as many people isolating at home have determined that the time is right to welcome a new companion animal — giving scammers an added incentive to take advantage of the situation.
Watch out for these common signs of an animal rehoming scam:
Limited information offered about the animal: A person seeking to rehome an animal should be able to describe their personality traits, health information, and any relevant details about their behavior to help ensure a good match between animal and adopter. A vaguely worded ad that doesn't include these details, or a "rehomer" who doesn't seem to know the animal well, should be viewed with skepticism.
Limited information sought about the adopter: A person seeking the best possible home for an animal will want to know about you, the potential adopter. Have you cared for animals before? Does your landlord allow animals? Are there children in the home? Who will the animal's veterinarian be? A legitimate rehoming effort should include questions like these, and reputable rescue groups will typically also include an adoption application and a visit to your home as part of the process.
Suspicious photos, descriptions, or contact information: Scammers often take photos from other websites and present them as if they were their own. One way to assess whether a photo is authentic is to do a "reverse image search" to see if it has appeared elsewhere online. Simply right-click on the photo, select "copy image address," visit images.google.com, click the camera icon in the search bar, paste the URL, and click "search by image" to find if it has appeared other places. Other potential red flags include:
the same ad posted in multiple Craigslist localities, presented as if it were local to each.
photos with phone numbers superimposed on them.
an email address with an extension you don't recognize (e.g., john@123scam.net).
a description that reads strangely (i.e., incorrect grammar or missing words).
the "rehomer" will only communicate via email or text and refuses to speak by phone.
Limited in-person contact: Those looking to profit from "rehoming" a sick, stolen, or nonexistent animal may go to great lengths to prevent you from seeing the home environment the animal came from or discovering their address. Potential red flags include:
insisting on meeting at a public location, rather than the seller's home.
having a third-party person deliver the animal to you.
no opportunity for the adopter to meet and interact with the animal prior to taking them home.
claiming that the animal must be shipped to you from a remote location. In one common scam, the "rehomer" requires the would-be adopter to visit a fraudulent website to pay for the animal's shipment, and may add other "charges," such as for a travel kennel or insurance. In this scam, the animal is never sent to the adopter, and likely does not actually exist.
Suspicious forms of payment: Some unethical sellers may request an "adoption fee" paid in a manner that's deliberately difficult for the adopter to recover in case of fraud. They may ask for payment in cash, a wire transfer, or gift cards. Other potential red flags include:
requiring a deposit to "reserve" an animal.
an adoption fee higher than $500 (in most cases, a legitimate adoption fee will be lower).
The bottom line: If the situation feels like a scam, it probably is.
The easiest and most animal-friendly way to avoid a rehoming scam? Adopt your new companion from a reputable rescue organization or your local municipal animal shelter. You'll be providing a home for an animal in need while denying unethical dealers an opportunity for fraud.
While Craigslist officially bans companion animal sales, they continue on the site under the guise of "rehoming." Meanwhile, sales of animals not typically classified as companions — like pigs and chickens — are permitted, putting these animals in danger.
TAKE ACTION
Related
Goldie's Act would ensure the USDA does its job to protect dogs in federally licensed puppy mills

Alternative sentencing program in Fulton County, Georgia pairs shelter dogs with criminal defendants to offer both training and a second chance

The U.S. Court of Appeals for the Fourth Circuit handed an important win to plaintiffs in a lawsuit challenging North Carolina's Ag-Gag law, ruling that undercover investigations and whistleblowing are considered newsgathering activities protected by the First Amendment.