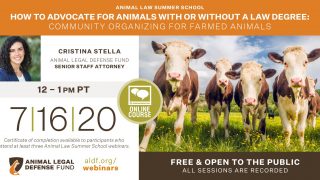 How to Advocate for Animals With or Without a Law Degree: Community Organizing for Farmed Animals
7/16/20 12-1pm PT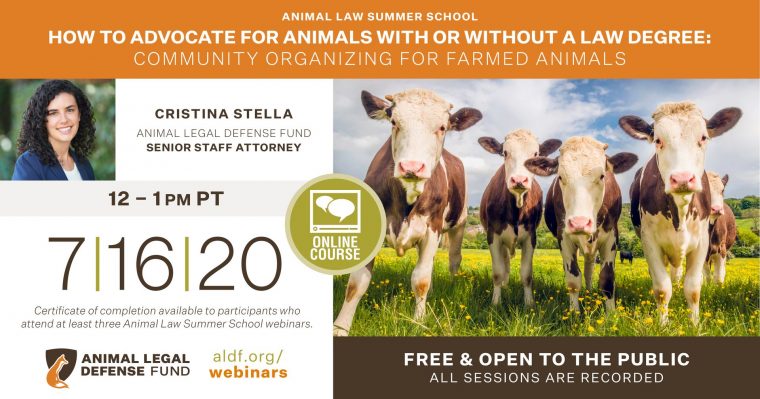 Farmed animals are exploited at alarming rates, with over nine billion farmed land animals slaughtered in the U.S. every year. Join Senior Staff Attorney Cristina Stella as she provides attendees with an inside look at how legal advocacy and grassroots advocacy work together to create positive change on behalf of farmed animals.
Join the Animal Legal Defense Fund's email list to stay up to date on lawsuits, legislation, and regulations affecting animals.
Sign Up Now
Related
The Animal Legal Defense Fund has launched a series of billboards, in English and Spanish, surrounding the JBS slaughterhouse in Greeley, Colorado — offering an online tip portal where industrial animal agriculture workers can report any concerns, including worker safety, animal abuse and depopulation, and illegal disposal of animals' bodies.

The Animal Legal Defense Fund announced that the U.S. District Court for the Northern District of California has denied the California Department of Food and Agriculture's (CDFA) motion to dismiss the lawsuit filed on behalf of Miyoko's Creamery (Miyoko's).

As the pandemic leads to reduced capacity at slaughterhouses, prolonged use of drug increases risk of harm.
Help animals win the legal protections they so desperately need and deserve, and ensure they have an advocate in courtrooms and legislatures across the country.
Take Action Now