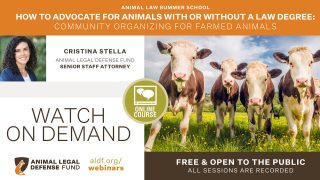 How to Advocate for Animals With or Without a Law Degree: Community Organizing for Farmed Animals
Presented 7/16/20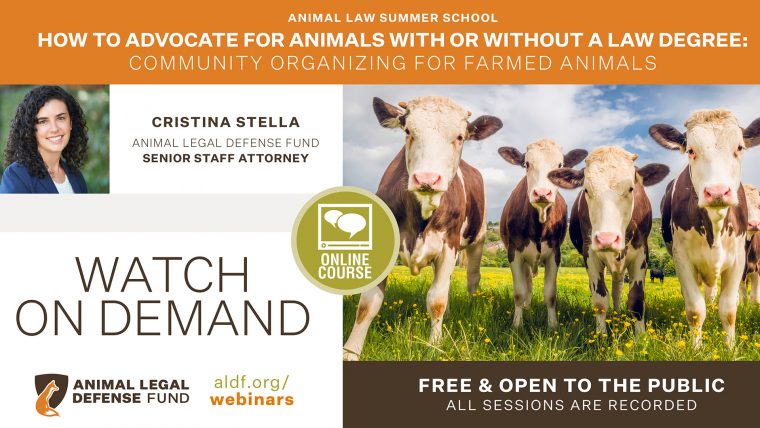 Farmed animals are exploited at alarming rates, with over nine billion farmed land animals slaughtered in the U.S. every year. Join Senior Staff Attorney Cristina Stella as she provides attendees with an inside look at how legal advocacy and grassroots advocacy work together to create positive change on behalf of farmed animals.
This webinar was prerecorded. Watch now!
Resources
Join the Animal Legal Defense Fund's email list to stay up to date on lawsuits, legislation, and regulations affecting animals.
Sign Up Now
Related
Animal Legal Defense Fund sues Foster Farms for violating California law by using cruel, water-intensive slaughter method during megadrought

The Animal Legal Defense Fund announced that the U.S. District Court for the Northern District of California has granted a preliminary injunction that allows Miyoko's Creamery (Miyoko's) to maintain its labeling as-is while the case proceeds without fear of enforcement by the California Department of Food and Agriculture (CDFA).

Earlier this summer, the driver of a pig transport truck struck and killed longtime animal advocate Regan Russell. The circumstances regarding her death are not fully known to the public, but top to bottom, the animal agriculture industry is rarely held accountable.
Help animals win the legal protections they so desperately need and deserve, and ensure they have an advocate in courtrooms and legislatures across the country.
Take Action Now