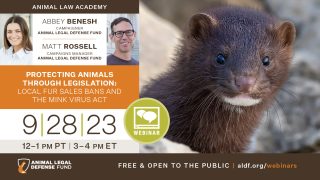 Protecting Animals Through Legislation: Local Fur Sales Bans and the Mink VIRUS Act
Thursday, September 28, 2023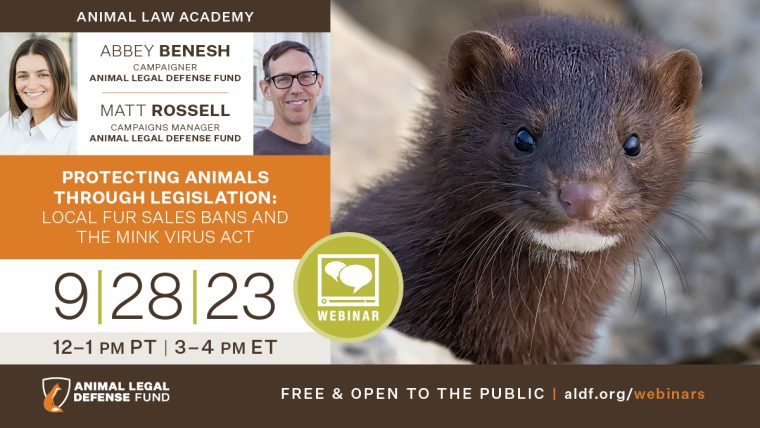 Passionate about protecting fur-bearing animals? Don't miss this empowering webinar to gain insider tips on passing local fur sale bans and supporting the federal Mink VIRUS Act.
Join Animal Legal Defense Fund Campaigns Manager Matt Rossell and Campaigner Abbey Benesh for proven strategies to take legislative action in your community and beyond. You'll learn the steps to pass a local fur sale prohibition — building a foundation for broader animal protections at the state and federal levels. We'll also discuss the Mink VIRUS Act — proposed federal legislation to ban mink farming in the U.S.
This is an opportunity to get motivated and prepared to advocate for legislation at multiple levels. Leave this webinar fired up to advance animal-friendly legislation in your hometown and nationwide! With the right strategies and passion, you have the power to create meaningful change for fur-bearing animals.
This webinar will be presented live on Thursday, September 28, 2023.
Resources
Join the Animal Legal Defense Fund's email list to stay up to date on lawsuits, legislation, and regulations affecting animals.
Sign Up Now
Related
The gift of more than $1 million will fund the program over the next four years

This action is for U.S. residents only.

The victory follows the passage of a factory farming law and efforts to curtail the construction of new mega dairies in the state