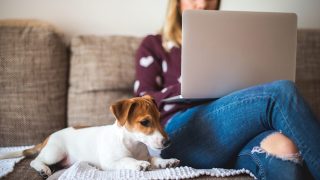 Webinars
Animal Law Academy
The Animal Law Academy webinars are an opportunity to hone your skills and gain both practical and substantive knowledge about important issues currently facing animals in the legal system. Participants will learn from the experts and enjoy an interactive Q&A session. Don't miss the chance to get an in-depth look into what it means to advocate for animals' through the legal system.
Animal Law Academy webinars are suitable for anyone interested in animal law, current and future law students, attorneys, legal professionals and animal advocates.
Upcoming webinars
There are no webinars currently scheduled.

Past webinars

In this free webinar, Blackfish director Gabriela Cowperthwaite will be joined by a panel of experts to explore the issue of big cat ownership — and the industry that exploits them for profit. Panelists include Animal Legal Defense Fund Staff Attorney Daniel Waltz, and other experts.

Like other violent crimes, animal cruelty offenses are often tied to underlying mental health issues. In order to rehabilitate offenders and protect future victims, those underlying issues must be addressed. Unfortunately, this crucial sentencing component is often overlooked by legislators and courts.

Farmed animals are exploited at alarming rates, with over nine billion farmed land animals slaughtered in the U.S. every year. Join Senior Staff Attorney Cristina Stella as she provides attendees with an inside look at how legal advocacy and grassroots advocacy work together to create positive change on behalf of farmed animals.

Do you want to change the world for animals but are not sure where to begin? Join Pro Bono Program Director Tom Linney as he discusses fun and meaningful ways that each of us can volunteer in our communities to make a difference for animals.

In the wake of the current pandemic, join public health expert Dr. Aysha Akhtar, Animal Legal Defense Fund Executive Director Stephen Wells, and Staff Attorney Kelsey Eberly for a round table discussion about the impacts of stress and confinement on disease transmission between animals—and conditions where they are most likely to jump to humans.

Animals can't vote, but that doesn't mean they shouldn't have a voice in the political process — you can give animals that voice!

This webinar will address the shortcomings for animal protection in current federal law, give an overview of pending legislation, and discuss what we'd like to see introduced in the future.

Learn about the carefully-carved legal loopholes that allow factory farms to operate with limited protections for animals, the environment, or surrounding communities, and about how residents—and others—are fighting back.
Related
Today, the Animal Legal Defense Fund and Rise for Animals filed a lawsuit against the United States Department of Agriculture (USDA) under the Freedom of Information Act (FOIA) for the agency's failure to respond to a request for public records related to the inconsistent inspection process of nonhuman primate research facilities.

Video shows malicious acts of violence toward cows, gross neglect of calves

Dairy Farmers of America supplier caught on video, prompting lawsuit