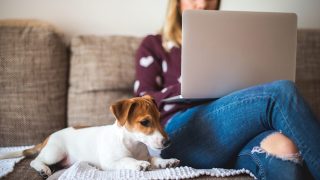 Webinars
Animal Law Academy
The Animal Law Academy webinars are an opportunity to hone your skills and gain both practical and substantive knowledge about important issues currently facing animals in the legal system. Participants will learn from the experts and enjoy an interactive Q&A session. Don't miss the chance to get an in-depth look into what it means to advocate for animals' through the legal system.
Animal Law Academy webinars are suitable for anyone interested in animal law, current and future law students, attorneys, legal professionals and animal advocates.

Past webinars

Join David B. Rosengard, Animal Legal Defense Fund Managing Attorney and Linda Fielder, Animal Legal Defense Fund Investigations Manager, as we dig into the legal history of animal fighting, explode myths, and shine an animal-forward lens on the blood sport, to properly frame its cruel impact on animal victims.

Join us as we discuss the progress in which the federal government has taken toward its animal- and environment-friendly policy commitments, through the lens of several Animal Legal Defense Fund lawsuits.

Join us to learn how you can use grassroots advocacy techniques to lobby city and county governments, and pass laws to improve the welfare of animals.

Join us for the official launch of the Animal Legal Defense Legislative Fund, a 501(c)(4) affiliate organization of the Animal Legal Defense Fund.

The art humans make and the spirituality humans practice have involved animals throughout time. As such, it is no surprise that animal cases have given rise to some of this nation's most notable 1st Amendment rulings, both for freedoms of speech and religious freedoms.

Join Alicia Prygoski, Animal Legal Defense Fund Senior Legislative Affairs Manager, for a discussion about our legislative victories from the past few months and bills we're currently advocating for at the state and federal level.

The guarantee of free speech enshrined in the First Amendment to the U.S. Constitution is critical to the animal protection movement. Join Kelsey Eberly, ALDF Senior Staff Attorney, as she explores the applicable legal canons and arguments employed to vindicate activists' rights, protect advocacy, and empower entrepreneurial innovation.

The hot summer months bring up an array of potential issues involving animals and their protection. Join us for the first presentation of our Animal Law Summer School series, as we explore how to be an agent of change for animals.
Related
The petition asserts animal relocation procedures must accompany USDA license revocation and termination proceedings

The Act has authority to protect federally endangered and threatened animals such as the tigers, lions, and ring-tailed lemurs enduring inadequate treatment at Tiger Creek

International Fur Trade Federation agreed to dismiss its appeal, ending case in decisive victory for animals