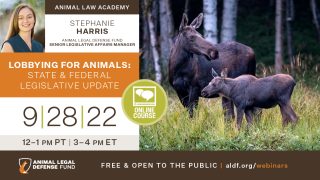 Lobbying for Animals: State & Federal Legislative Update
Wednesday, Sep 28, 2022, 12:00 PT/3:00 pm ET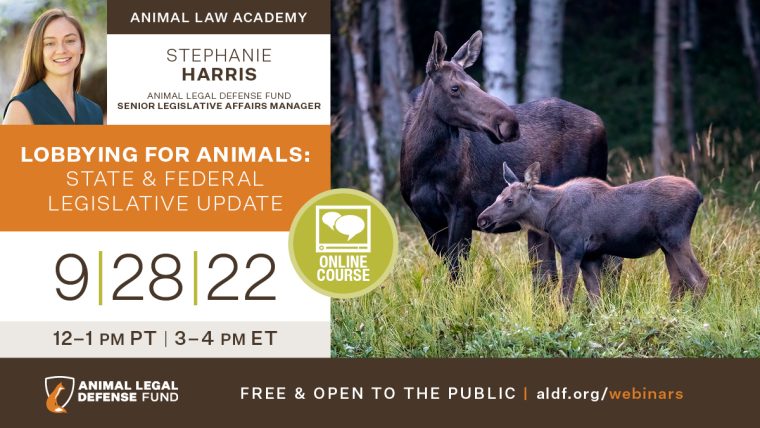 Join Animal Legal Defense Fund Senior Legislative Affairs Manager Stephanie Harris for Lobbying for Animals: State & Federal Legislative Update. This webinar updates viewers on our 2022 work thus far to advance animal protection through lawmaking, as well as explores ways you can directly impact the legislative process to make a difference for animals. A brief Q&A follows. English closed caption subtitles are available.
Register to join this live webinar on Sep 28, 2022 at 12:00 p.m. PT.
Join the Animal Legal Defense Fund's email list to stay up to date on lawsuits, legislation, and regulations affecting animals.
Sign Up Now
Related
Petition urges recordkeeping of all deaths and reporting to the agency every three years from Animal Welfare Act licensees

Following the dismissal of Justice's case upheld on appeal, the Animal Legal Defense Fund continues to seek accountability under the law.

The new poll showing overwhelming support for a horse-drawn carriage ban follows a viral video of an elderly 28 to 30-year-old horse named Ryder collapsing on a New York City street