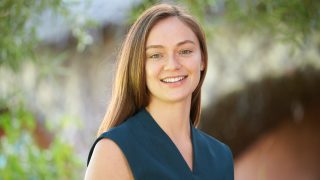 Stephanie Harris
Senior Legislative Affairs Manager
After nearly a decade in the field of animal protection, Stephanie Harris has extensive experience in lobbying, strategy development, coalition building, and volunteer management. As Senior Legislative Affairs Manager, Stephanie works to develop and advance Animal Legal Defense Fund's legislative campaigns.
Previously, Stephanie was the Senior State Director for Massachusetts and Rhode Island at the Humane Society of the United States, where she was instrumental in helping pass state and municipal animal protection laws. She served as the Campaign Director for the 2016 Massachusetts farmed animal protection ballot campaign to phase out cruel confinement of farmed animals as well as the sale of products (eggs, pork, and veal) coming from such confinement. Voters approved the initiative with an overwhelming 78% support and created the strongest farmed animal protection law in the world at the time.
Earlier in her career, Stephanie worked on wildlife protection ballot campaigns in Michigan and Maine, and on various farmed animal protection state legislative campaigns. She also interned at a wildlife rescue and rehabilitation facility after graduating from Franklin & Marshall College, where she studied political science and studio art.
Stephanie shares her home office in Cambridge, MA, with a rescue cat named Hadley. When not working, she can often be found on backpacking or paddling trips, or binge-reading sci-fi novels.