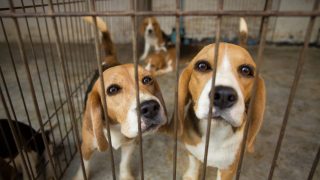 Facilitating the Adoption of Dogs and Cats Retired from Laboratories (Massachusetts)
An Act Protecting Research Animals (S.2463)
Known as the "Beagle Bill," An Act Protecting Research Animals (S.2463), would require that dogs and cats, no longer needed for research purposes at research institutions or product testing facilities, be offered for adoption through a non-profit animal shelter or rescue or private placement, once the research ends, if a necropsy is not mandated. This provides an opportunity for these animals to live a life in a home as an adopted pet once their time in the research laboratory has come to an end – an opportunity that each of these dogs and cats deserve.
Other states across the country, including California, Connecticut, Illinois, Maryland, Minnesota, Nevada, and New York, have enacted similar laws. People who have adopted retired research dogs and cats can attest that these animals flourish once they are out of a lab setting. Every dog and cat deserves the chance to be a part of a family – this bill moves Massachusetts one step closer to that goal.
The bill is sponsored by State Senate Minority Leader Bruce Tarr and State Representatives Carolyn Dykema and Michelle DuBois.
Ask your state legislators to provide an opportunity for dogs and cats used in research to find loving homes once their time in a research laboratory has come to an end by supporting An Act Protecting Research Animals.
Take Action
If you live in Massachusetts, take action and urge your legislators to support this bill.