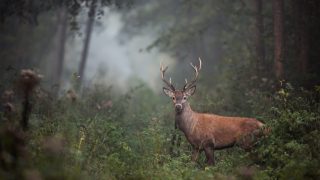 Preventing Convicted Wildlife Poachers from Hunting in Massachusetts (Massachusetts)
An Act Further Regulating the Enforcement of Illegal Hunting Practices (H.4131)
An Act Further Regulating the Enforcement of Illegal Hunting Practices (H.4131) would protect the well-being and conservation of native species important to Massachusetts ecosystems by (1) modernizing penalties for illegal hunting, some of which are out of date by about a century, and (2) entering Massachusetts in the Interstate Wildlife Violator Compact, which already benefits every other state wildlife law enforcement agency in the continental United States. If enacted, this would end Massachusetts' status as a safe-haven for convicted poachers whose hunting, trapping, or recreational fishing license has been revoked or suspended in any of the 48 member states.
The bill is sponsored State Senator Mike Moore and, jointly, by State Representatives Lori Ehrlich and Ann-Margaret Ferrante.
Illegal hunting is a serious problem in the Commonwealth — with nearly a thousand known hunting violations, including killing protected species and killing animals out of season, occurring annually. Every year, the animal victims of illegal hunting, often injured or orphaned, turn up with greater frequency at wildlife rehabilitation centers.
If you live in Massachusetts, take action and urge your legislators to support this bill.
Protect wildlife by updating Massachusetts' penalties for illegal hunting and entering Massachusetts in the Interstate Wildlife Violator Compact.
Take Action