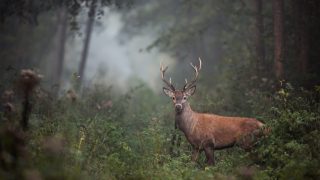 Preventing Convicted Wildlife Poachers from Hunting in Massachusetts (Massachusetts)
An Act Further Regulating the Enforcement of Illegal Hunting Practices (H.4442)
Modernizes penalties for illegal hunting and enters Massachusetts in the Interstate Wildlife Violator Compact

Wildlife
Poaching — the illegal killing or harming of wildlife — is a serious problem in the Commonwealth. According to Environmental Police records, there are nearly 1,500 known violations of Massachusetts hunting, trapping, and fishing laws each year. These violations include killing protected species and killing animals out of season. The animal victims of poaching, often injured or orphaned, turn up too often at Massachusetts wildlife rehabilitation centers.
Signed into law by Governor Charlie Baker on August 4, 2022, An Act Further Regulating the Enforcement of Illegal Hunting Practices (H.4442) helps ensure the well-being and conservation of native species important to Massachusetts ecosystems by deterring poaching in two ways:
Modernized penalties for illegal hunting, some of which were out of date by about a century, and
Authorized Massachusetts to join the Interstate Wildlife Violator Compact, which now benefits all fifty state wildlife agencies in the United States.
Although certain penalties for illegal fishing in Massachusetts were updated in 2018, penalties for illegal hunting were insufficient to deter poachers. The penalties were a mere slap on the wrist, with fines and restitution often seen as the cost of doing business. This legislation brought Massachusetts' poaching laws more in line with other states.
Interstate Wildlife Violator Compact membership also serves as a powerful deterrent against poaching and has been helping wildlife agencies increase compliance with wildlife laws for over 30 years. Compact membership provides Massachusetts' wildlife officials with the opportunity to prevent convicted wildlife poachers from coming to the Commonwealth to circumvent the loss of their hunting, trapping, or recreational fishing privileges in other states. It allows for reciprocal recognition of hunting, trapping, and recreational fishing license suspensions or revocations. This law marks the end of Massachusetts' status as the last safe-haven in the U.S. for convicted poachers who have lost their license or even earned a lifetime hunting ban in one or all 49 other Compact member states.
This legislation was filed by Senator Mike Moore (D-2nd Worcester) — a former Massachusetts Environmental Police officer — and, jointly, by former Representative Lori Ehrlich (D-8th Essex) and Representative Ann-Margaret Ferrante (D-5th Essex). It was referred to the Joint Committee on Environment, Natural Resources, and Agriculture, heard on June 8, 2021, and released with a favorable report as H.904 (carrying S.587). It was referred to House Ways and Means, which released a redraft of the bill with a favorable report as H.4442, and it passed the House on February 9, 2022. A Senate Ways and Means redraft was passed in the Senate on July 11, 2022. The House and Senate enacted the bill on July 26, 2022, and Governor Charlie Baker signed the bill into law on August 4, 2022.
This legislation was supported by a broad coalition of animal protection, environmental, conservation, and sportspersons organizations as well as the Massachusetts Environmental Police Officers Association. It was first filed in the 2013-14 legislative session and had historically been released from the Joint Committee on Environment, Natural Resources and Agriculture and passed unanimously in the Senate over several sessions.