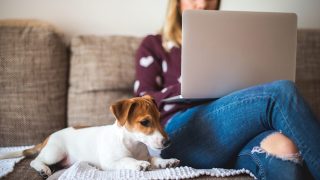 Webinars
Animal Law Academy
The Animal Law Academy webinars are an opportunity to hone your skills and gain both practical and substantive knowledge about important issues currently facing animals in the legal system. Participants will learn from the experts and enjoy an interactive Q&A session. Don't miss the chance to get an in-depth look into what it means to advocate for animals' through the legal system.
Animal Law Academy webinars are suitable for anyone interested in animal law, current and future law students, attorneys, legal professionals and animal advocates.
Upcoming webinars
Past webinars

Join us for a quarterly update from Kathleen Schatzmann, Animal Legal Defense Fund Senior Legislative Affairs Manager. In this webinar, we will review animal protection bills such as companion animal, wildlife, and farmed animal legislation currently being considered at the state and federal level.

Join Dasha Nikitina, Vermont Law School, as she walks attendees through the laws and challenges surrounding the false labeling of animal products and the solutions that could be employed to protect consumers while improving the well-being of cows in industrial dairies.

The United States is home to tens of thousands of bears, yet they receive little attention in comparison to other wildlife. Join Morgan Pattan, Michigan State University, as she discusses the psychological impact of captivity on bears.

Join Spring A. Gaines, Loyola University New Orleans College of Law, as she discusses how national and international policies fail to implement the idea of sustainability into protecting ecosystems that are continuously overexploited to their own detriment, while exploring how this oversight impacts species in different parts of our natural world.

Despite persistent misguided beliefs, hunting does not reduce conflicts between wild animals and humans. Join Sahana Ramdas, Buffalo University, in a presentation analyzing the misaligned role played by the U.S. regulatory bodies, with a focus on ways to reduce conflict without compromising on the protection of wildlife and nature preservation.

Join the Animal Legal Defense Fund and special guests for a conversation on career planning in animal law! This webinar will feature animal law experts as they answer questions directly from students on clerkships, curriculum planning, interviewing, and so much more.

In this presentation, Lu Shegay, Lewis & Clark Law School, will discuss how certain countries treat sharks within their legal frameworks, as well as analyze the international instruments that can help improve protections for sharks. A brief Q&A to follow.

Animal Legal Defense Fund Senior Legislative Affairs Manager Kathleen Schatzmann and Seton Hall Law School Student Chapter member Alice Huang will share specific actions that law students and Animal Legal Defense Fund Student Chapters can take to significantly impact Courtroom Animal Advocate Program bills. A brief Q/A to follow.
Related
Edie Falco narrates the Animal Legal Defense Fund film demanding transparency in factory farming

D.C. Court of Appeals rules Animal Legal Defense Fund can pursue its claims

Animal Legal Defense Fund-led coalition wins major victory for animal protection, food and worker safety, and the First Amendment