Lobbying for Animals: State and Federal Legislative Update
Presented 3/16/22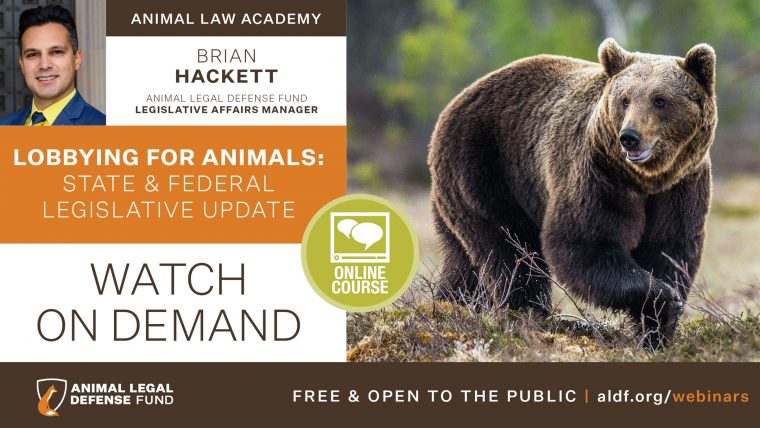 Join Animal Legal Defense Fund Legislative Affairs Manager Brian Hackett, for a discussion about our work to advance animal protection through the lawmaking process. Learn about the exciting agenda for 2022 at the state and federal level for animals — we will cover the work we've done to elevate animal status, protect wildlife, and address the cruelty faced by countless farmed animals across our nation.
Featured will be updates regarding Courtroom Animal Advocate Programs (CAAP), farmed animal confinement bills, wildlife killing contests prohibitions, pet sales issues, and more! Together we'll explore how you can directly impact the legislative process to make a difference for animals. A brief Q&A to follow. English closed caption subtitles will be available.
This webinar was recorded on March 16, 2022. Watch it now!
Resources
Join the Animal Legal Defense Fund's email list to stay up to date on lawsuits, legislation, and regulations affecting animals.
Sign Up Now
Related
Actress Christian Serratos narrates the Animal Legal Defense Fund film advocating for an end to puppy mills

Animal Legal Defense Fund's lawsuit alleged Hormel misleads consumers with its Natural Choice® brand of lunch meats and bacon

The Animal Legal Defense Fund selected the county after reviewing applicants from across the country