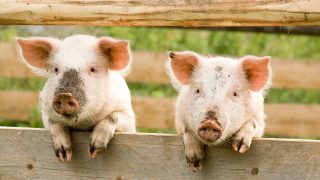 Legislation – Federal Bills
The Animal Legal Defense Fund works at the state and local levels to advance important legislation. We advocate for laws that promote or protect the lives and interests of animals, and we oppose legislation that would be detrimental to animals' well-being.
We also work closely with the Animal Legal Defense Fund's other programs to identify opportunities to create model legislation that address strategic legal issues in the areas of civil and criminal law, and monitor legislation that impacts animals at the federal, state, and local levels.
Federal Bills
Related
The 17th annual U.S. Animal Protection Laws Rankings Report (2022) ranks the animal protection laws of all 50 states.

The amicus briefs from notable experts including Harvard University's Laurence H. Tribe filed in support of neglected horse's lawsuit against his former abuser

Join co-host Jackson Galaxy, comedian Nikki Glaser, and other special guests