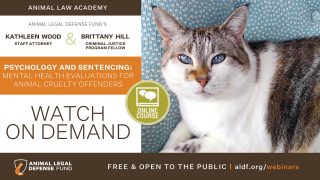 Psychology and Sentencing: Mental Health Evaluations for Animal Cruelty Offenders
Presented 7/22/20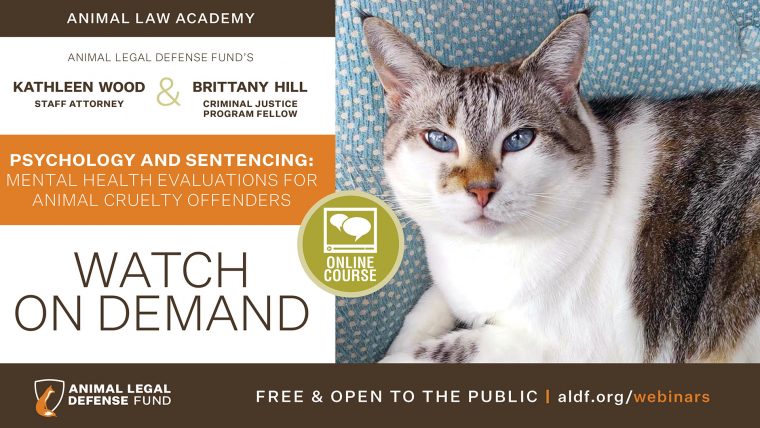 Like other violent crimes, animal cruelty offenses are often tied to underlying mental health issues. In order to rehabilitate offenders and protect future victims, those underlying issues must be addressed. Unfortunately, this crucial sentencing component is often overlooked by legislators and courts.
Join Staff Attorney Kathleen Wood and Criminal Justice Program Fellow Brittany Hill as they discuss the importance of psychological evaluations, examine surrounding factors that often contribute to animal cruelty, summarize current laws mandating psychological evaluations for cruelty offenders, and discuss the need for more collaboration between mental health professionals and the criminal justice system.
Disclaimer: presentation contains some mildly graphic images and content.
This webinar was pre-recorded. Watch it now!
Resources
Join the Animal Legal Defense Fund's email list to stay up to date on lawsuits, legislation, and regulations affecting animals.
Sign Up Now
Focus Area
How We Work
Issues
Related
Actress Christian Serratos narrates the Animal Legal Defense Fund film advocating for an end to puppy mills

Predatory financing law bans loans that often trap borrowers with high interest rates

Following the dismissal of Justice's case upheld on appeal, the Animal Legal Defense Fund continues to seek accountability under the law.