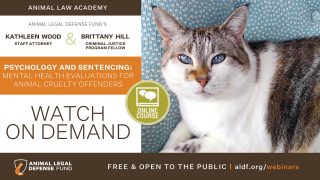 Psychology and Sentencing: Mental Health Evaluations for Animal Cruelty Offenders
Presented 7/22/20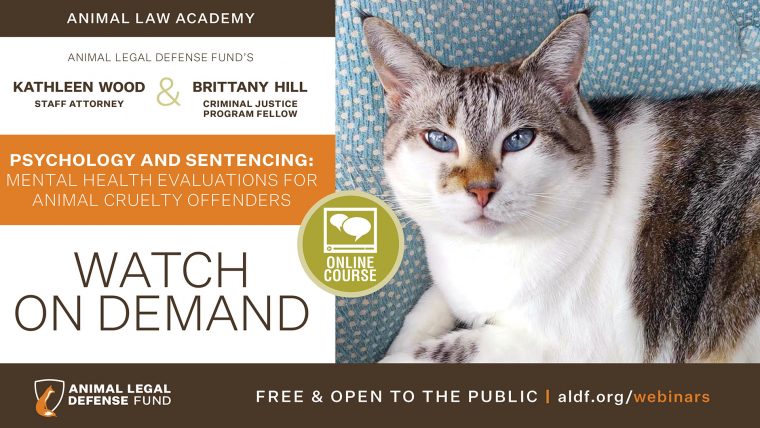 Like other violent crimes, animal cruelty offenses are often tied to underlying mental health issues. In order to rehabilitate offenders and protect future victims, those underlying issues must be addressed. Unfortunately, this crucial sentencing component is often overlooked by legislators and courts.
Join Staff Attorney Kathleen Wood and Criminal Justice Program Fellow Brittany Hill as they discuss the importance of psychological evaluations, examine surrounding factors that often contribute to animal cruelty, summarize current laws mandating psychological evaluations for cruelty offenders, and discuss the need for more collaboration between mental health professionals and the criminal justice system.
Disclaimer: presentation will contain some mildly graphic images and content.
This webinar was prerecorded. Watch now!
Resources
Join the Animal Legal Defense Fund's email list to stay up to date on lawsuits, legislation, and regulations affecting animals.
Sign Up Now
Focus Area
How We Work
Issues
Related
As the Animal Legal Defense Fund combats dogfighting by working with state officials to create stronger laws and more effective penalties for those who engage in this crime, we're also hard at work to ensure the best possible outcomes for dogfighting victims.

The Animal Legal Defense Fund, the nation's preeminent legal advocacy organization for animals, and Humane Rescue Alliance (HRA) are offering a $10,000 reward for information leading to the arrest and conviction of the person or people responsible for the abandonment and stabbing of a senior-aged dog named Ladybell on July 12, 2020.

Today the Animal Legal Defense Fund announced a settlement agreement with the West Virginia State Police, State Trooper Seth Cook, and Colonel C.R. "Jay" Smithers, in a lawsuit filed after Tiffanie Hupp intervened when Officer Cook drew his gun and aimed it at the family dog, Buddy.