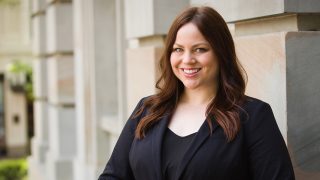 Kathleen Wood
Senior Staff Attorney
As senior staff attorney with the Criminal Justice Program, Kathleen Wood works with prosecutors, law enforcement, and legislators throughout the country to enforce and strengthen animal protection laws.
Kathleen leads the production of the Animal Legal Defense Fund's annual Animal Protection Laws Ranking Report, which compares the various strength and weaknesses of each state and territory's animal protection laws. This bird's-eye-view of the nation's strongest animal protection laws enables Kathleen to maintain the organizations' compilation of model legislation, and to make recommendations for states and territories endeavoring to improve their legal protections for animals.
Kathleen additionally provides resources and trainings for stakeholders in animal cruelty cases. She oversees the production of Farmed Animal Cruelty Guides, which are state-specific resources developed for investigators and prosecutors to aid in identifying and addressing crimes perpetrated against farmed animals. Kathleen conducts trainings on this topic, as well as subjects such as psychological evaluations for animal cruelty offenders, the Link between animal cruelty and interpersonal violence, and more.
Finally, Kathleen represents the Animal Legal Defense Fund with coalitions and partnerships with other organizations, including the National Link Coalition, the Small and Rural Law Enforcement Executive's Association, and the National Council for Juvenile and Family Court Judges.
Kathleen lives in West Linn, Oregon, with her partner and their two cats, Robin and Penny. In her free time, Kathleen volunteers with horses rescued from abuse and neglect.