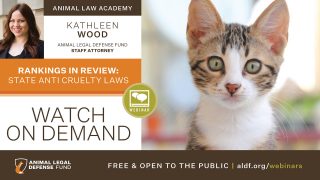 Rankings in Review: State Anti Cruelty Laws 2020
Presented 2/12/20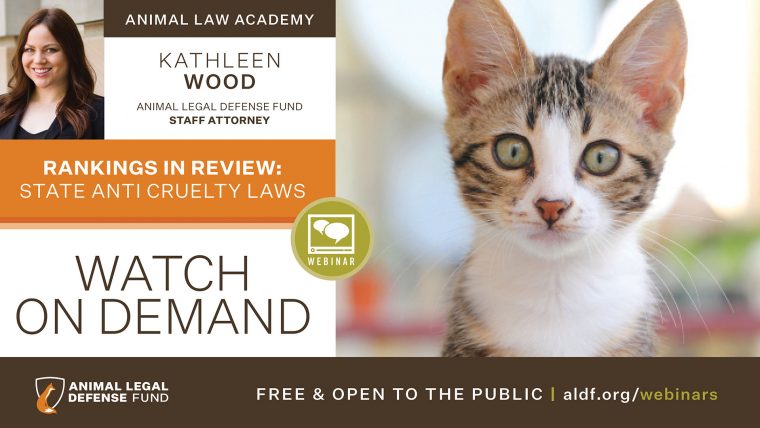 Join Animal Legal Defense Fund staff attorney Kathleen Wood as she discusses the annual Animal Protection Laws Rankings Report. Each year, our attorneys compile and review every state and territory's animal protection laws and rank them according to the relative strength and weakness of their laws. Kathleen will discuss what goes into creating our Compendium and Rankings Report, as well as the highlights from 2019, including most-improved states and legislative trends.
This webinar was prerecorded. Watch now!
Resources
Join the Animal Legal Defense Fund's email list to stay up to date on lawsuits, legislation, and regulations affecting animals.
Sign Up Now
Related
Today the House of Representatives voted 272 to 114 to pass the Big Cat Public Safety Act. Endorsed by the Animal Legal Defense Fund, the bill prohibits the private ownership of big cats and makes it illegal for exhibitors to allow direct contact with cubs.

The Animal Legal Defense Fund filed a lawsuit against the United States Department of Agriculture (USDA) under the Freedom of Information Act (FOIA) over the agency's critical redactions in a contract between the USDA's Wildlife Services program and a Colorado slaughterhouse, outlining plans for slaughtering geese rounded up in parks across Denver.

The Animal Legal Defense Fund released the second in a series of white papers — COVID-19 and Factory Farming —providing policy recommendations to address industrial animal agriculture's role in our heightened risk for zoonotic diseases outbreaks, like COVID-19, and its potential to be the source of the next global pandemic.