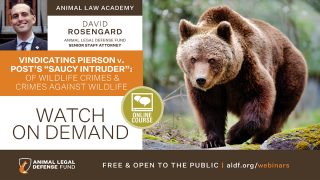 Vindicating Pierson v. Post's 'Saucy Intruder': Of Wildlife Crimes & Crimes Against Wildlife
Presented 12/16/20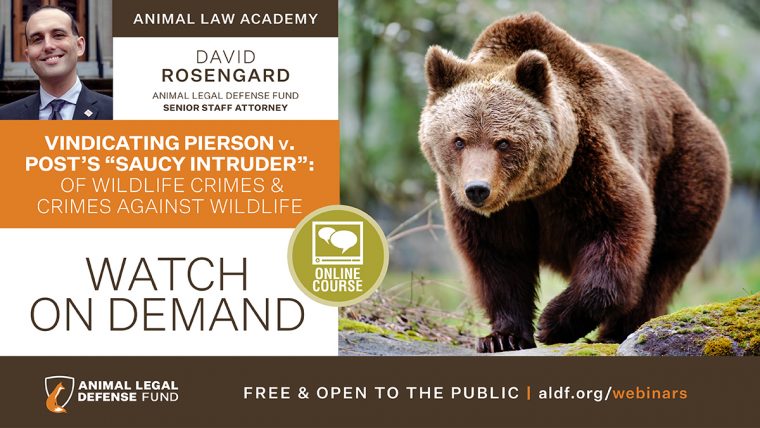 Join David Rosengard, Animal Legal Defense Fund senior staff attorney, for a discussion regarding wildlife crimes, crimes against wildlife — and the subtle but significant difference between the two.
Beginning with a look at the venerable history of wildlife law, we will explore how traditional approaches fail to account for the experience of the animals themselves, as well as the fundamental nature of animal cruelty laws. As we search for answers, we discover that justice — and raison d'être of modern cruelty statutes — call for the law to be deployed in order to shield wildlife from unlawful suffering at human hands.
This webinar has been prerecorded. Watch it now!
Resources
Related
Edie Falco narrates the Animal Legal Defense Fund film demanding transparency in factory farming

D.C. Court of Appeals rules Animal Legal Defense Fund can pursue its claims

Animal Legal Defense Fund-led coalition wins major victory for animal protection, food and worker safety, and the First Amendment
Join the Animal Legal Defense Fund's email list to stay up to date on lawsuits, legislation, and regulations affecting animals.
Sign Up Now