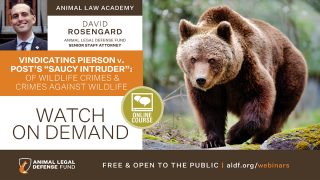 Vindicating Pierson v. Post's 'Saucy Intruder': Of Wildlife Crimes & Crimes Against Wildlife
Presented 12/16/20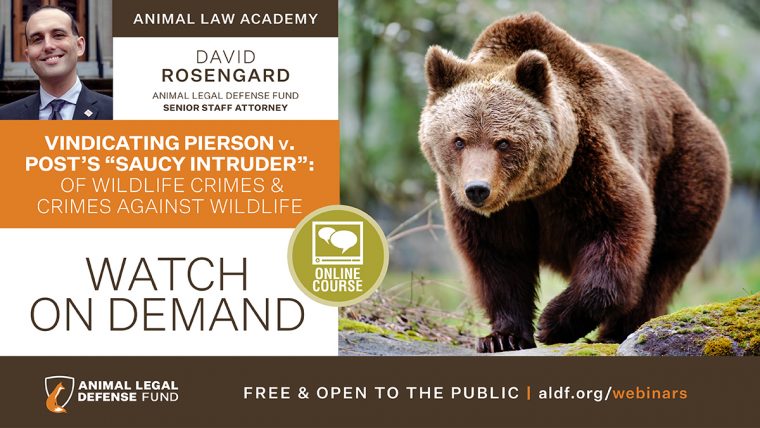 Join David Rosengard, Animal Legal Defense Fund senior staff attorney, for a discussion regarding wildlife crimes, crimes against wildlife — and the subtle but significant difference between the two.
Beginning with a look at the venerable history of wildlife law, we will explore how traditional approaches fail to account for the experience of the animals themselves, as well as the fundamental nature of animal cruelty laws. As we search for answers, we discover that justice — and raison d'être of modern cruelty statutes — call for the law to be deployed in order to shield wildlife from unlawful suffering at human hands.
This webinar has been prerecorded. Watch it now!
Resources
Related
Actors Paul Wesley, Christina Ricci, Stevie Van Zandt and dozens of native and resident celebrities join the Animal Legal Defense Fund in an open letter urging the state's legislators to end the intensive confinement of mother pigs and calves in New Jersey.

The Animal Legal Defense Fund files amicus brief seeking to prevent industries from using public record exemptions to hide information from the public.

Animal Legal Defense Fund increases reward for information leading to the arrest and conviction of the person or people responsible for harassing manatee in Citrus County, Florida
Join the Animal Legal Defense Fund's email list to stay up to date on lawsuits, legislation, and regulations affecting animals.
Sign Up Now