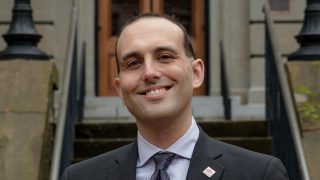 While attending Lewis & Clark Law School, David focused on animal and criminal law, receiving the law school's Animal Law Leadership Award. During this period, David clerked for the Center for Animal Law Studies, Co-Directed Lewis & Clark's Animal Legal Defense Fund Student Chapter, was an Animal Law Review Editor-in-Chief, and worked on farmed animal and vegan prisoner issues through the Animal Law Clinic. He also represented the state of Oregon in criminal court on behalf of the Multnomah County District Attorney's Office as a certified law student. While completing his LL.M. in Animal Law at Lewis & Clark Law School, David co-taught L&C's core animal law course, edited and contributed to the second edition of Animal Law in a Nutshell, and worked on identifying legal frameworks supporting expanded prosecution of animal crimes.
David has also worked internationally on animal law issues through the Kenya Legal Project. By way of continuing involvement with that program and the Lewis & Clark Human-Animal Studies Collaboration, David seeks to contribute to animal interests being valued across both national and academic boundaries.
Prior to embarking on his legal career, David earned a B.A. in History and Gender Studies from Claremont McKenna College, and worked in higher education, where he focused on community justice, sexual assault prevention and response, peer counseling, crisis management, co-curricular education, and sex-blind housing programs.
David lives in Portland, Oregon with his spouse and a quartet of felines (three rescues and one long-term foster).