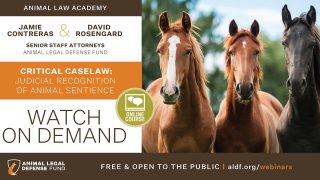 Critical Caselaw: Judicial Recognition of Animal Sentience
Presented 9/17/20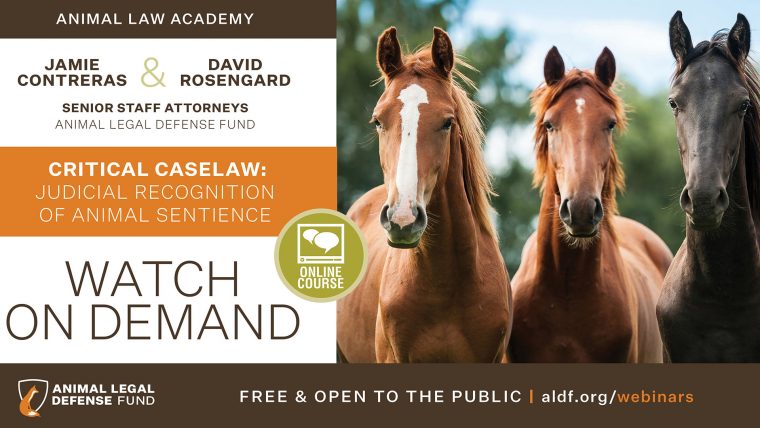 Sentience — being a living, feeling creature — forms the very core of what it means to be an animal. Indeed, the ability to feel is what distinguishes animals from objects — it makes animals 'whos', not 'whats.' While the legal system has grappled with this truism from its inception, only recently have courts begun building an internally coherent approach to ensuring that the law treats animals as feeling creatures who deserve justice.
Join Animal Legal Defense Fund Senior Staff Attorneys Jamie Contreras and David B. Rosengard as they discuss how the legal system treats animal sentience and how a trilogy of Oregon cases recognizing animal sentience points towards a new framework for animals within the law.
This webinar was prerecorded. Watch it now!
Resources
Support the Animal Legal Defense Fund's legal efforts to establish comprehensive legal protections and basic rights for all animals in our society.
Sign Now
Focus Area
How We Work
Issues
Related
Today the House of Representatives voted 272 to 114 to pass the Big Cat Public Safety Act. Endorsed by the Animal Legal Defense Fund, the bill prohibits the private ownership of big cats and makes it illegal for exhibitors to allow direct contact with cubs.

The Animal Legal Defense Fund filed a lawsuit against the United States Department of Agriculture (USDA) under the Freedom of Information Act (FOIA) over the agency's critical redactions in a contract between the USDA's Wildlife Services program and a Colorado slaughterhouse, outlining plans for slaughtering geese rounded up in parks across Denver.

The Animal Legal Defense Fund released the second in a series of white papers — COVID-19 and Factory Farming —providing policy recommendations to address industrial animal agriculture's role in our heightened risk for zoonotic diseases outbreaks, like COVID-19, and its potential to be the source of the next global pandemic.