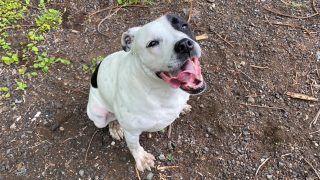 Student Chapter Project Kit
National Justice for Animals Week
Animal Legal Defense Fund Student Chapters celebrate National Justice for Animals Week (NJFAW) the last week of February every year. It is dedicated to raising public awareness around crimes committed against animals, including learning what criminal cruelty is under the law, and how we can all work together to build stronger laws, prevent criminal cruelty, hold abusers accountable, and vindicate the interests of animal cruelty victims.
To support student chapters in their planning, the Student Chapter Project Kit contains activity suggestions, resources, ideas, and action items to plan and host events throughout NJFAW!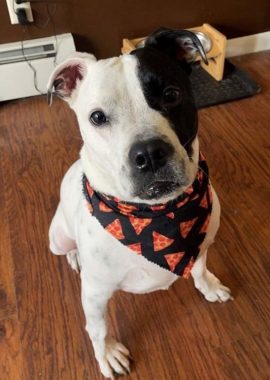 Each year, a special representative – an animal whose experience with the justice system helps illustrate the law's power to do more for animals – is selected. Learn more about the 2023 representative, Leo the dog.
The week of awareness is capped off with the announcement of America's Top Animal Defenders, which is the list of prosecutors, judges, law enforcement officials, animal rescuers, lawmakers, animal legal advocates, and others who champion the cause of animal crime victims. The 2023 Defenders will be announced soon.
Project ideas
Student chapters may apply for project grants to help cover costs, and there is no cap on number of times that a chapter can apply. Grants can cover plant-based food, t-shirts, books, and more! Funding is on a rolling basis.

Research and Discuss Your State's Animal Protection Laws
Every year, the Animal Legal Defense Fund publishes its U.S. State Animal Protection Laws Ranking Report. This report is the longest-running and most authoritative of its kind, assessing the strength of each state's animal protection laws by examining over 3,400 pages of statutes and ranking states using 20 different categories of animal protection.
Student chapters, either together or individually, are encouraged to research your state's ranking report and assess what is working well, what needs improvement, and what is completely lacking. Chapters can plan around this report to create many different event types! Some ideas include:
Assign, Present, & Discuss

Assign interested chapter members a category from the report to research, then have each student present their results and discuss with the group.

Details

Larger chapters might need additional coordination. After assessing interest, you can send out a sign-up sheet for different sections of the report, or create a form to help assign sections to individual students or small groups. The presentations and discussions can be as formal or informal as you'd like – as examples, there could be a roundtable discussion with students chatting about their research with others, or you could get really fancy and create a PowerPoint. Up to you! Some discussion topics can include:

Your own state's animal protection laws, including strengths and weaknesses
Possible solutions for weak laws that do not represent animals' interests
Most surprising findings from the report
Anything else interesting or relevant
Bring in a Speaker

After chapter members have time to browse your state's ranking report, host a speaker to delve deeper into the topics! Please see below Host or Join a Speaker Event for more details on how to plan.
Select an Area for Legislative Change

Depending on your state, your chapter might be able to get involved with passing legislation that strengthens animal protection!

Details

After research and discussion, identify areas that are lacking with special attention to your local area. You can also compare with other similarly situated states to find alternative solutions, growth opportunities, and previously successful campaigns. If your chapter is interested in working on legislation, you can learn how to work with legislators, please check out the written guide or the Lobbying and Local Ordinance webinars as part of the Education Center.
Get Involved with Social Media
Social media is an invaluable tool for educating others about animal law issues and building community engagement. Use this week of action to reach a wider audience with our content suggestions below, or as an excuse to create a social media presence if your chapter hasn't yet. There are endless content possibilities and topics to explore! Be sure to follow the Animal Legal Defense Fund on its social media platforms to cross share posts and stay up to date.
Create an Instagram Reel, TikTok, or YouTube Short

Create video content on an animal protection issue important to you! Use the hashtags #ALDF and #NJFAW for a chance to be featured on our Animal Legal Defense Fund social media accounts.
Follow Us on Social Media & Cross-post

Be sure to follow the Animal Legal Defense Fund's social media channels – Instagram, Twitter, TikTok, Facebook,YouTube, LinkedIn – and share posts! Chapters may also download social media graphics to share directly.

View the social media share graphics

Leo graphic

---

Leo photo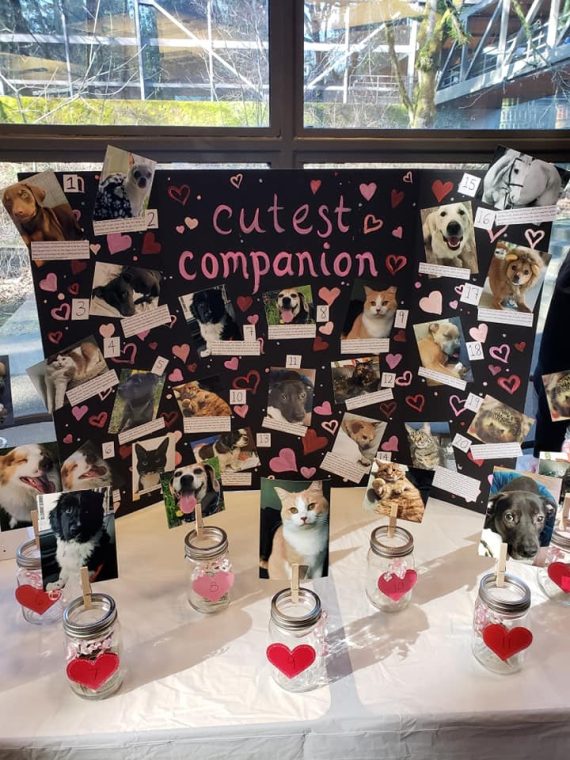 Cutest Companion Animal Contest

Host a Cutest Companion Animal Contest on social media! This is a great way to fundraise, interact with fellow students and faculty, and gain follows and support. People can submit their companion animals, which are then voted on during NJFAW through donations. And all proceeds going towards a local shelter or organization. The companion animal who raises the most money wins!

View the details

Typically included with each posting is one photo, a name, and a one-sentence description. This event can be done on-campus, virtually, or a hybrid. For this purpose, we'll stick with virtual planning.

Call for submissions

Announce the contest and set up a way for people to submit their animal photos, either through a Google Form, email, or direct message. Don't forget to provide a deadline! Submission guidelines could include providing their name, email, companion animal name, one photo, and a brief sentence description.

Promote

Once you have all the photo submissions, use Canva (or your editor of choice) to make social media graphics to include the photo, animal name, and description.

Announce the contest to your followers and promote via social media. If you're still growing your following, consider promoting the event via fliers on-campus or email. Provide details about the contest, how it works, and the deadline. Also include information about the shelter or organization that will receive the contest's donations.

Collecting donations

The easiest way to collect donations is through a mobile payment app. Other chapters have used Venmo, Cash App, and Paypal.

Optional prizes

While not necessary, some chapters have been successful in asking businesses to donate items for fundraising purposes. It doesn't hurt to ask! Prizes can be given out to the winners: first-place only, top three, or based off a different system (such as most voted dog, most voted cat, most voted bird, etc.) This is fun way to incentivize people to participate!

Please be mindful that businesses might ask for a receipt. For more information, please visit the IRS Charitable Contributions – Written Acknowledgement section.

Ready, Set, Go!

Leading up to voting opening, promote the contest to get everyone excited and ready to cast their votes.
On the first day of the contest, post the submissions, along with instructions on how to vote:
o Example post: The Cutest Companion Contest is here! Cast your votes for your favorite(s) by donating via Venmo/Cash App/Paypal, any and all amounts accepted. In the memo, please include the name. At the end of the week, the companion animal who raises the most money gets bragging rights for the rest of the year. All donations will go to XYZ, a shelter/organization that [insert mission statement or description]. Thanks for the support by sharing and voting!
If you received donated prizes, mention them here and include a shoutout to the business(es) that supported.
Throughout the week, you can do additional promotion either generally or by highlighting each submission separately. Also continue to post about other NJAW activities, animal law topics, and other ways to get involved.

Wrapping up

At the end of the week, calculate results and get ready to announce! You can create certificates for the winners, design a special post to make the announcement, or create a video.

Donate

One of the best parts is when you get to let the shelter or organization know how much you raised! You can share that funds have been donated and thank everyone again.
Host a Speaker Event or Replay Webinars

Hosting a speaker event is a quintessential chapter project! Chapters can request a speaker from the Animal Legal Defense Fund year-round, invite someone locally, or watch a replay of a previously recorded video. For a full list of possible recordings, please check out the Education Center's National Justice for Animals 2023 Project Kit bundle. Select recordings have corresponding discussion questions for chapters to use for further discussion, along with additional materials.

Examples include:
Tabling to Raise Awareness

Tabling is a great way to directly engage with your law school community and to inform them about the importance of animal issues, ways to get involved, and upcoming events. Students can request National Justice for Animals Week tabling materials, which includes relevant brochures and special NJFAW stickers.

Tabling tips

Organize your table so that the NJAW brochures and freebies are visible.
Have at least one action item. Some examples include:

Tabling materials include a poster with a QR code to make taking action easy for students
Signing up for the chapter's email list
Signing up for the Animal Legal Defense Fund email updates
Watch a video by the Animal Legal Defense Fund on anti-cruelty laws, companion animals, or criminal law

Have fun and be responsive! Sometimes people can feel unsure coming up to a table, so put their mind immediately at ease with a welcoming vibe, snacks, and freebies that they can take with them.
Encourage chapter members to join in tabling. It's an easy way to practice and gain confidence discussing animal issues, as well as learn what interests other students.
Take pictures! Be sure to use #ALDF and #NJFAW.
Apply for a project grant to help cover plant-based snacks for the table.
Collaborate

Partnering with other student clubs on campus, regional student chapters, and bar association animal law sections can bolster your events even more by spreading out the work, bringing in new audiences, and sharing cross-connected information that might not otherwise be explored.

Read more

Research adjacent student groups at your law school. Those with common interests could be open to collaborating on an event or campaign. Some cause areas might include:

Environmental law
Workers' rights
Public health
Food law

Feel free to search our list of active Animal Legal Defense Fund Student Chapters for other nearby or regional groups to partner together on events.

Bar Association Animal Law Sections and Committees are a potential source of speakers, mentors, and collaborators.
Become a member of the Animal Legal Defense Fund and receive benefits and additional opportunities.
Sign Up
Related
First ruling pertaining to recently enacted Big Cat Public Safety Act

Bill will reduce the risk of zoonotic disease transmission by phasing out mink farming and help operators transition out of the industry

Third denial to review first state-wide ban, starting in 2014