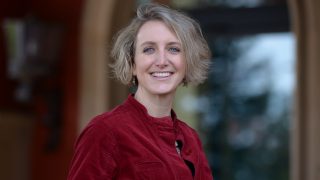 Jennifer Hauge
Legislative Affairs Manager
As the Animal Legal Defense Fund's Legislative Affairs Manager, Jennifer is responsible for implementing creative strategies to pass laws that help animals and defend against bills that would hurt them.
A graduate of Northwestern University with a BS in Education and Social Policy, Jennifer also studied Politics, Philosophy and Economics for a year at Oxford University. She began her career in the corporate world while advocating for animals in her personal time. She was a leader in signature gathering for a statewide ballot measure initiative, testified at hearings, lobbied bills in her state capitol and co-founded a vegan advocacy organization in her local community of Salem, Oregon.
She is currently on the board of Humane Voters Oregon and while her passion for helping animals has turned into her full time career, she still volunteers at local farmed animal sanctuaries. She shares her office with her two rescued shelter dogs – Koa, a 12-year-old shepherd mix, and Zephyr, 5-year-old retriever mix.