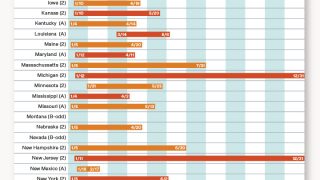 State Legislative Schedule
Schedule for state legislature sessions
Each state has its own legislative schedule, holding sessions on predefined intervals. The majority, 46 states in total, meet annually. The states of Montana, Nevada, North Dakota, and Texas have biennial sessions, meeting on odd years only.
State-level advocacy actions are available for those states in session.
If your state's legislature is on recess, you can still help advocate for animals by taking federal actions or meeting with your representatives.
Join the Animal Legal Defense Fund's email list to stay up to date on lawsuits, legislation, and regulations affecting animals.
Sign Up Now
Related
Numerous violations documented at the facility of inadequate animal care

Alternative sentencing program in Fulton County, Georgia pairs shelter dogs with criminal defendants to offer both training and a second chance

Lawsuit sheds light on the need to recognize legal rights for animal cruelty victims.