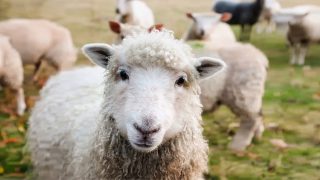 New Course Guides Available: Companion Animal Law, Farmed Animal Law, and Wildlife Law
This is an exciting and important time to become involved with animal law. That's why we are so excited to encourage lawyers and law students to become animal lawyers, to join us at this critical time in this growing field.
To that end, the Animal Legal Defense Fund is pleased to offer a new resource for legal educators. We now have available free animal law course guides on three important subtopics that have an increasing impact on law and society.
The Evolving, Expanding Field Of Animal Law
Our society and legal system are both evolving with regard to animals, but there is still a lot of important work to be done. Just one example is with regard to animals' legal status: Animals are still classified as property under the law but — as opposed to other forms of personal property — are increasingly recognized as living, feeling beings with lives and interests of their own. Social norms have begun to shift and with the help of animal lawyers, the law is catching up.
Becoming an animal lawyer is a relatively recent opportunity. Thirty years ago, the field of animal law was just getting started. Few law schools offered any animal law classes, and the body of animal law was virtually undeveloped. That has changed tremendously in the decades since.
Since the advent of the first animal law courses in the 1990s, the field has undergone rapid growth and now is recognized as an important and cutting-edge area of academic inquiry and legal practice. More students are entering law school expressly to study animal law and Animal Legal Defense Fund Student Chapters continue to expand and flourish on campuses around the country.
Most ABA-accredited law schools, including the top-ranked schools, offer a general course in animal law. Some, like Harvard and Lewis & Clark, even have comprehensive, specialized animal law programs. There are more than 200 Animal Legal Defense Fund Student Chapters at U.S. and international law schools. The popular annual Animal Law Conference is in its 26th year, and student interest is so high we are now hosting a separate Student Convention in conjunction with the Conference.
How To Use Our Course Guides
Our course guides are a valuable resource for educators wishing to expand the animal law curriculum at their school, either by offering a new elective or incorporating these subjects into an existing class. The wildlife or farmed animal course guides can be incorporated into an environmental law class, or the companion animals course guide into a family law or criminal law class. Law students may also use these guides to structure a reading group in one of these subjects if their school does not yet offer a class.
Each course guide serves as a comprehensive sample syllabus and includes a course outline, suggested textbooks, reading and writing assignments, student objectives, and teaching notes. Memos outlining the benefits of adding these classes to the law curriculum are also available.
We encourage legal educators to use these guides to either create a new animal law class or add new concepts to an existing course. Law students can share the guides with their professors and ask them to offer one of these courses. We also have a sample student petition available, which can be used to show the administration there is strong student support for a new class. The Animal Legal Defense Fund also offers seed grants for first-time animal law course offerings at ABA-accredited schools.
This Animal Legal Defense Fund hopes these guides will be useful in law school and beyond. Career opportunities for animal lawyers, or lawyers with training in animal law, are growing. Today, almost all nonprofit animal protection organizations have attorneys on staff. The Animal Legal Defense Fund's Pro Bono Program has experienced unprecedented growth in recent years. And more prosecutors' offices are creating special animal cruelty prosecution units, underscoring a growing awareness of the importance of animal protection in society.
These are but a few examples of the growth of animal law. It's a thrilling, critical moment in this field, and we are so excited for more law students and lawyers to come join us in it.
Download these three course guides below, and for more information, email ALP@aldf.org.
Companion Animal Law Course Guide and Supporting Memo
Farmed Animal Law Course Guide and Supporting Memo
Related
Are you interested in animal law? Check out our suggested ways to get involved in this innovative and growing field.

While there has been extraordinary growth in this area, full-time animal law jobs are still relatively limited. Fortunately, there are a number of ways to make significant contributions to this field by working as a volunteer.

There are many ways for law students and new graduates to get involved! Apply for a clerkship or fellowship, submit an essay for our writing contest, or apply for a scholarship.