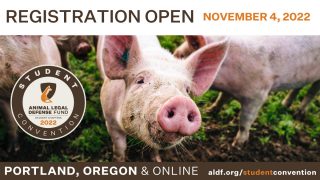 Animal Legal Defense Fund Student Convention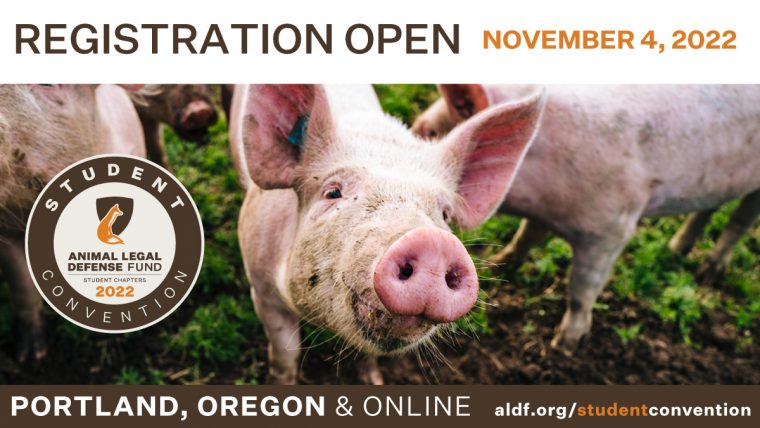 Student Convention 2022
Friday, November 4, 2022
The Animal Legal Defense Fund Student Convention will take place on Friday, November 4, before the Animal Law Conference. This one-day event will provide an opportunity for law students to receive career advice from leaders in the animal law field. Participants also have a chance to network with law students from schools across the country.
The convention will take place both online and in-person at the Hilton Portland Downtown in Portland, Oregon. For more information about the convention venue and discounted hotel rooms, please visit animallawconference.org. If you have any questions, please contact events@aldf.org.
The Animal Legal Defense Fund is offering a limited number of travel grants for members of Animal Legal Defense Fund Student Chapters. To submit a travel grant application, click here.
Health & Safety: In an effort to keep attendees, speakers, and event staff as safe as possible, all in-person participants of the Student Convention will be required to comply with the following protocols. All participants must be fully vaccinated, including booster(s), and provide proof of vaccination during check-in at the event. All participants must also wear a face mask over their mouth and nose at all indoor conference gathering spaces and events, except when presenting, eating, or drinking. We recommend that all participants complete an antigen test prior to attending the convention and not attend in-person if they test positive or exhibit any cold, flu, or COVID symptoms. In addition, participants who test positive for COVID may not attend in-person. If you are experiencing symptoms or test positive before the conference, please contact events@aldf.org. The Student Convention staff will continue to monitor and comply with all applicable laws and guidance issued by the Centers for Disease Control and Prevention, OSHA, and local health authorities and reserve the right to amend our safety protocols accordingly, and participants agree to comply with any such changes.
Related
Companion, farmed, and wild animals have been lost, injured, or killed during fireworks displays

The California Court of Appeals affirmed a ruling by a lower court recognizing Society for the Prevention of Animal Cruelty (SPCA) organizations' ability to file lawsuits against entities that violate existing animal protection laws.

Reward for information leading to the arrest and conviction of the person or people responsible for illegally shooting and killing a red wolf in Tyrrell County, North Carolina.