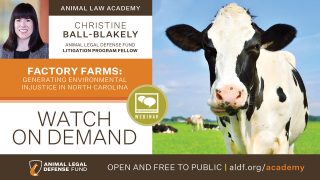 Factory Farms: Generating Environmental Injustice in North Carolina
Presented 5/12/20
Industrial animal agriculture is responsible for animal suffering, pollution, and a range of environmental impacts, but government at most levels decline to regulate this industry, and can even pass laws to shield it from legal liability and public scrutiny. In this webinar, Christine Ball-Blakely will uncover some of the consequences by presenting the impacts of factory farms in North Carolina, which are disproportionately sited in low-income communities of color. You will learn about the carefully-carved legal loopholes that allow factory farms to operate with limited protections for animals, the environment, or surrounding communities, and about how residents—and others—are fighting back.
This webinar was prerecorded. Watch now!
Resources
Related
The Animal Legal Defense Fund has launched a series of billboards, in English and Spanish, surrounding the JBS slaughterhouse in Greeley, Colorado — offering an online tip portal where industrial animal agriculture workers can report any concerns, including worker safety, animal abuse and depopulation, and illegal disposal of animals' bodies.

The Animal Legal Defense Fund announced that the U.S. District Court for the Northern District of California has denied the California Department of Food and Agriculture's (CDFA) motion to dismiss the lawsuit filed on behalf of Miyoko's Creamery (Miyoko's).

As the pandemic leads to reduced capacity at slaughterhouses, prolonged use of drug increases risk of harm.
Help animals win the legal protections they so desperately need and deserve, and ensure they have an advocate in courtrooms and legislatures across the country.
Take Action Now