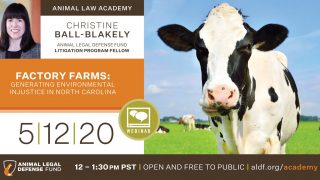 Factory Farms: Generating Environmental Injustice in North Carolina
Presented 5/12/20
Industrial animal agriculture is responsible for animal suffering, pollution, and a range of environmental impacts, but government at most levels decline to regulate this industry, and can even pass laws to shield it from legal liability and public scrutiny. In this webinar, Christine Ball-Blakely will uncover some of the consequences by presenting the impacts of factory farms in North Carolina, which are disproportionately sited in low-income communities of color. You will learn about the carefully-carved legal loopholes that allow factory farms to operate with limited protections for animals, the environment, or surrounding communities, and about how residents—and others—are fighting back.
This webinar was prerecorded. Watch now!
Resources
Related
In the U.S., some municipalities are grappling with whether pigs kept as companions should be allowed in residential areas that exclude animals legally defined as "livestock."

Animals rescued from backyard slaughter operation near Fort Meyers, Florida are now headed to sanctuaries.

Animal Legal Defense Fund successfully helps defend Prevention of Cruelty to Farm Animals Act against 'copycat' lawsuit
Help animals win the legal protections they so desperately need and deserve, and ensure they have an advocate in courtrooms and legislatures across the country.
Take Action Now