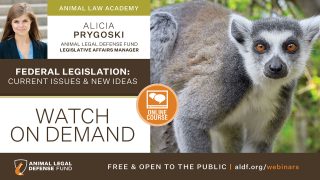 Federal Legislation: Current Issues & New Ideas
Presented 5/20/2020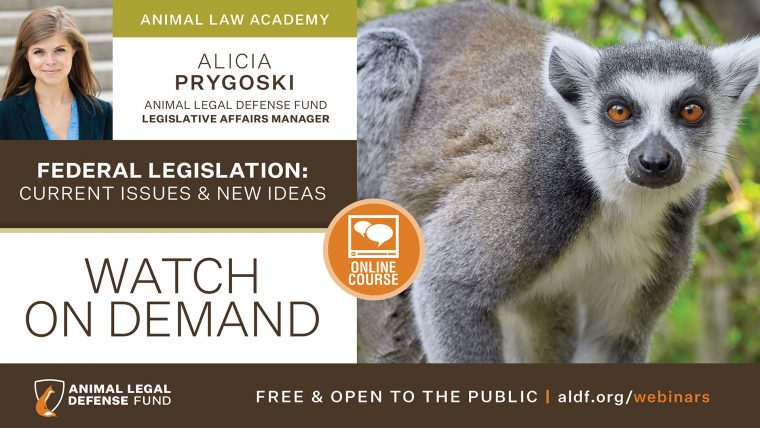 What kind of legislation has been introduced in Congress to stop animal cruelty? What can we do to make sure it gets passed into law? In this webinar, Alicia Prygoski, Legislative Affairs Manager, will address the shortcomings for animal protection in current federal law, give an overview of pending legislation, and discuss what we'd like to see introduced in the future. We'll cover bills designed to protect captive wildlife, endangered species, companion animals, farmed animals, and more. A Q&A will follow.
This webinar was prerecorded. Watch now!
Resources
Join the Animal Legal Defense Fund's email list to stay up to date on lawsuits, legislation, and regulations affecting animals.
Sign Up Now
Related
The Animal Legal Defense Fund, the preeminent legal advocate for animals, released the first in a series of white papers providing policy recommendations to reduce our heightened risk from zoonotic diseases like COVID-19 and the next global pandemic, which need only a human-animal interaction to arise.

The Animal Legal Defense Fund has launched a series of billboards, in English and Spanish, surrounding the JBS slaughterhouse in Greeley, Colorado — offering an online tip portal where industrial animal agriculture workers can report any concerns, including worker safety, animal abuse and depopulation, and illegal disposal of animals' bodies.

The Animal Legal Defense Fund announced that the U.S. District Court for the Northern District of California has denied the California Department of Food and Agriculture's (CDFA) motion to dismiss the lawsuit filed on behalf of Miyoko's Creamery (Miyoko's).