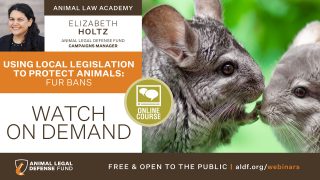 Using Local Legislation to Protect Animals: Fur Bans
Presented 8/20/20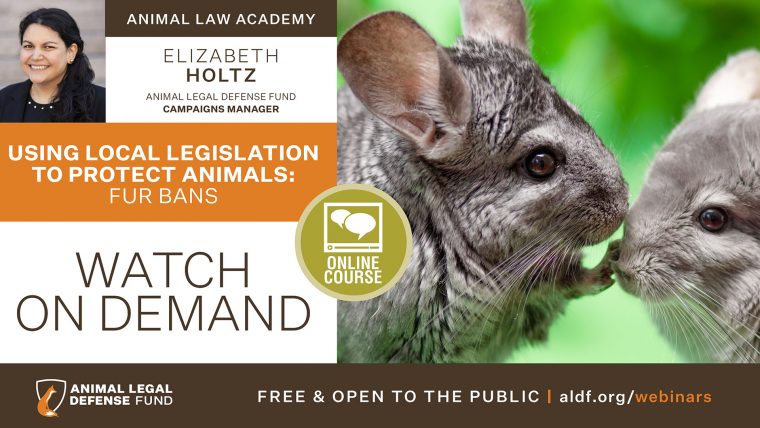 Learn how to fight back against the cruel fur industry by passing a fur ban in your community! Animals farmed for their fur endure severe abuse before being killed through gassing, electrocution, neck-breaking, and poisoning. Led by Animal Legal Defense Fund Campaigns Manager Elizabeth Holtz, this webinar will walk you through the mechanics of fur production, the policy issues, including animal cruelty, environmental impacts, and public health, as well as a round-up of existing international, state, and local laws prohibiting the sale of fur. While the webinar will touch on the elements of local legislative campaigns, please refer to earlier webinars (available at aldf.org/circusban and aldf.org/retailban) for an in-depth look at grassroots campaigning.
This webinar was prerecorded. Watch it now!
Resources
Join the Animal Legal Defense Fund's email list to stay up to date on lawsuits, legislation, and regulations affecting animals.
Sign Up Now
Related
Court dismisses International Fur Trade Federation's complaint in victory for animals

Today the U.S. District Court for the District of Minnesota issued a critical ruling in favor of wolves' legal protection — determining that gray wolves are not excluded from the Endangered Species Act even if they have some detectable dog genes.

The Animal Legal Defense Fund Warns Consumers of Mano Swartz Advertising Scheme