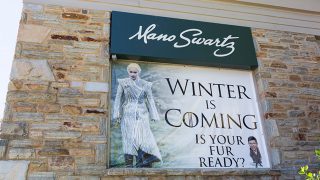 GoT Fur? Baltimore Furrier Misleads Consumers, Uses Game of Thrones Images of Faux Fur to Peddle Pelts
The Animal Legal Defense Fund Warns Consumers of Mano Swartz Advertising Scheme
Contact: media@aldf.org
BALTIMORE – A giant advertisement on the rear of Mano Swartz's fur store on Falls Road, features a larger than life size image of HBO's Game of Thrones star Emilia Clarke clad in a full white coat as Daenerys Targaryen—with the tagline "Winter is Coming – is your fur ready?"
However, in an August 2017 Vanity Fair article about the khaleesi coat in question, Emmy award winning costume designer Michele Clapton revealed it's made predominantly of fake leather and long and short pile high-quality faux fur.
"It is deceptive to consumers for a company to advertise real animal fur using a photo of faux fur, especially when the company doesn't offer the more humane alternative," says Animal Legal Defense Fund Executive Director Stephen Wells. "It proves that faux fur is virtually indistinguishable from real, when even a furrier can't tell the difference."
The Animal Legal Defense Fund—the nation's preeminent legal advocacy organization for animals—regularly files lawsuits against companies that make false claims in advertising and on packaging to mislead customers about the conditions animals endure in the production of its products.
The organization also notes the advertisement lacks licensing, copyright and/or trademark language typically required with the legal use of an image and slogan from such a high-profile television series. The organization has notified HBO and Clarke's representatives of the image's use.
"We encourage HBO and Emilia Clarke to investigate the photo's use and clear their names of association with the cruel practices of the fur trade," says Wells.
The fur industry receives regular criticism for the inhumane practices the animals who are skinned endure. Animals raised on fur farms typically spend their entire lives in cramped and filthy cages, and animals in the wild are caught in painful steel-jaw leg hold traps. The methods used to kill animals include gassing, anal electrocution, neck-breaking and injection with poisons—so as not to damage their fur.
In 2011, West Hollywood, California became the first city to pass an ordinance banning the retail sale of fur apparel products within city limits. The law went into effect in 2013, when it was challenged in federal court by a Los Angeles-based furrier and upheld as constitutional. In 2017, Berkeley, California also passed an ordinance banning the retail sale of fur. In stating the need for a municipal ban, Berkeley's draft ordinance cited the lack of federal and state regulation of fur product sales, with the exception of laws prohibiting the sale of dog and cat fur.
In addition, hundreds of retailers, brands and designers have instituted fur free policies—including Calvin Klein, Kenneth Cole, Ralph Lauren and JCPenney—acknowledging the cruel industry and the public's negative feelings about the practice.
The Animal Legal Defense Fund was unable to find any faux fur products for sale on the Mano Swartz website.
Related
Court dismisses International Fur Trade Federation's complaint in victory for animals

Today the U.S. District Court for the District of Minnesota issued a critical ruling in favor of wolves' legal protection — determining that gray wolves are not excluded from the Endangered Species Act even if they have some detectable dog genes.

Notice alleges Fur-Ever Wild violates Endangered Species Act.