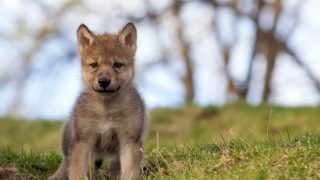 Animal Legal Defense Fund Files 60-Day Notice of Intent to Sue Fur-Ever Wild
Notice alleges Fur-Ever Wild violates Endangered Species Act
For immediate release:
Contact:
media@aldf.org
MINNEAPOLIS — The Animal Legal Defense Fund (ALDF), the nation's leading legal advocacy organization for animals, today sent the U.S. Department of the Interior a 60-day notice of intent to sue the wildlife exhibition and fur-harvesting facility "Fur-Ever Wild" for violating the Endangered Species Act (ESA).
The Lakeville, Minnesota, business displays wolf pups in a petting zoo and later skins them for their fur, according to statements made by owner Terri Petter. The Animal Legal Defense Fund is asking Fur-Ever Wild to agree to stop killing and skinning wolves or the organization will file suit in 60 days.
The Gray Wolf, canis lupus, is a listed species under the Endangered Species Act. ALDF alleges that by using wolf pups as an attraction in its petting zoo, then later skinning them for their fur—in the process killing them—Fur-Ever Wild is violating Section 9 of the Act and is subject to civil or criminal penalties.
"Fur-Ever Wild shows contempt not only for the lives of magnificent endangered animals but also for federal law," said Stephen Wells, executive director of the Animal Legal Defense Fund. "We hope Fur-Ever Wild will agree to cease its wolf-killing operation in the next 60 days but, if not, we intend to sue to assure the law is enforced."
According to a lawsuit filed in Minnesota, neighbors have long complained about the stench of the facility, in addition to noise and public safety concerns. Earlier this year, local activists thwarted Fur-Ever Wild's expansion into South Dakota.
And in August of this year, the local government of Eureka Township, where Fur-Ever Wild is located, filed a lawsuit against the facility for violating the local exotic animal ordinance, which prohibits the ownership of wild animals.
Jennifer M. Robbins, Chris Madel, and Cassandra Batchfelder of Robins Kaplan LLP, a national trial law firm with offices throughout the country, are providing pro bono legal assistance to ALDF.
The letter is available upon request.
Related
U.S. District Court has ruled in favor of the Animal Legal Defense Fund following its lawsuit to vacate rules imposed by the U.S. Department of the Interior in 2019 under the Trump administration that weakened the Endangered Species Act (ESA).

Reward for information leading to the arrest and conviction of the person or people responsible for illegally shooting and killing a red wolf in Tyrrell County, North Carolina.

The lawsuit alleges federally endangered and threatened animals such as the tigers, lions, and ring-tailed lemurs are receiving inadequate care at Tiger Creek