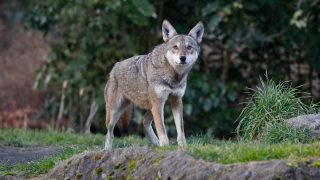 Animal Legal Defense Fund Adds $5,000 to Reward in Case of Endangered Red Wolf Shooting
Reward for information leading to the arrest and conviction of the person or people responsible for illegally shooting and killing a red wolf in Tyrrell County, North Carolina.
Contact:  media@aldf.org
RALEIGH, N.C. —The Animal Legal Defense Fund, the nation's preeminent legal advocacy organization for animals, is offering an additional $5,000 reward for information leading to the arrest and conviction of the person or people responsible for shooting and killing a federally protected, endangered red wolf. The shooting led to the rare wolf's collapse, which experts believe led to the wolf likely drowning in mud, on April 15, 2022.
The U.S. Fish & Wildlife Service (USFWS) estimates only 15-17 red wolves exist in the wild.
"Killing a red wolf is not only tragic for the species' survival in the wild, but any red wolf's death also decreases the species' ability to help the surrounding ecosystem return to a healthy equilibrium," says Animal Legal Defense Fund Executive Director Stephen Wells. "Red wolves need as much protection — and enforcement — as possible by federal and state agencies, otherwise wild populations will cease to exist in a very short time."
The red wolf was discovered in a farm field south of Newlands Road. The necropsy showed the wolf was shot in the spine, which caused the wolf to collapse in the field. The necropsy also revealed the wolf's lungs were filled with mud.
The Animal Legal Defense Fund joins the USFWS, which is also offering a $5,000 reward for information that leads to the case's successful prosecution. With additional organizations offering independent rewards, the grand total has risen to $22,500.
The red wolf is currently listed as an endangered species and protected by the federal Endangered Species Act. Intentionally killing of a red wolf — that is not associated with self-protection, protecting livestock, or protecting companion animals — is a federal crime, with a maximum penalty of up to one year imprisonment or a maximum fine of $50,000, or both.
If you have information related to this incident, please contact North Carolina Division of Refuge Law Enforcement Patrol Captain Frank Simms at 252-216-7504 or Special Agent Jason Keith at 919-856-4786 ext. 34.
Join the Animal Legal Defense Fund's email list to stay up to date on lawsuits, legislation, and regulations affecting animals.
Sign Up Now
Related
Cows were killed in Madison, Brazos, and Robertson Counties, Texas.

U.S. District Court has ruled in favor of the Animal Legal Defense Fund following its lawsuit to vacate rules imposed by the U.S. Department of the Interior in 2019 under the Trump administration that weakened the Endangered Species Act (ESA).

Animal Legal Defense Fund offers reward for information leading to the arrest and conviction